Spiked hazelnut chai hot chocolate is the sorta sweet boozy treat of the holiday season. Made using Sōmrus Chai cream liqueur, milk, hazelnut butter, and chocolate. Top it with whipped cream or marshmallows.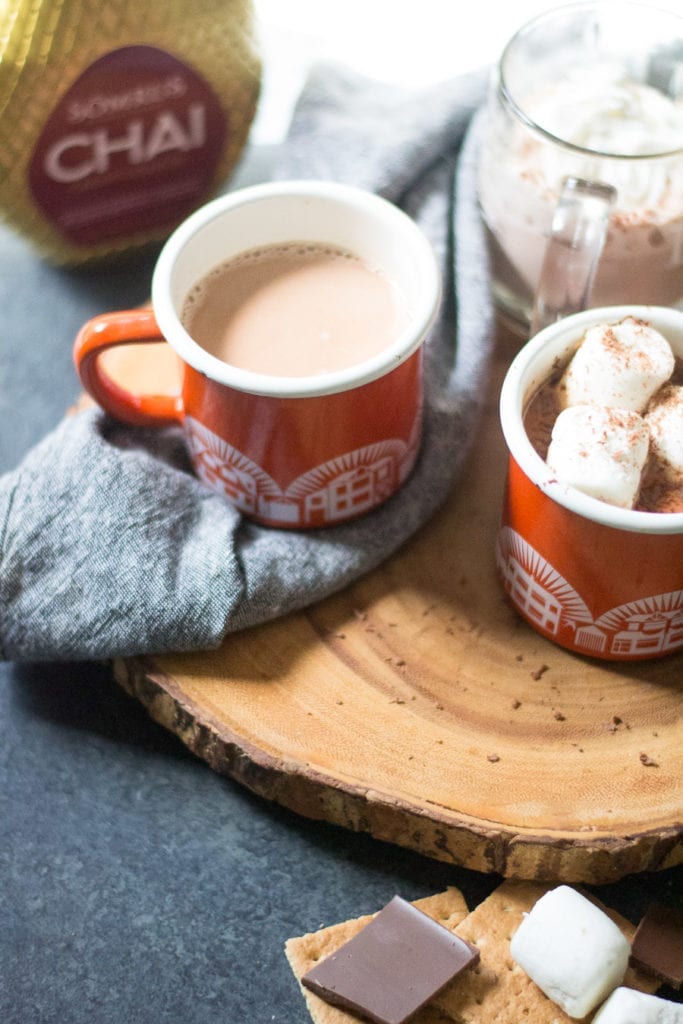 The content below and recipe creation was sponsored work for Sōmrus. Though I was compensated for the creation of this recipe, all thoughts and opinions expressed below are entirely my own.
Whew! That recipe title is a mouthful. Spiked hazelnut chai hot chocolate is the drink of the season. It's what you need after realizing there are indeed NOT enough weekends in this month to do the following:
All the Christmas shopping
Get together with all the family/friends
Plan acceptable birthday parties for your December babies (yes, plural)
Make it to the doctor… dentist, maybe
Bake all the cookies
That list of five things is just the start of all the stuff I want to and need to get done this holiday season. Are you feeling stressed yet blessed this time of year?
The key to relieve all this pressure and stress is alcohol. HA WAIT NO!!! Jokes, jokes, jokes.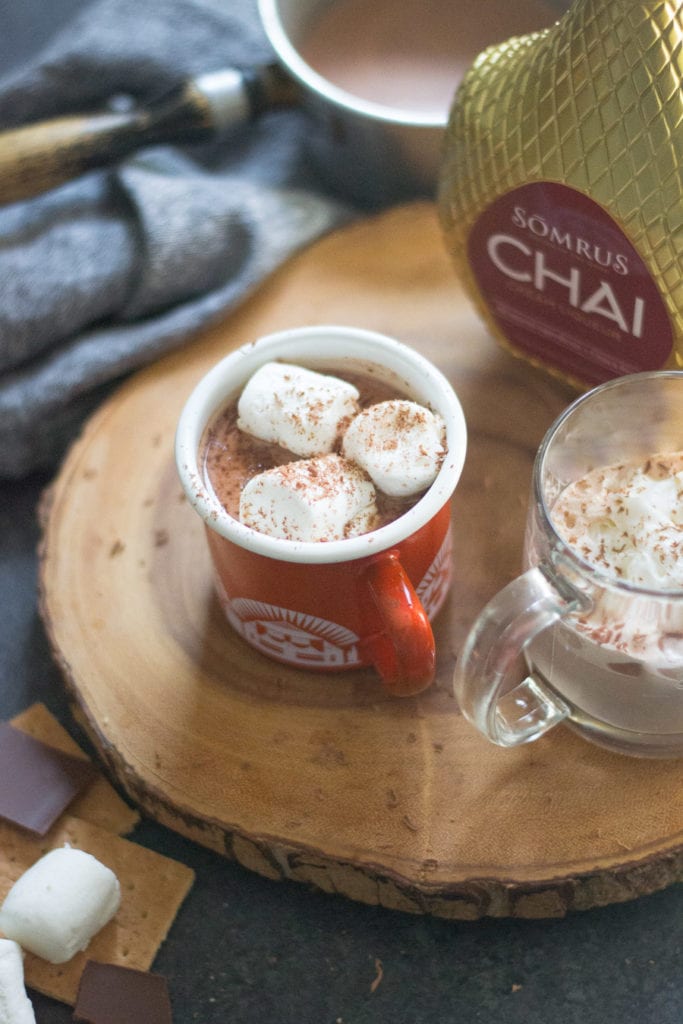 The key is busting out that planner and sitting down with a spiked hot chocolate at the end of a long day and just getting your life together. Admitting you can't fit it all in or do it all is the true key to this time of year.
A little nightcap doesn't hurt either.
This is the fourth cocktail I cooked up for Sōmrus. Remember the mango sunrise cocktail and the salted caramel chai latte from earlier this year?
I used Sōmrus Chai cream liqueur. It has just the right amount of spices which pairs so nicely with hazelnut and chocolate. Serve this drink warm with your choice of whipped cream or big marshmallows on top. The recipe below is for one cocktail. It is an easy enough recipe to replicate on demand.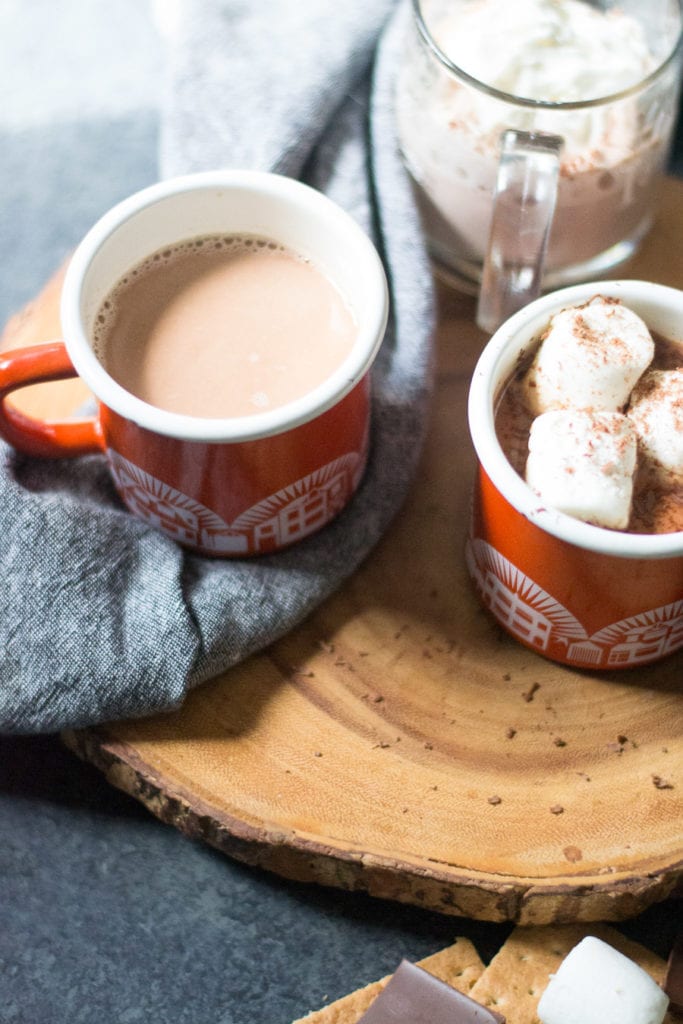 Sōmrus liqueur varietries would be a great hostess present and a great addition to the end of any holiday party. They can be found at your local neighborhood Binny's location.
Hot chocolate basically solves all holiday stress and worries.
AMIRIGHT?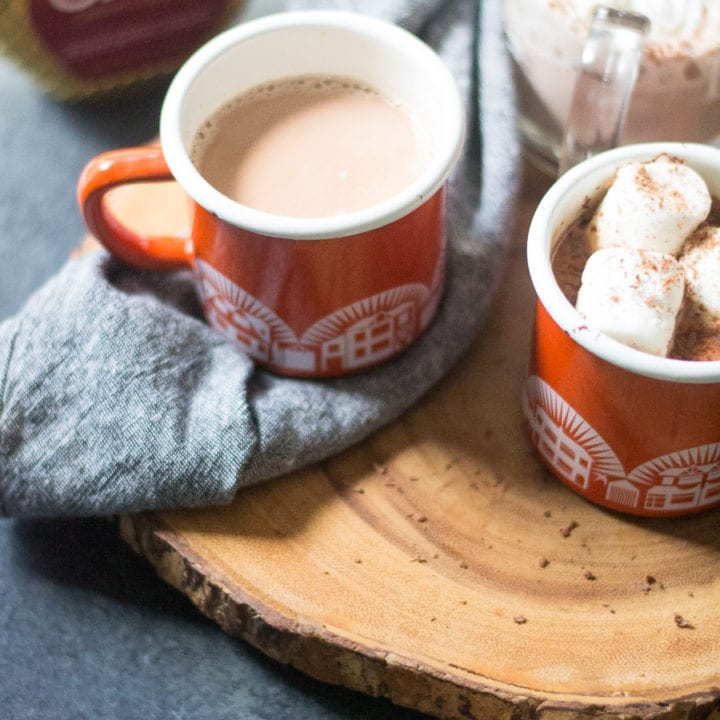 Spiked Hazelnut Chai Hot Chocolate
Boozy spiked hot chocolate made with hazelnut spread, milk, Sōmrus Chai cream liqueur, and a little bit of chocolate.
Ingredients
8 oz milk, skim or whole or anything in between will do
2 heaping tbsp hazelnut spread
1 tsp chocolate sauce
1.5 oz Sōmrus Chai Cream Liqueur
whipped cream or marshmallows, for topping
shaved/grated chocolate, optional topping
Instructions
Heat the milk in either a small saucepan over medium/low heat for 2 minutes or heat in a heatproof mug in the microwave for 2 minutes.
Mix in the hazelnut spread, chocolate, and Sōmrus Chai Cream Liqueur.
Top with either whipped cream or marshmallows.