Balsamic pomegranate pot roast is slow cooked in the oven along with carrots, celery, and onion in a sauce made of balsamic vinegar, tomato paste, wine, and pomegranate seeds. It is a simple dish that packs a punch of flavor.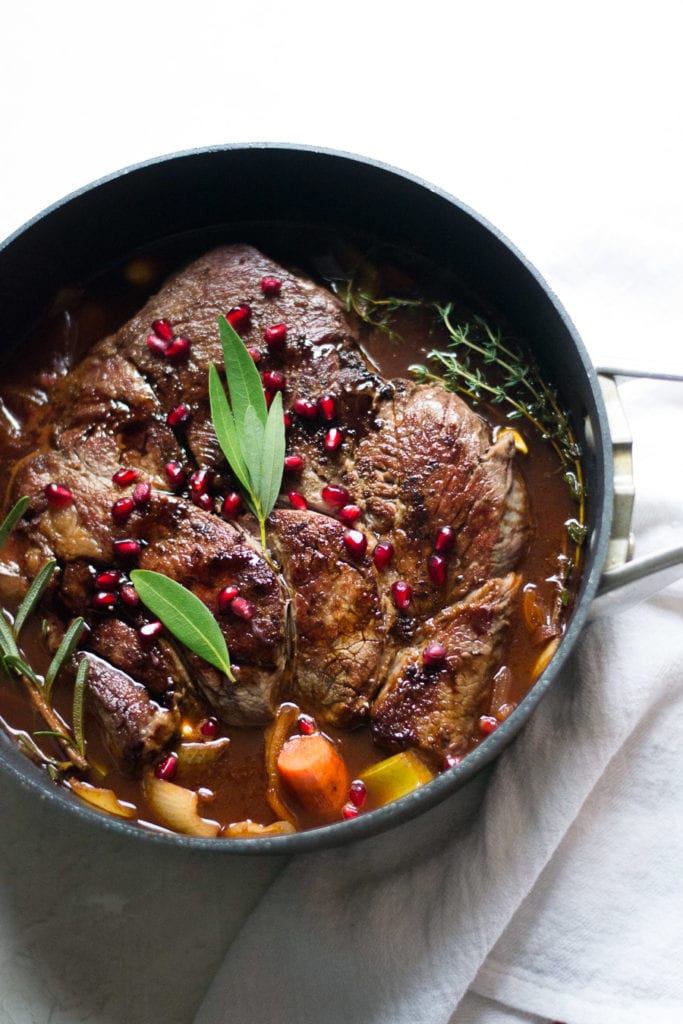 You may have already planned your holiday dinner menu. I know. You may want more of a show-stopper than the old, unassuming pot roast.
I am still posting this recipe in time for your holiday dinners just in case.
Balsamic pomegranate pot roast was conceived as a weeknight, first snow of the season dinner for Mike and me. It was the first meal I cooked in our new oven.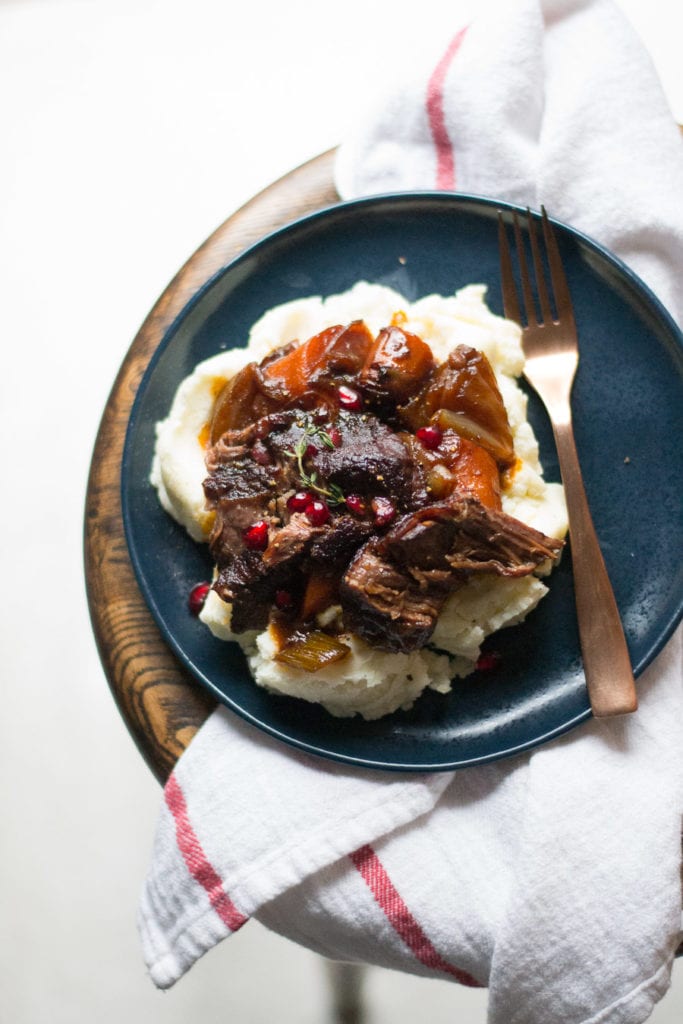 Yay! What a way to christen the oven?
I saw how pretty the pot roast was glazed in balsamic vinegar and topped with fresh herbs and pomegranate arils and thought it was too beautiful not to share.
The only part of this recipe that requires a little bit of hands on action is searing the roast to create a crust before you pop it in the oven.
How right was I?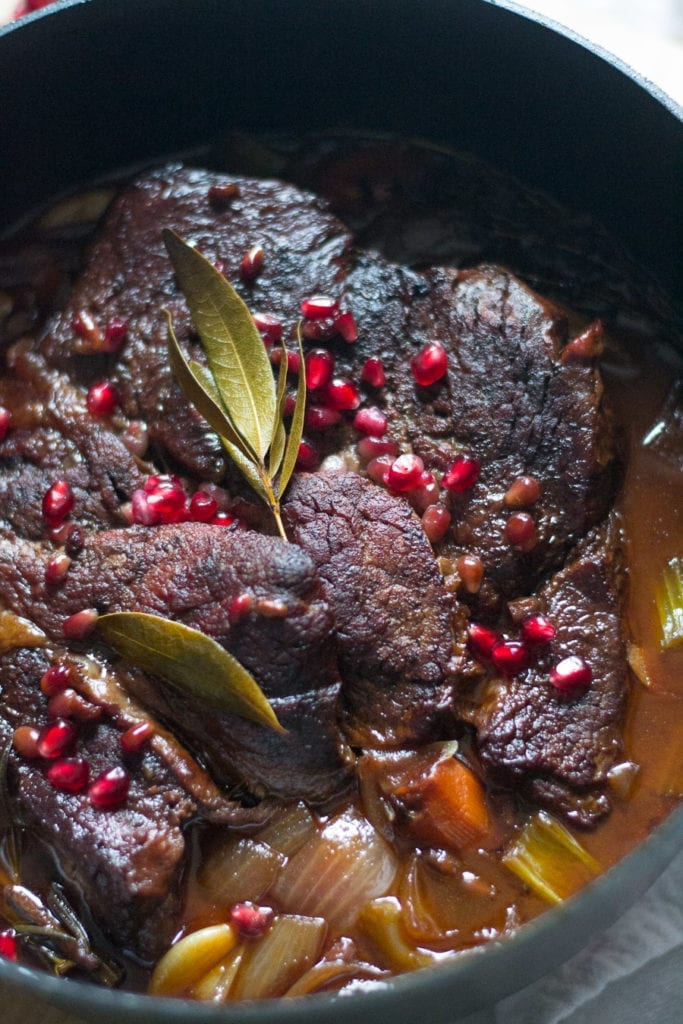 I love the ease of just tossing a big pot of veggies and meat into the oven for a few hours and just letting it do it's thing. Open presents with your kids, prep the pot roast, and then throw it in the oven. Go about your day. Prep some mashed potatoes, preferable my mom's refrigerator mashed potatoes.
Maybe take a shower. Clean up the piles of things that always seem to accumulate over the dining spaces.
Pull the beauty of a roast out of the oven when company arrives.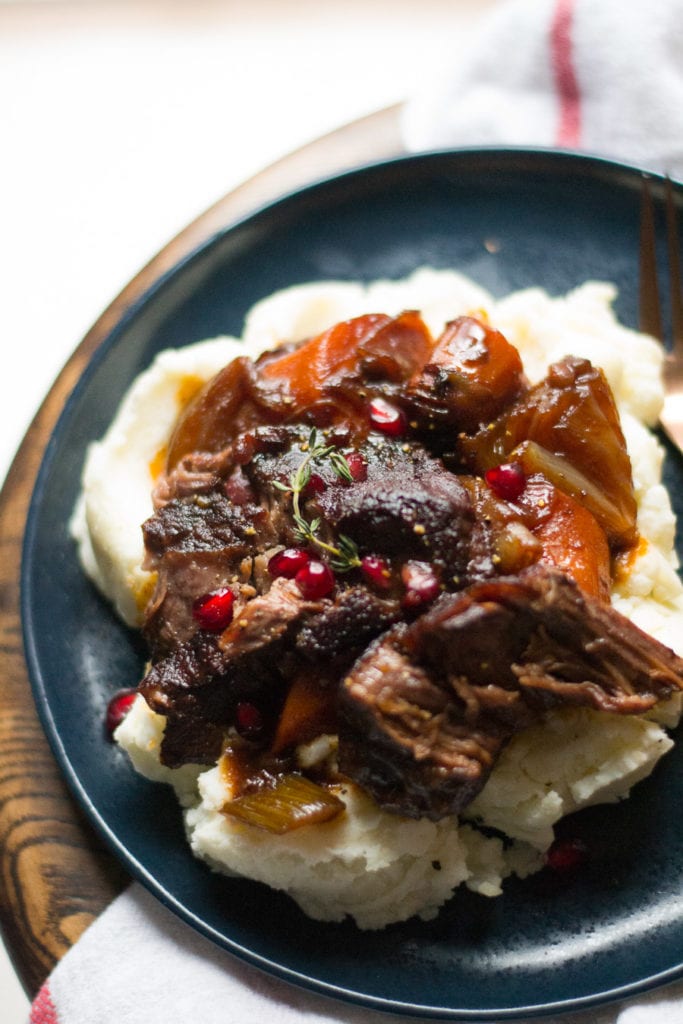 I recently saw Carlsbad Cravings made a similar recipe for short ribs with balsamic too. It is like the fancier version of this recipe.
I hope I helped you to either plan a family meal or holiday dinner for these few long glorious weeks of holiday vacation in front of us. Fifteen days off with my boys, all three of them, ahead of me and I am ready!
Are you? One dinner down, fourteen to go!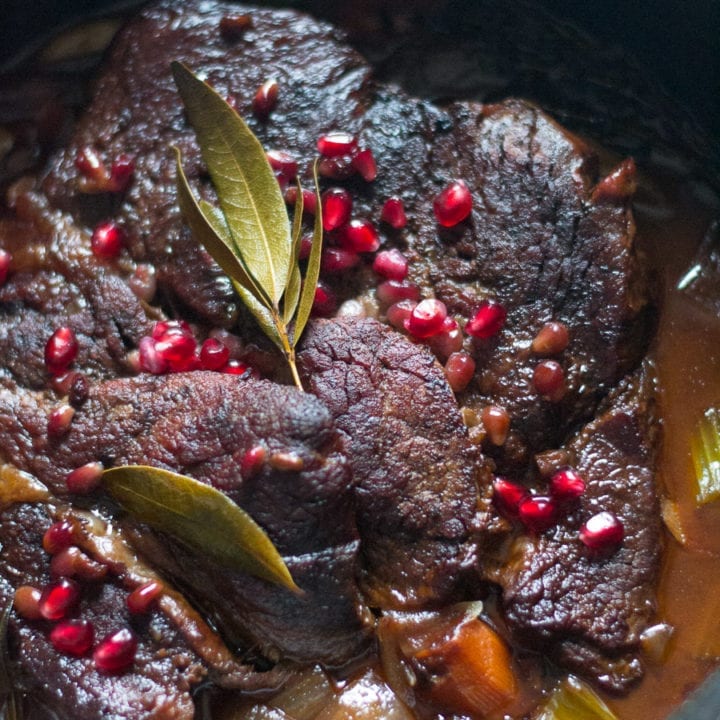 Balsamic Pomegranate Pot Roast
Cook Time:
4 hours
45 minutes
Total Time:
4 hours
50 minutes
Slow cooked balsamic pomegranate pot roast in a red wine sauce with carrots, celery, onion, and garlic.
Ingredients
1 tbsp extra virgin olive oil
1 tsp salt, plus more to taste
1/4 tsp black pepper
3 lb beef chuck roast
4 carrots, peeled and chopped
4 celery ribs, cleaned and chopped
1 yellow onion, roughly chopped
5 garlic cloves, peeled and smashed
1/4 cup balsamic vinegar
2 tbsp tomato paste
1 tbsp Worcestershire sauce
1 cup dry red wine (cabernet or syrah)
2 1/2 cups low-sodium chicken stock
2 fresh bay leaves
1 sprig of fresh rosemary
1 sprig of fresh thyme
Instructions
Preheat the oven to 300 degrees F.
Heat a large Dutch oven over high heat. Add oil, swirl to coat the pan, and heat for 1-2 minutes.
Season the beef with salt and pepper on all sides. Sear the beef roast in the Dutch oven for 5 minutes on each side. Once deeply browned on each side, remove from the pan and set off to the side on a plate.
Reduce the heat to medium. Add the veggies, pomegranate seeds, and garlic. Sauté for 3 minutes. Scrape off the burnt bits from the bottom of the pan.
Add the tomato paste and cook down for 3-4 minutes until the paste starts to darken. Add the balsamic vinegar, Worcestershire, and wine. Mix to combine.
Add the stock and bring to a simmer over medium/high heat. Return the beef to the pot. add in the fresh herbs. Cover with lid.
Cook covered in the oven for 4 hours.
Allow the roast to rest for 10 minutes before removing, slicing, and serving with the pan sauce poured over the top.
Recommended Products
As an Amazon Associate and member of other affiliate programs, I earn from qualifying purchases.