Slow Cooker celery soup is a vegetarian-friendly, creamy, dairy-free soup. This soup is celery-packed and uses potatoes to make for a creamy consistency. Set it in the slow cooker and forget it!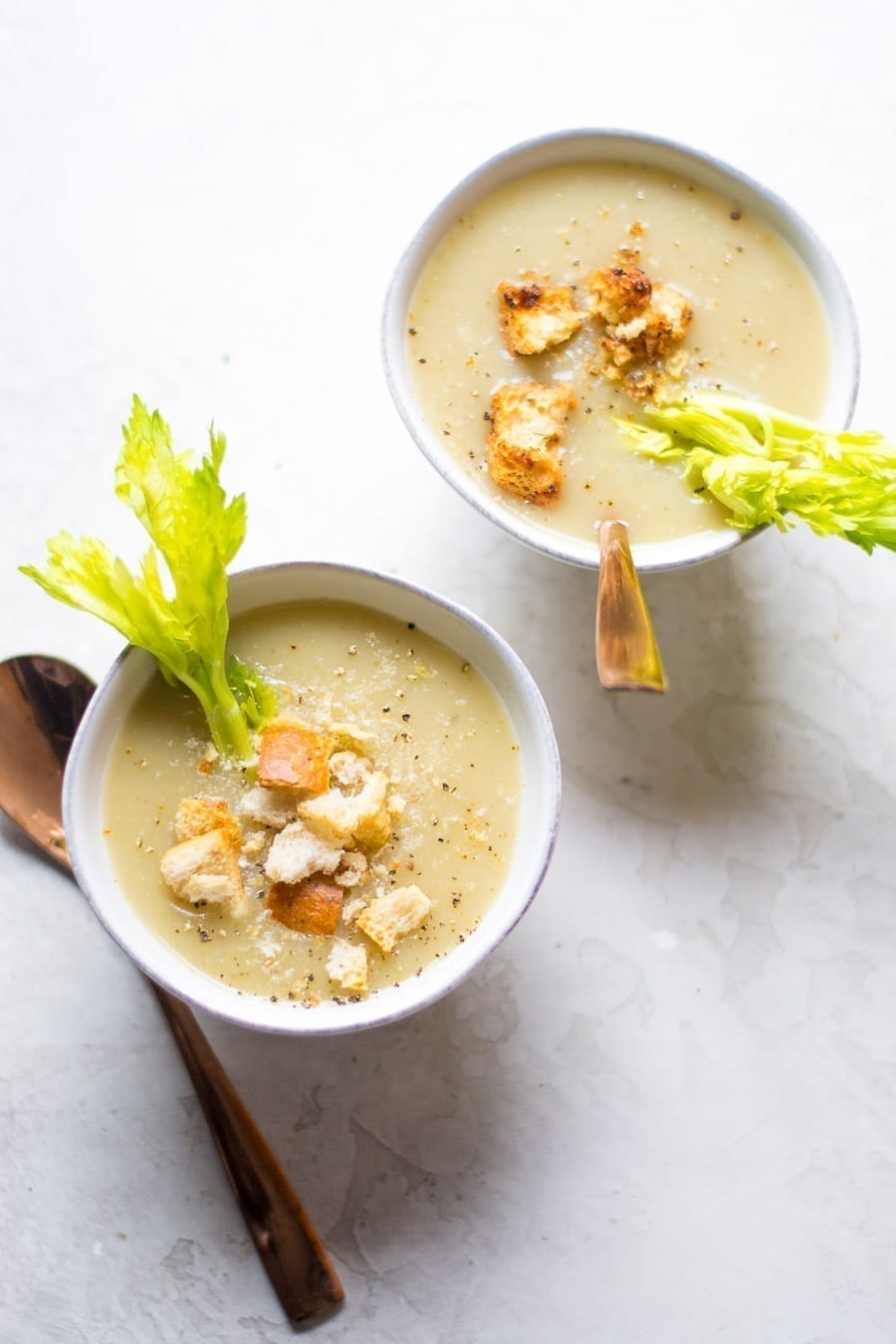 Never have I ever met a vegetable I haven't liked… except for celery. I sometimes feel like celery is a useless vegetable. Don't hate email me, please?!?!
It is made up mostly of water and has these strands that get stuck in your teeth. I would just rather skip it in recipes.
Don't get me wrong, I do like celery as an excellent vehicle for transporting ranch or blue cheese into my face.
There are supposedly a lot of trendy health benefits to raw celery juice.
I haven't been able to stomach or actually to make time to create my own celery juice in the morning.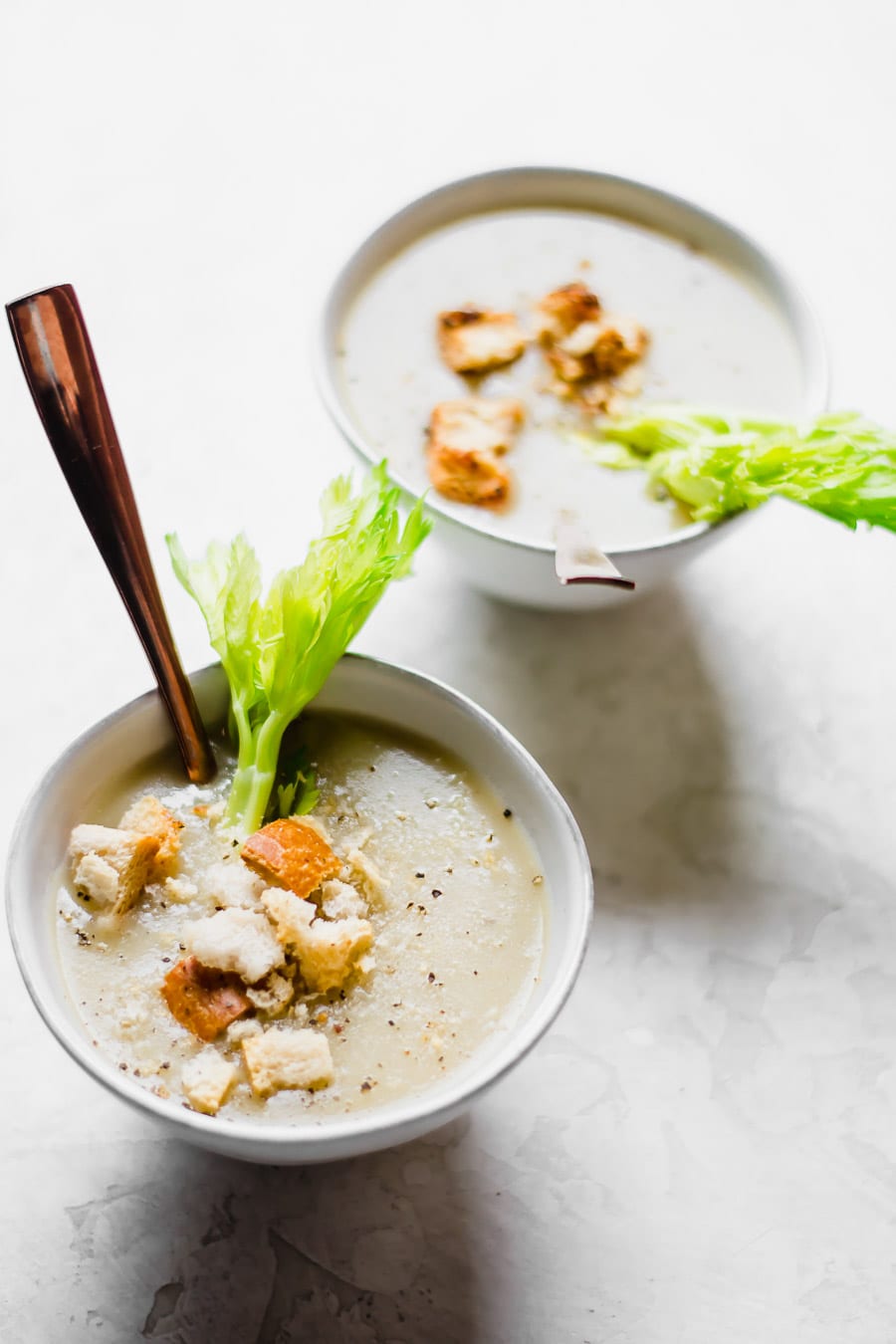 Are you on this trend?
I figured since sooooo many popular influencers out there are all on the celery bandwagon, I would give this lowly vegetable a shot.
Celery is the star of this soup. Slow cooker celery soup is a tasty vegetarian, dairy-free, creamy, and super easy soup.
Cut and clean a whole bunch of celery, toss it into a slow cooker along with some peeled potatoes, diced onion, and garlic. Cover it with some vegetable stock, a little, salt, celery salt, and pepper.
Set your slow cooker and walk away.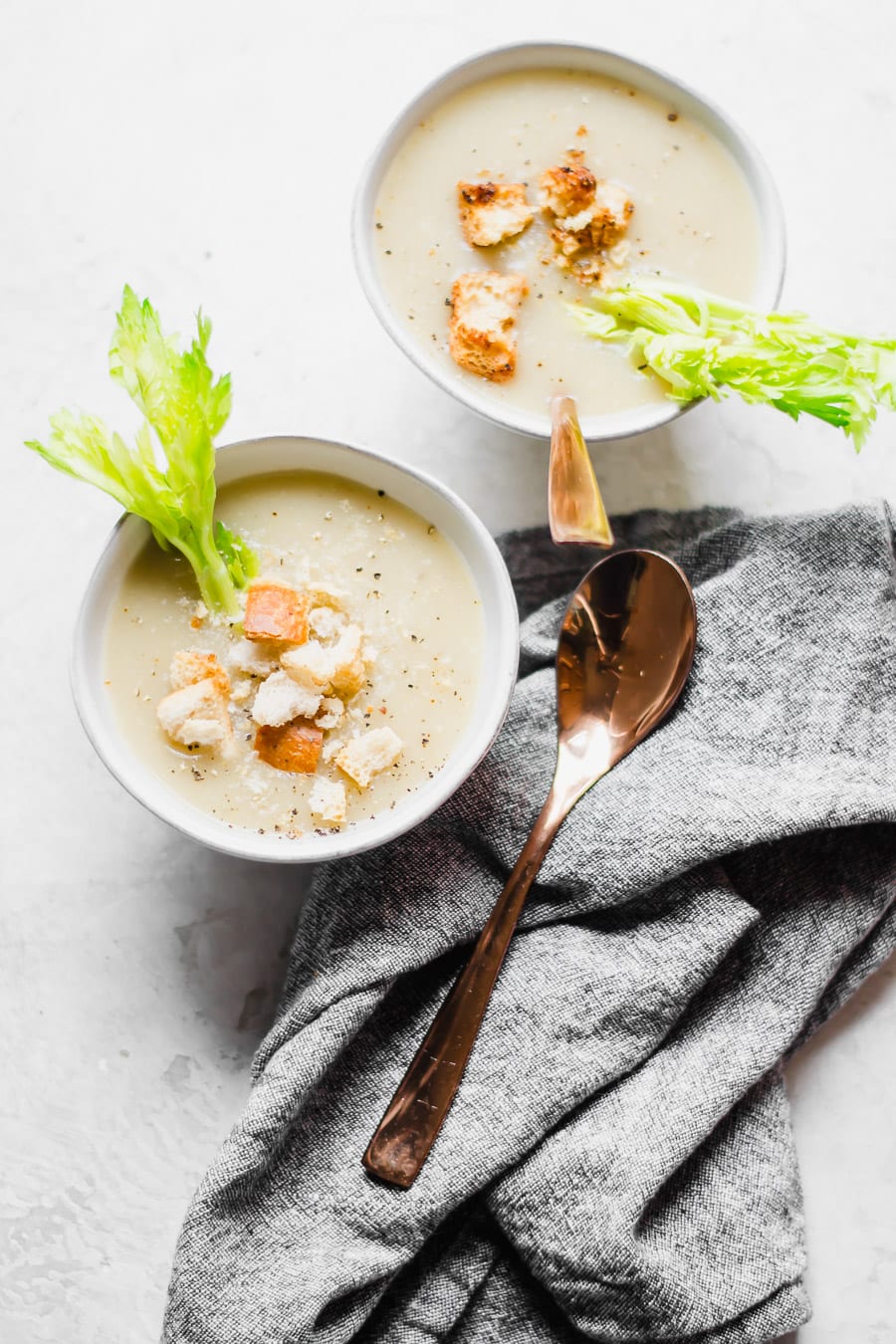 Use the blender or an immersion blender to puree the soup to your desired thickness.
I love to eat this soup with a little drizzle of a good olive oil on top and a whole slew of crunchy croutons.
This is how I can handle celery as the main event of a meal.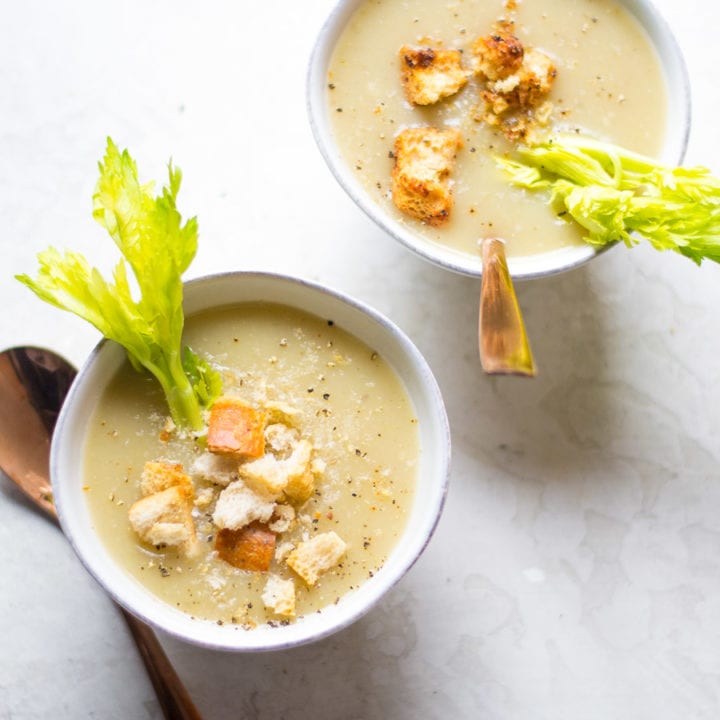 Slow Cooker Celery Soup
Total Time:
4 hours
10 minutes
Dairy-free, easy celery and potato slow cooker soup requires few ingredients and minimal work with a big bang of flavorful payoff.
Ingredients
7 ribs of cleaned and roughly chopped celery
1 yellow onion, chopped
1 lb peeled russet potatoes (about 3-4 medium potatoes)
1 garlic clove, roughly chopped
1/2 tsp celery salt
1/2 tsp kosher salt
1/4 tsp black pepper
32 oz vegetable stock
Instructions
Add all the ingredients to the slow cooker. Mix to combine. Cover with lid.
Set the slow cooker to low for 6-8 hours or high for 3-4 hours.
Once the potatoes are fork tender, use an immersion blender to puree the soup until smooth and creamy. Adjust salt and pepper to taste.
Recommended Products
As an Amazon Associate and member of other affiliate programs, I earn from qualifying purchases.