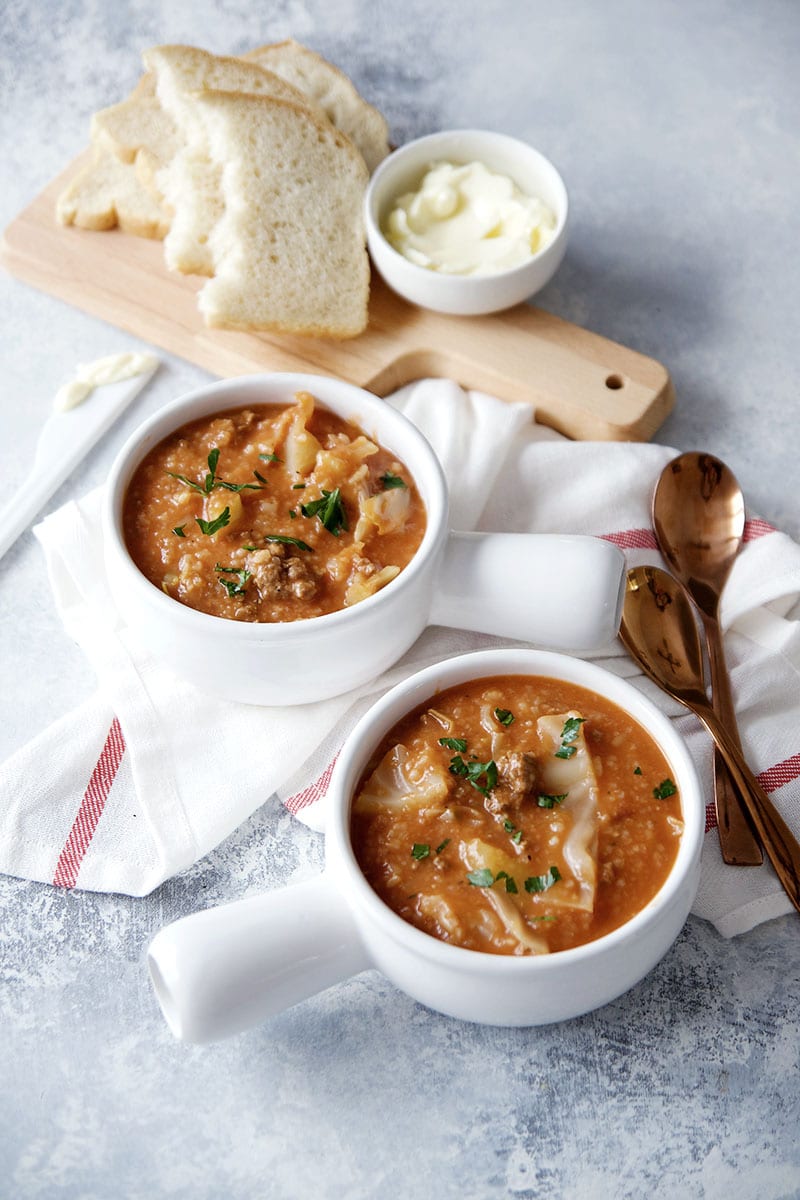 Just to refresh your memories, this is my third riff on cabbage rolls that I have done for the blog. This is one of those basic family comfort foods that you really have to try hard to mess up. That's why I think it works well so many different ways. I have a feeling, though, that if my Dziadzia (jah-jah – grandpa in Polish) was still alive, he might not be as easily convinced.
He liked what he liked and was rarely about to try new things, let alone cooking methods. He liked his Pepsi in cans and warm. He liked his butter cold and his rye bread room temp. He loved his extra crispy KFC chicken. He liked to take his time and cook meals that would take all day long and fill the house with smells that still to this day bring back the best memories.
Naturally, when I started this site, I knew his recipes would end up on here.
I had to start with my Dziadzia's recipe for traditional cabbage rolls. Ya know, the one where you par-boil the cabbage leaves, roll up the meat and rice mixture, and then bake them in tomato sauce. It was so close to tasting like his. He would have been proud. But, because I am not my Dziadzia (I am a lazy millennial), I thought, "How can we make this easier?"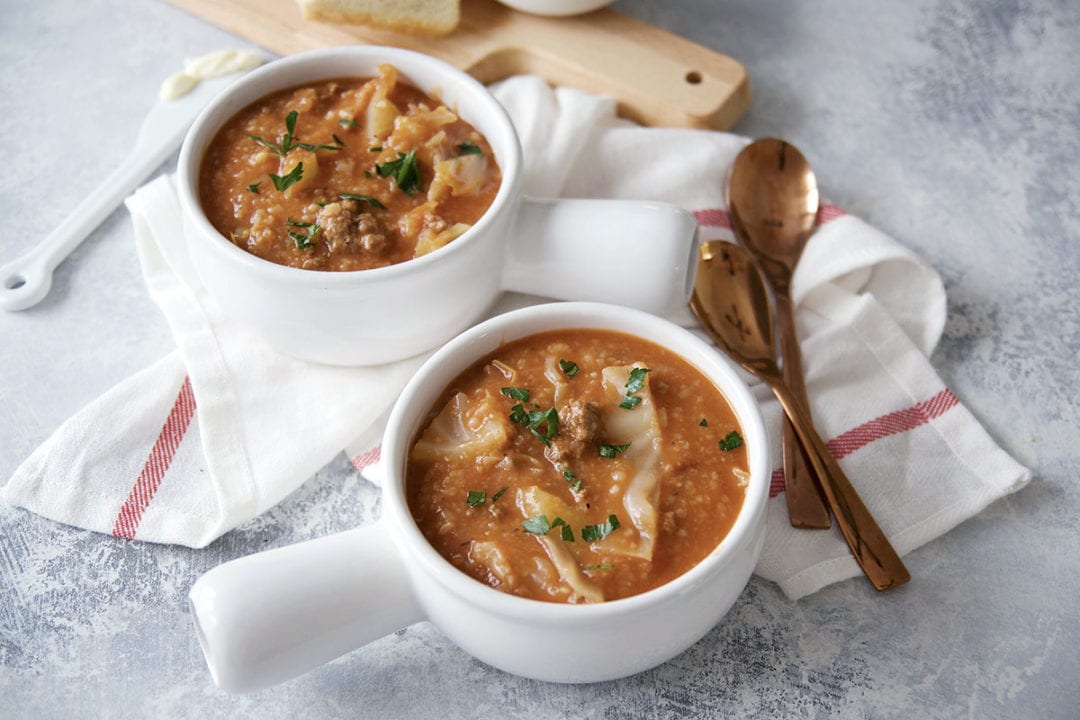 Enter the second rendition of the cabbage roll: slow cooker lazy cabbage rolls. It is kind of like cabbage roll lasagna in the slow cooker. Again all the same ingredients, just a different method. It tasted just as good as the rolled cabbage with way less effort. Every time I make this for me and mike I throw up a silent apology to my Dziadzia in heaven for taking the easy way out and not really sticking to his recipe.
Now, I can feel him glaring down and raising a doubtful bushy eyebrow on my most recent spin, the cabbage roll soup. Its basically more of a tomato soup with lean ground beef, rice, cabbage, and a touch of bacon. I did keep it traditional by sticking to good ol' Campbell's canned condensed tomato soup. I have tried to hippie this recipe up and use fresh tomatoes or no salt added, but trust me, those versions were garbage. You can't tinker with the ingredients, only the method.
All I have to do to justify these renditions of the classic is to remind myself that not even my Mom can make classic, time consuming cabbage rolls as good as my Dziadzia used to so we all have to make our own versions.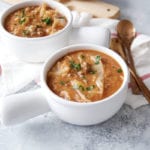 Slow Cooker Cabbage Roll Soup
Slow cooker beef cabbage roll soup with rice and bacon.
Ingredients
1

Strip of Bacon

1

Pound

Lean Ground Beef

2

Tablespoons

Grated Onion

Salt and Pepper to taste

2

Cups

of Low Sodium Beef Stock

30

Ounces

Campbell's Condensed Tomato Soup

3 cans worth

1

Cup

Water

3/4

Cup

Jasmine Rice

1/2

Head of Cabbage

core removed and chopped into about 1 inch pieces

1

Bay Leaf
Instructions
Heat a medium skillet over medium/high heat for 1 minute. Add bacon to skillet and cook until crispy and all the fat has rendered, turning as needed.

Once the bacon is cooked remove it from the pan and place off to the side. Add the beef to the pan along with salt, pepper, and grated onion. Stir to combine and break the beef into smaller pieces. Once the beef is browned, drain off excess fat.

Add the tomato soup, water, beef stock, rice, beef, and cabbage to the slow cooker. Stir to combine. Add more salt and pepper. Add the bay leaf to the pot.

Cover with lid and set to low for 8 hours or high for 4 hours.

Be sure to stir occasionally so the rice doesn't stick to the bottom. If you aren't going to be home while this cooks, skip the water and rice Cook your rice separate and add it in later to make sure that it cooks evenly and doesn't stick to the bottom of the slow cooker.

Once cooked, remove bay leaf. Chop the bacon and add it back into the soup. Taste the soup and add more salt and pepper if needed.