Pressure cooker beef barley soup comes together in the Instant Pot in under an hour. Browned beef and hearty barley make for the perfect cold day soup.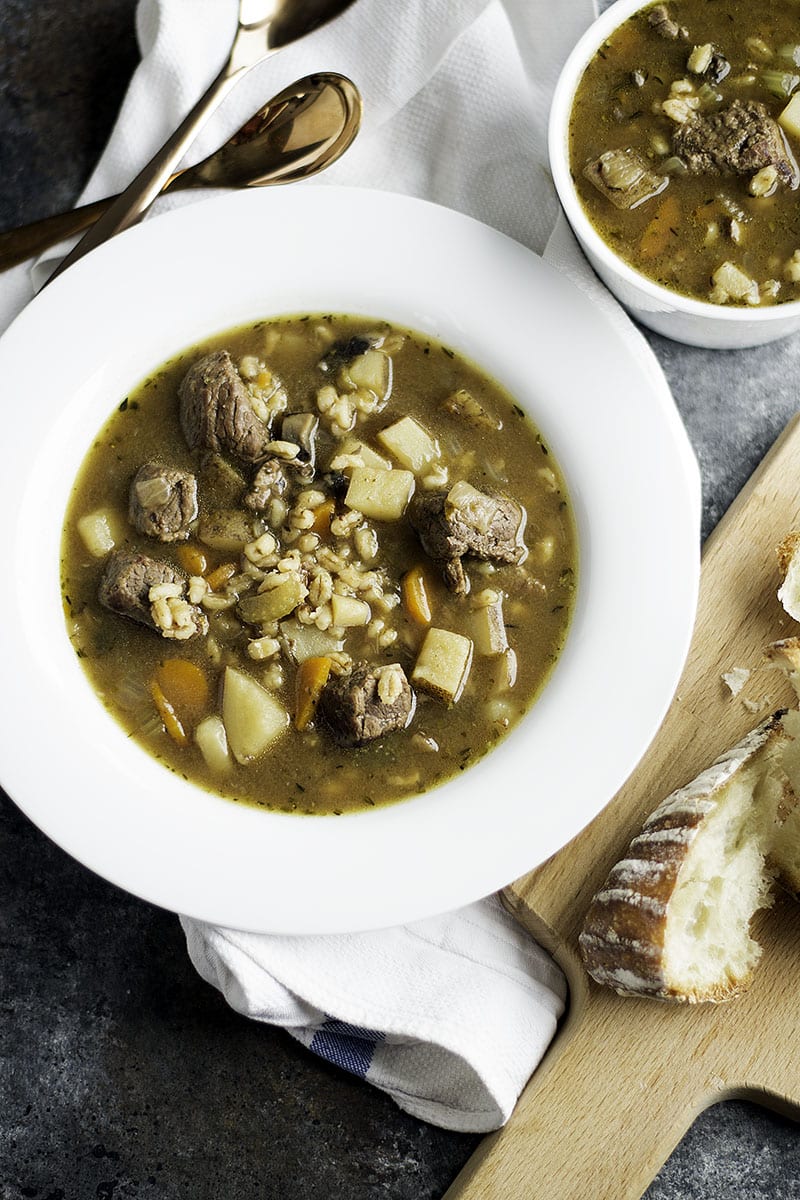 I hope everybody had a nice Super Bowl. I hope you have recovered, whether that's from your team's loss, the loss of your self control after eating and drinking all the things, or from "the death that will unite us all" on This Is Us.
Either way, recovered.
We ate so much in the first half of the game, that by the time I made food for the halftime performance, nobody was hungry.
At the time, I was a little sad and rejected. Me and my burrata, pepperoni, and spicy giardiniera pizza. Ignored and pushed aside.
Who says no to that pizza? Seriously!
Now, I open my fridge and see leftover sliders and a whole pizza. Ya, know what? That's not too shabby. I will most likely make Mike take all of the leftovers for work lunches. He will be living his best life all week long.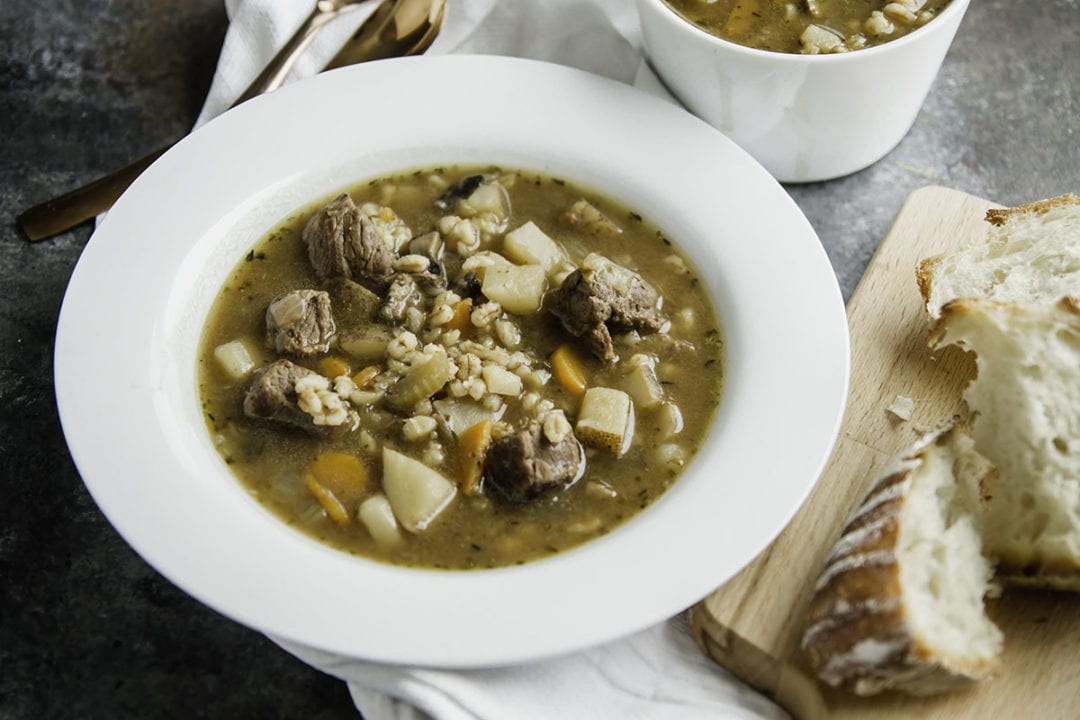 I need a reset after all that cheese and beer. My two weaknesses.
The easiest way for me to reset is with soup. I find that way easier to dive into than a salad. Plus, don't let Mike know I said this, but sometimes a salad can be just too green and crunchy and too much effort.
Soup feels way more filling.
And, if let's just say you may have a little lingering hangover still kicking you through the week, this is all cooked in the pressure cooker. God bless the pressure cooker.
I know beef isn't always the healthiest, but you have potatoes, carrots, celery, onion, mushrooms, and barley to balance out your meal. Pressure Cooker beef barley soup has most of the major food groups in one bowl. Perfect!
Maybe by the time I make my next recipe post, I will come around to the idea of something greener. For now, brown will do.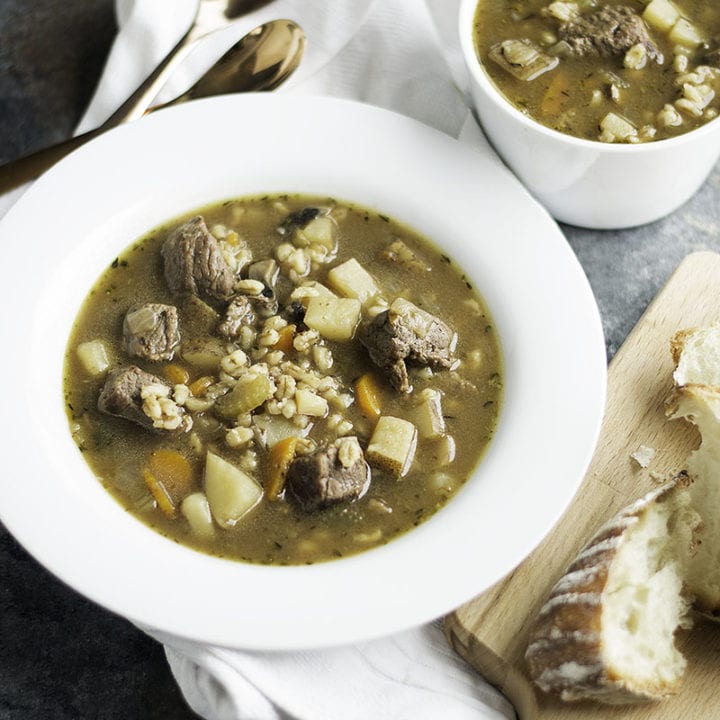 Pressure Cooker Beef and Barley Soup
Hearty beef and barley soup with potatoes, mushrooms, celery, carrots, and onions.
Ingredients
1 Tablespoon Olive Oil
1 1/2 Pounds Beef Stew Meat
2 Teaspoons All Purpose Flour
1 Yellow Onion, diced
2 Carrots, peeled and diced
2 Celery Stalks, diced
1 Russet Potato, diced
1 Portabella Mushroom, stem removed and diced
2 Garlic Cloves, grated
1 Teaspoon Dried Oregano
1 Teaspoon Dried Thyme
Salt and Pepper
2 1/2 Cups Low Sodium Beef Stock
3 Cups Water
3/4 Cup Barley
Instructions
Set the pressure cooker to brown/saute. Add olive oil and brown the beef. Coat in flour and stir to distribute. Cook for 5 more minutes. Remove beef nd set off to the side on a plate.
Add potato, onion, mushrooms, carrot, and celery. Stir to coat in the beef drippings. Cook for 7 minutes until slightly tender.
Add garlic, salt, pepper, oregano, and thyme cook for one more minute.
Turn off the brown/saute function. Add the water, stock, and barley.
Secure the lid with the steam valve closed. Set to high pressure or soup for 30 minutes.
Quick release the steam and let cool slightly before serving. Let the soup cool to remove temperature before adding to containers and freezing for up to a month or keep in the fridge for up to a week.