Roasted cauliflower with grapes and almonds is sweet, savory, crunchy, and so easy to make. Cauliflower is roasted with red grapes, almonds, garlic, and crushed red pepper flakes.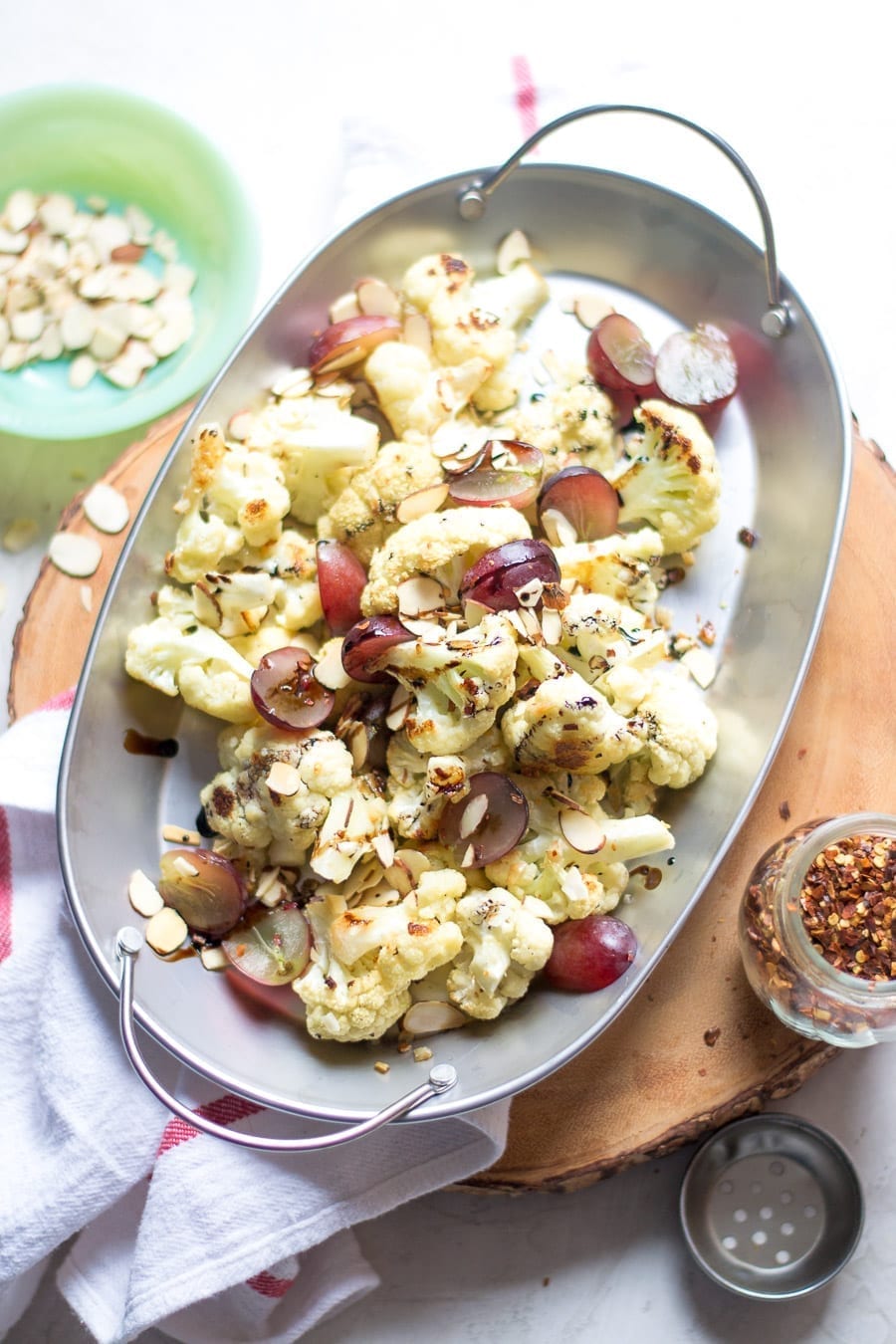 I don't generally like cooked cauliflower on its own. I am so used to it being everything else except just plain old cauliflower.
There is a meme floating around the interwebs about how at the end of this quarantine somebody will find a way to make cauliflower into toilet paper.
I wouldn't even be surprised.
The only way I really ever eat cauliflower is raw and dunked in ranch dip.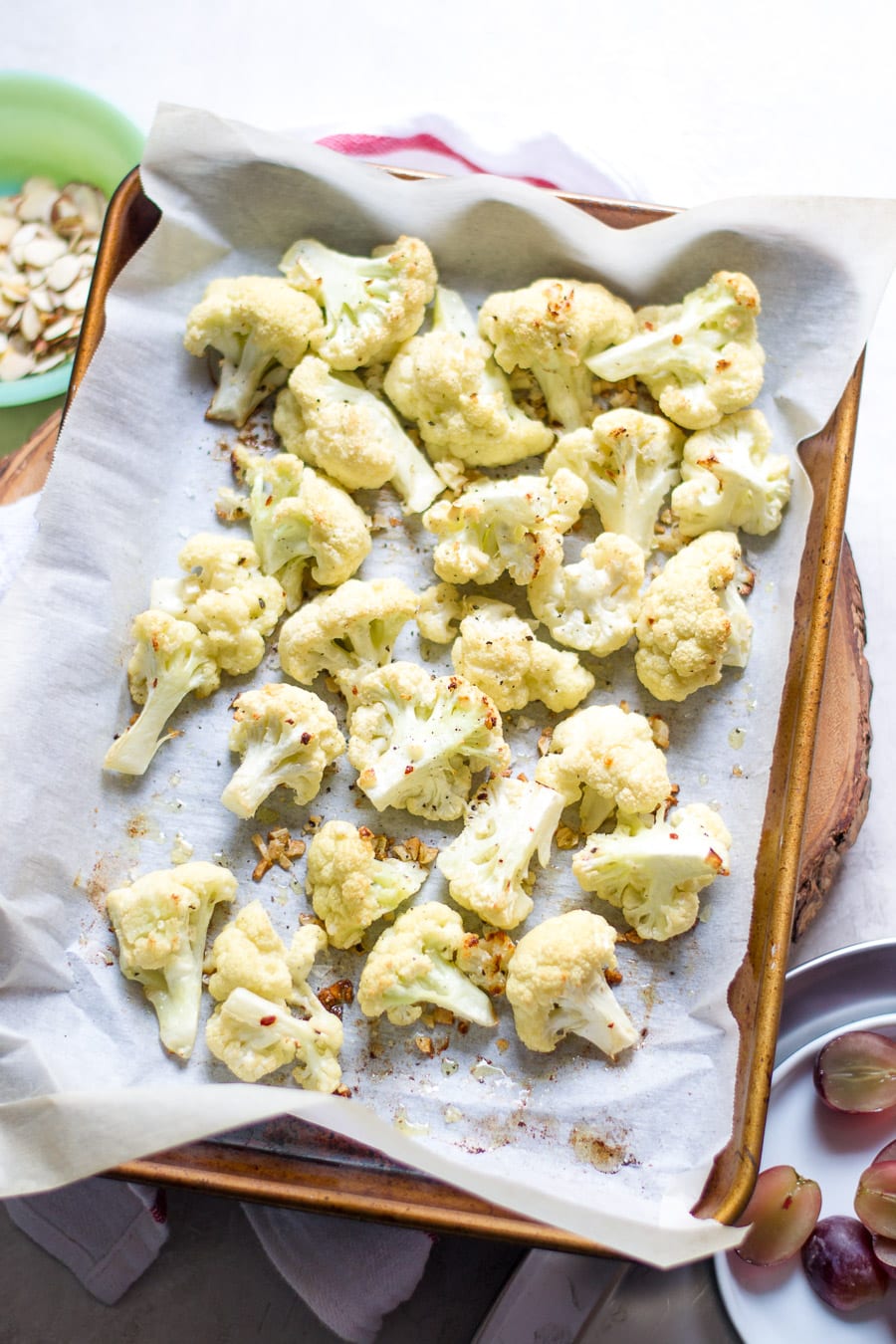 Broccoli and cauliflower are hands down the best veggies for ranch dipping because of all the little nooks and crannies in the florets.
Don't even try to argue the case for celery, carrots, or even cucumbers!
Ranch and veggie dip rant is now over.
My apologies for the tangent.
Roasted cauliflower with grapes and almonds is a riff on a dish at one of my favorite, local pizza places called Wooden Paddle.
I try my best to recreate their recipes at home while also enjoying a little take out every now and then since we can't go there to eat.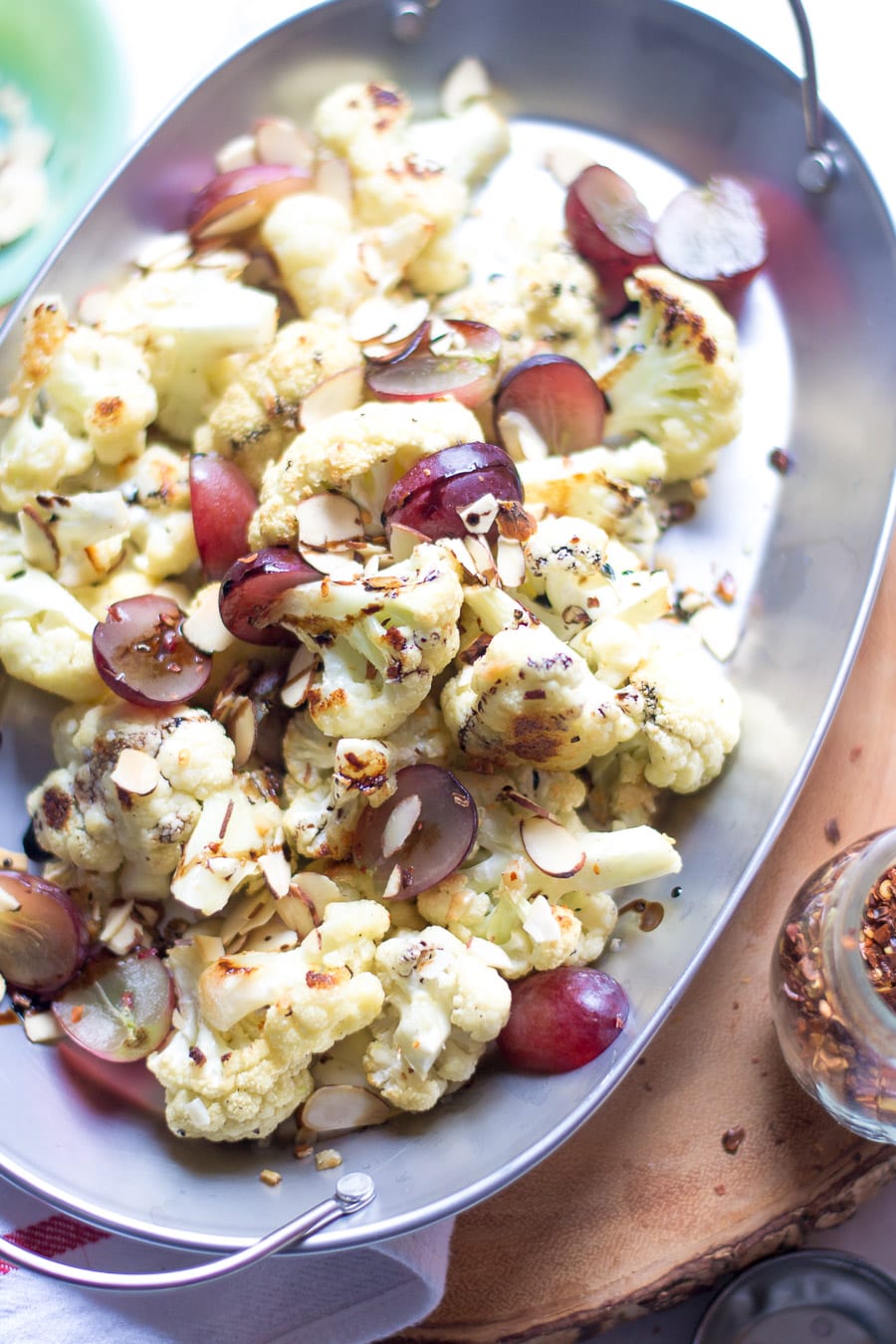 You may think the sweet grapes do not go with the cauliflower. When it all gets roasted together and caramelized, the flavors are out of this world.
There is lots of garlic in this dish and lots of crushed red pepper flakes
The balsamic glaze at the end is so necessary.
We basically hit every sweet and savory note in this one dish.
I also recommend adding some non-roasted grapes to the finished dish for a punch of color and flavor.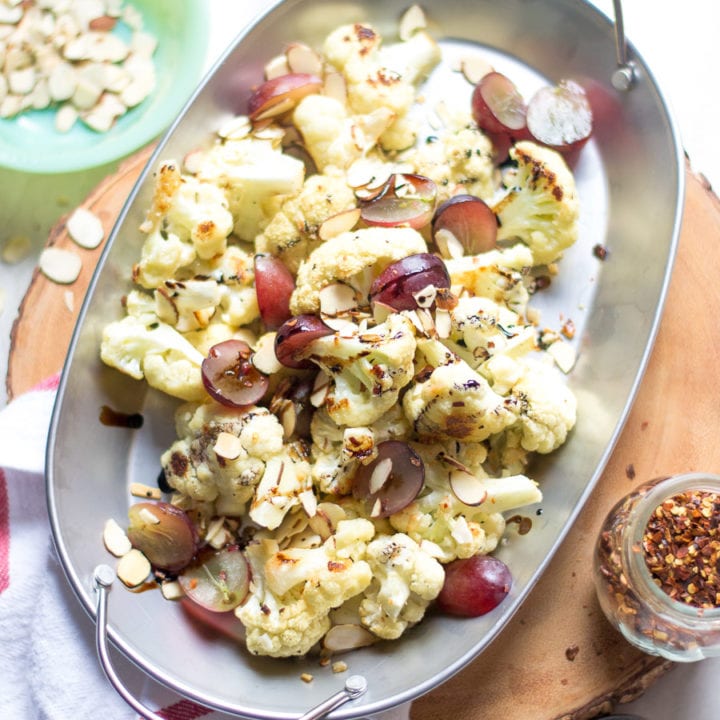 Roasted Cauliflower with Grapes and Almonds
Roasted cauliflower and grapes with lots of garlic, crushed red pepper flakes, and crunchy almonds.
Ingredients
1 head of cauliflower, cut into small florets
1/4 cup extra-virgin olive oil
1/2 tsp salt
1/4 tsp black pepper
1/2-1/4 tsp crushed red pepper flakes
3 garlic cloves, peeled and minced
1 cup red seedless grapes, cut in half
1/4 cup sliced almonds
1 tsp balsamic glaze
Instructions
Preheat the oven to 450 degrees F. Line a medium/large baking sheet with parchment paper and set off to the side.
Toss the cauliflower, grapes, garlic, olive oil, salt, pepper, and crushed red pepper together in a large mixing bowl. Add the cauliflower and grapes to the baking sheet. Roast in the oven for about 20 minutes until golden and tender.
While the cauliflower is roasting, add the almonds to a small skillet over medium heat. Toast for a few minutes until they turn slightly golden. Transfer to a plate off to the side so they do not keep toasting and burn.
Add the cauliflower to a serving dish/plate. Top with toasted almonds, more salt and crushed red pepper if needed, and the balsamic glaze drizzle.
Recommended Products
As an Amazon Associate and member of other affiliate programs, I earn from qualifying purchases.