Bacon, egg, & cheese tater tot casserole is my favorite make ahead breakfast. Sautéed mushrooms, peppers, and onions mixed with eggs, cheese, crispy bacon, and toter tots then baked until golden.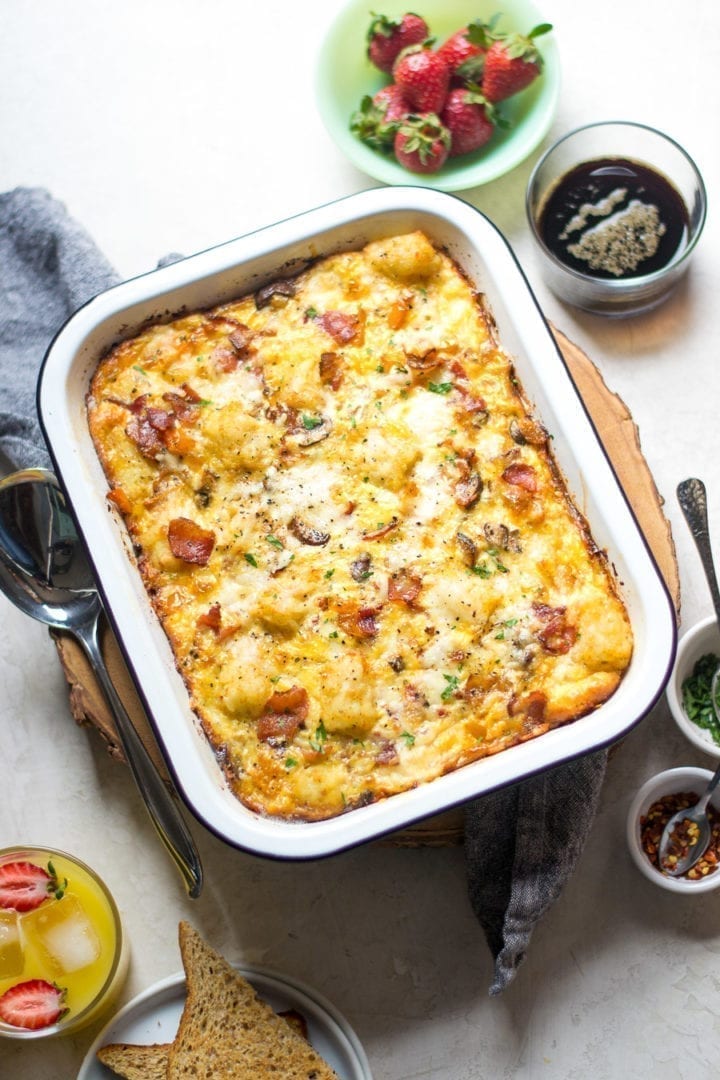 Are you doing any holiday baking this year? Can we even pass out cookie tins, like are we allowed?
I keep adding to my cookie board on Pinterest and referring back to my cookie round up from a few years back.
Then the weekend comes and I'm like… I will bake tomorrow.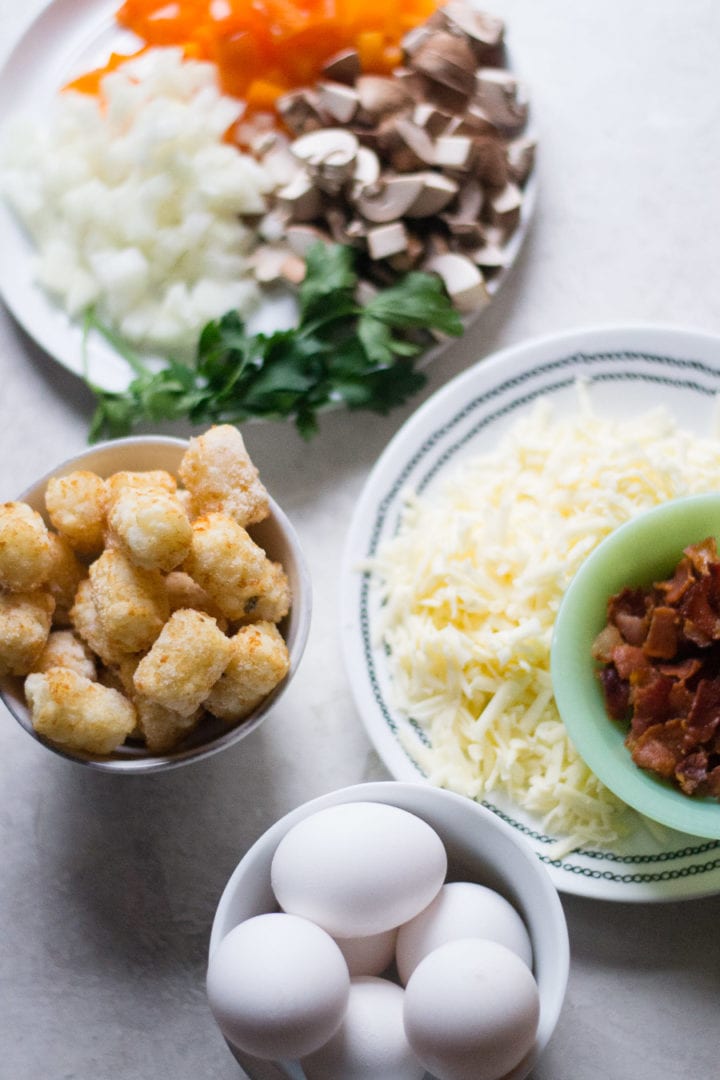 Here we are on a Monday and more cookies were stared at but nothing baked.
This year, I have been feeling more of a draw to salty snacks or savory food.
I put my energy into making another Christmas morning casserole.
This year I went all in with frozen tater tots.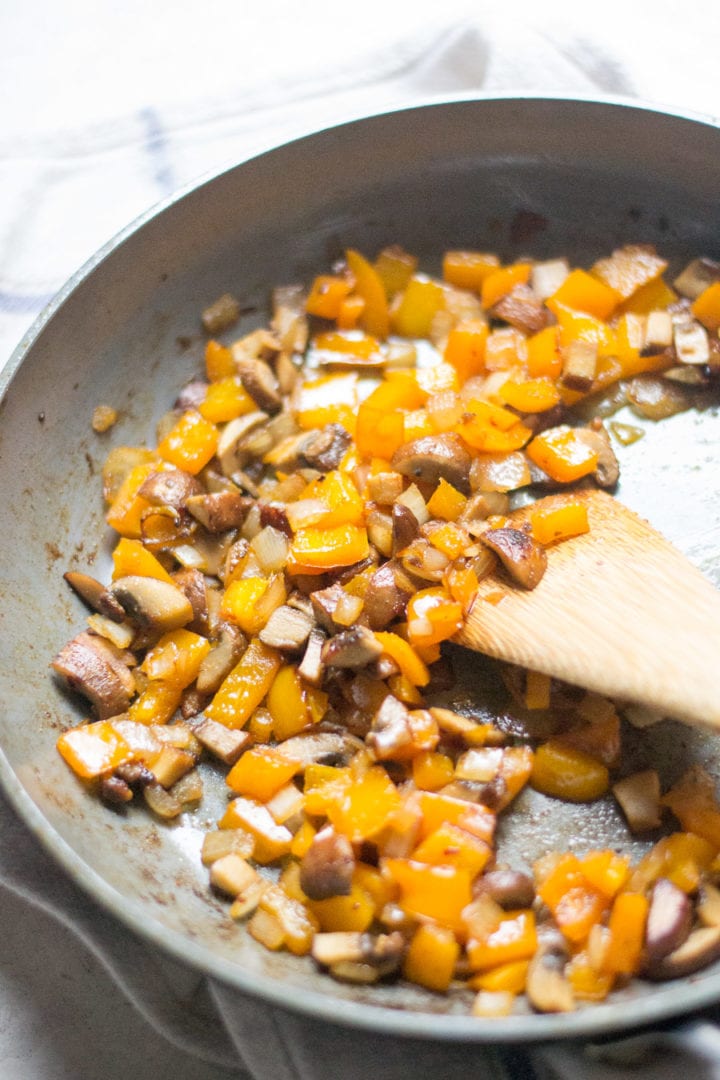 The casserole can be prepped the night before (yes, eggs and all) and then kept in the fridge overnight.
Wake up at 4am when the kids start stirring because they want them presents, throw this in the oven, and be done.
In addition to tots, the bacon, egg, & cheese tater tot casserole is filled with mushrooms, onions, and bell pepper.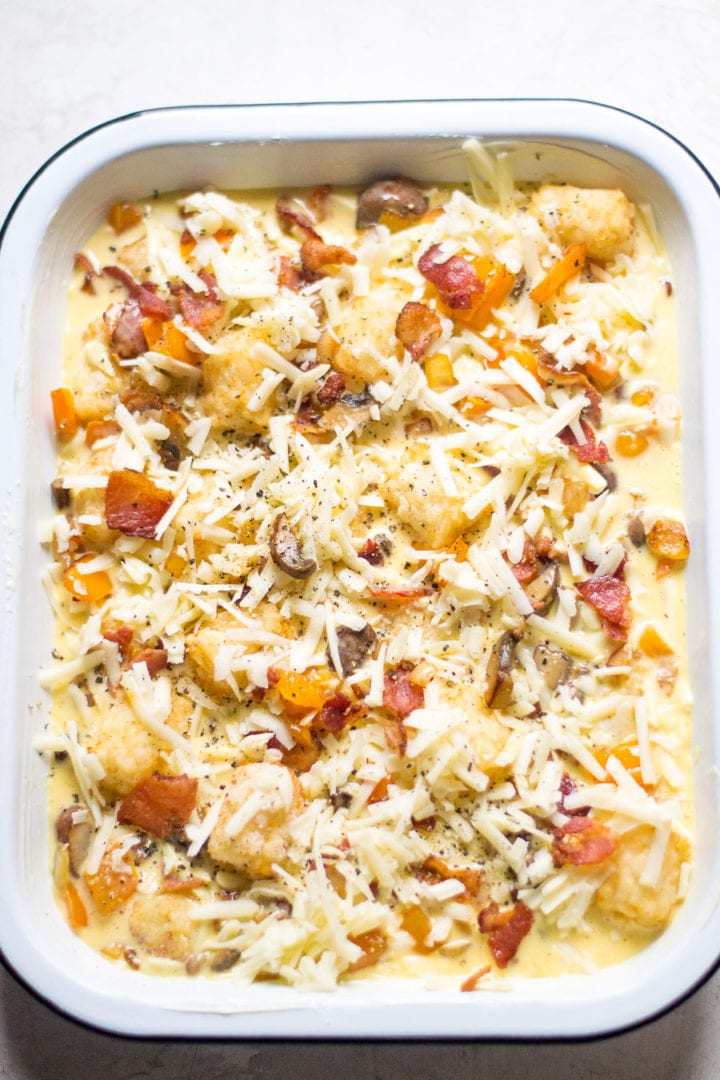 The perfect balance of indulgent and healthy if you ask me!
Even if your kiddos don't eat this casserole, the leftovers are great reheated the next day.
Planning a holiday brunch?
Bacon, egg, and cheese tater tot casserole is really easy to throw together for a crowd with minimal work.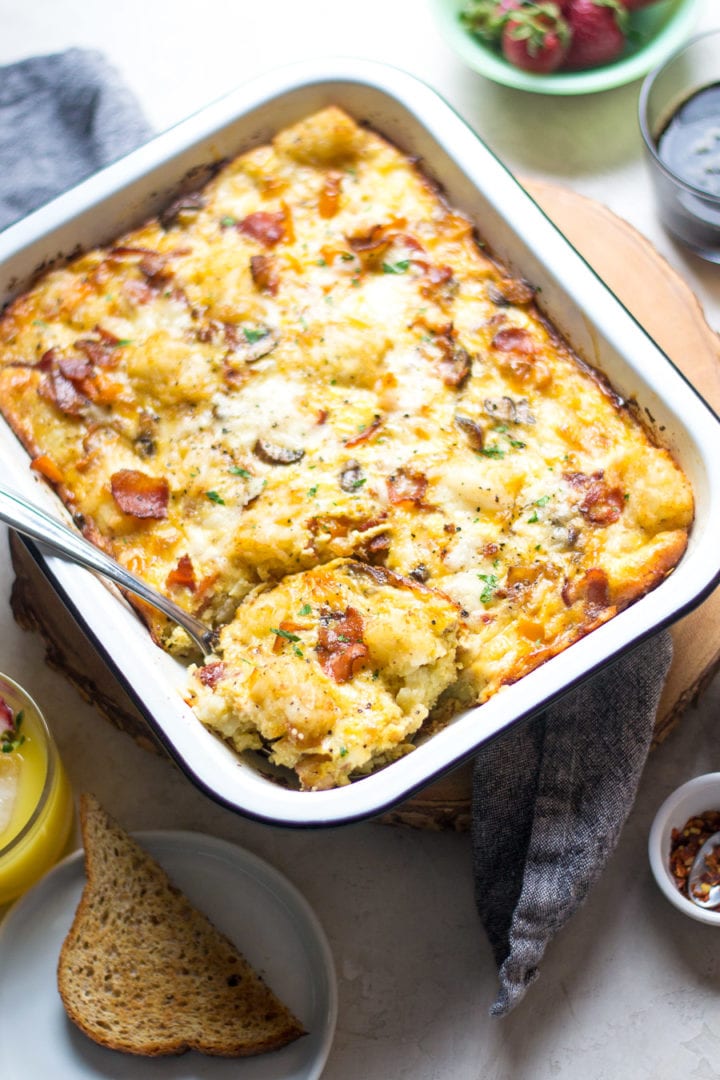 I also have a sausage and potato version of this sort of casserole.
Like I said, I always put more thought into the savory side of Christmas than the sweet.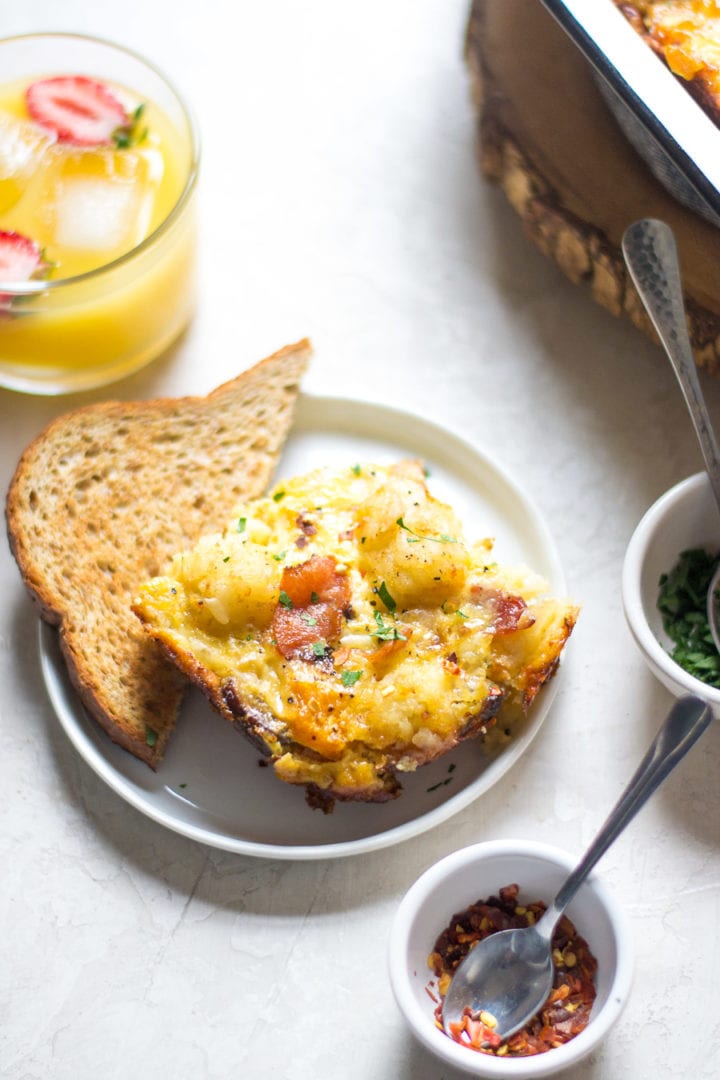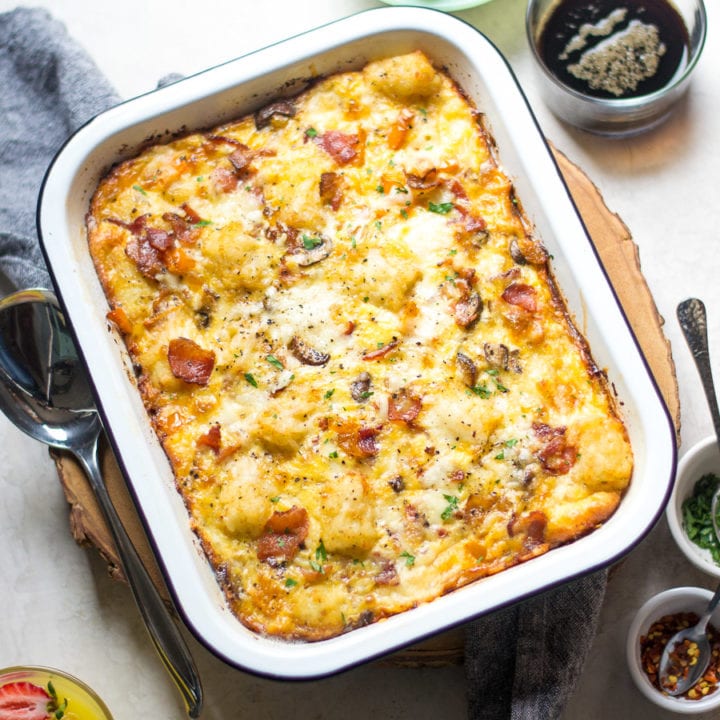 Bacon, Egg, & Cheese Tater Tot Casserole
Yield: Serves 6

Prep Time: 15 minutes

Cook Time: 1 hour 5 minutes

Total Time: 1 hour 20 minutes

Make ahead bacon, egg, cheese, and tater tot casserole with bell peppers, mushrooms, and onions.
Ingredients
6 slices of bacon, chopped
5 baby bella mushrooms, stems removed and sliced
1 bell pepper, diced
1/2 yellow onion, diced
1 garlic clove, grated
1/2 tsp salt
1/4 tsp pepper
1/4 - 1/2 tsp crushed red pepper flakes
1/2 tsp dried oregano
1 cup shredded monterrey jack cheese
6 large eggs
1/2 cup heavy cream
2 cups frozen tater tots
1 tbsp unsalted butter
fresh chopped parsley to garnish
Instructions
The day before you want to cook the casserole, add the bacon to a medium non-stick or cast iron skillet over high heat. Cook until crispy. Remove the bacon with a slotted spoon and transfer to a paper towel lined plate.
Reduce the heat to medium and add the mushrooms, peppers, and onions. Season with a pinch of salt and pepper and cook for about 10 minutes.
Reduce the heat to low. Mix in the garlic, crushed red pepper, and oregano. Cook for one more minute. Remove from heat and cool slightly.
Add the eggs, heavy cream, salt, pepper to a medium mixing bowl. Whisk to mix with a fork until combined.
Mix about 3/4 of the cheese and bacon into the eggs. Then mix in the slightly cooled veggies.
Prepare a 9 x 13-inch or 9 x 11 inch baking dish. Spread the butter all around the pan to grease it.
Add the tots to the prepared dish. Pour the egg mixture on top of the tots. Top with remaining cheese and bacon. Cover with foil and store in the fridge overnight.
Preheat the oven to 350 degrees F. Bake the dish uncovered for 40-50 minutes until the center is no longer jiggly. Turn the pan every 10-15 minutes for even baking.
Let the casserole cool for 5-10 minutes before slicing. Top with parsley if using.
Recommended Products
As an Amazon Associate and member of other affiliate programs, I earn from qualifying purchases.