Black bean and quinoa stuffed peppers are cheesy and full of flavorful Mexican style veggies. Perfect for a quick meatless weeknight meal.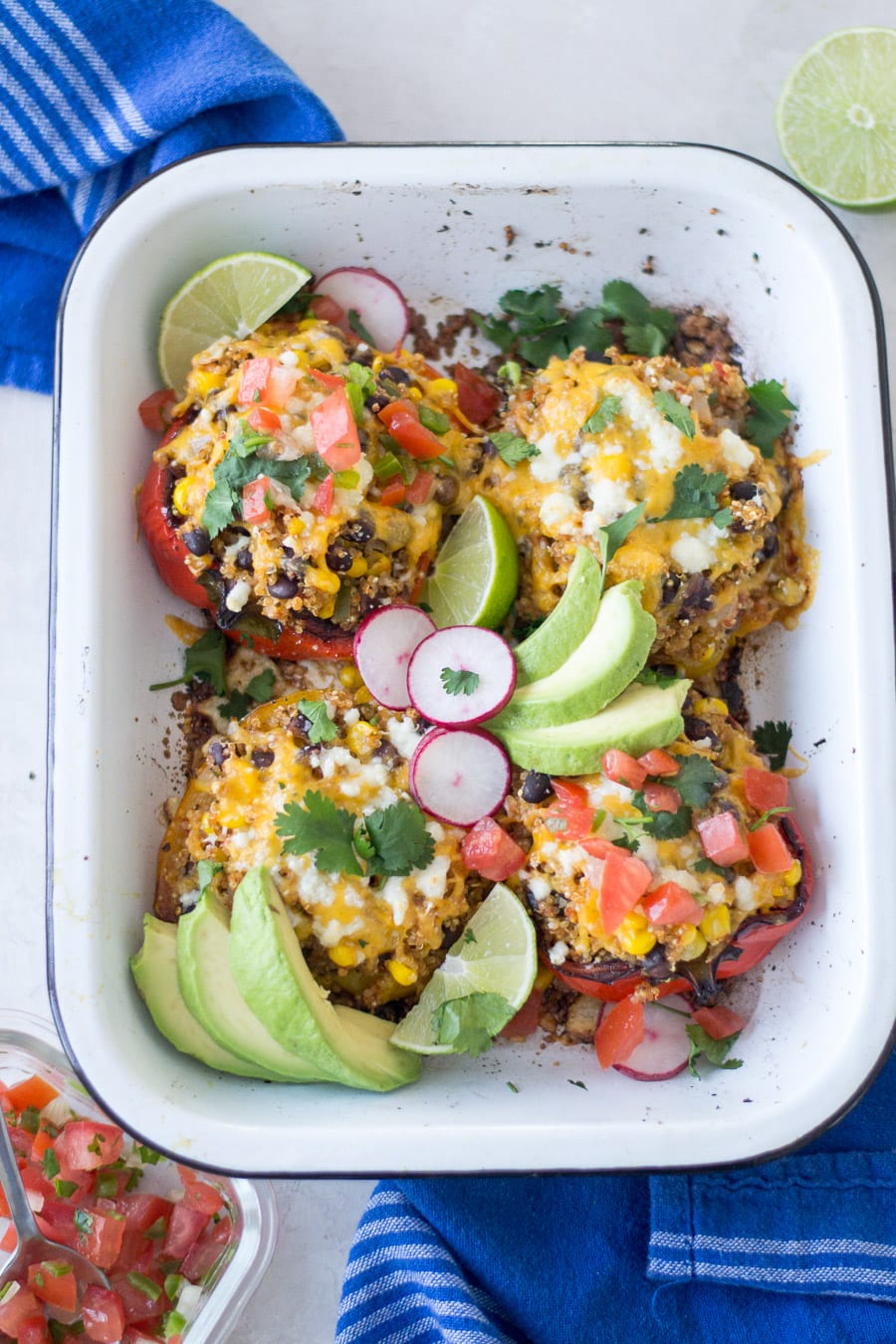 I am not going to lie, I have been sitting on this recipe for a month or so. Oops!
Sorry for holding out.
Stuffed peppers usually get a giant groan of disapproval in our home.
Any sort of stuffed vegetable for example, stuffed zucchini, usually gets a groan.
I thought using all our taco Tuesday favorite flavors would help liven things up.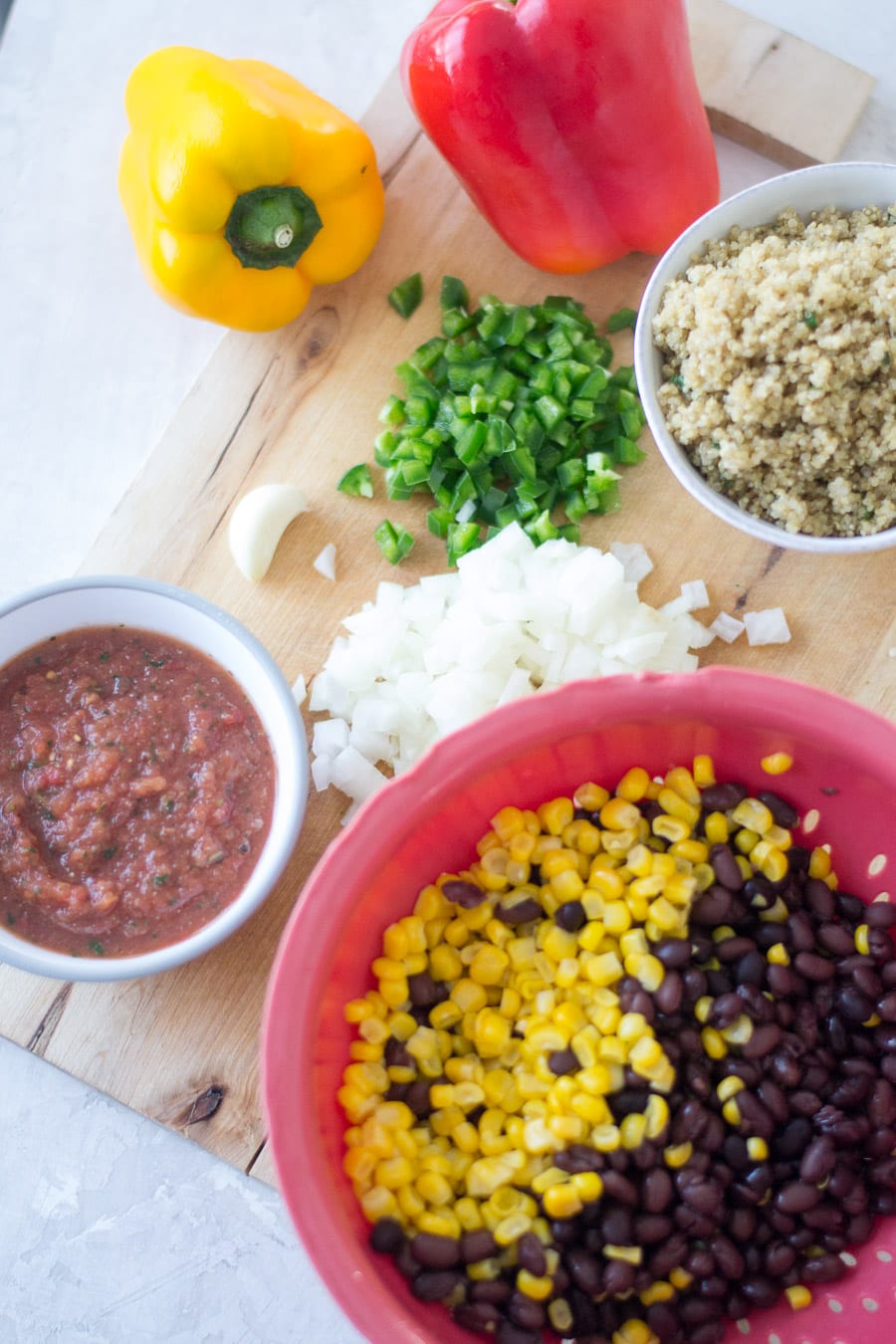 That is true.
It added lots of flavor.
BUT….
The real trick to tasty stuffed peppers is to roast the peppers for a little bit BEFORE you stuff them!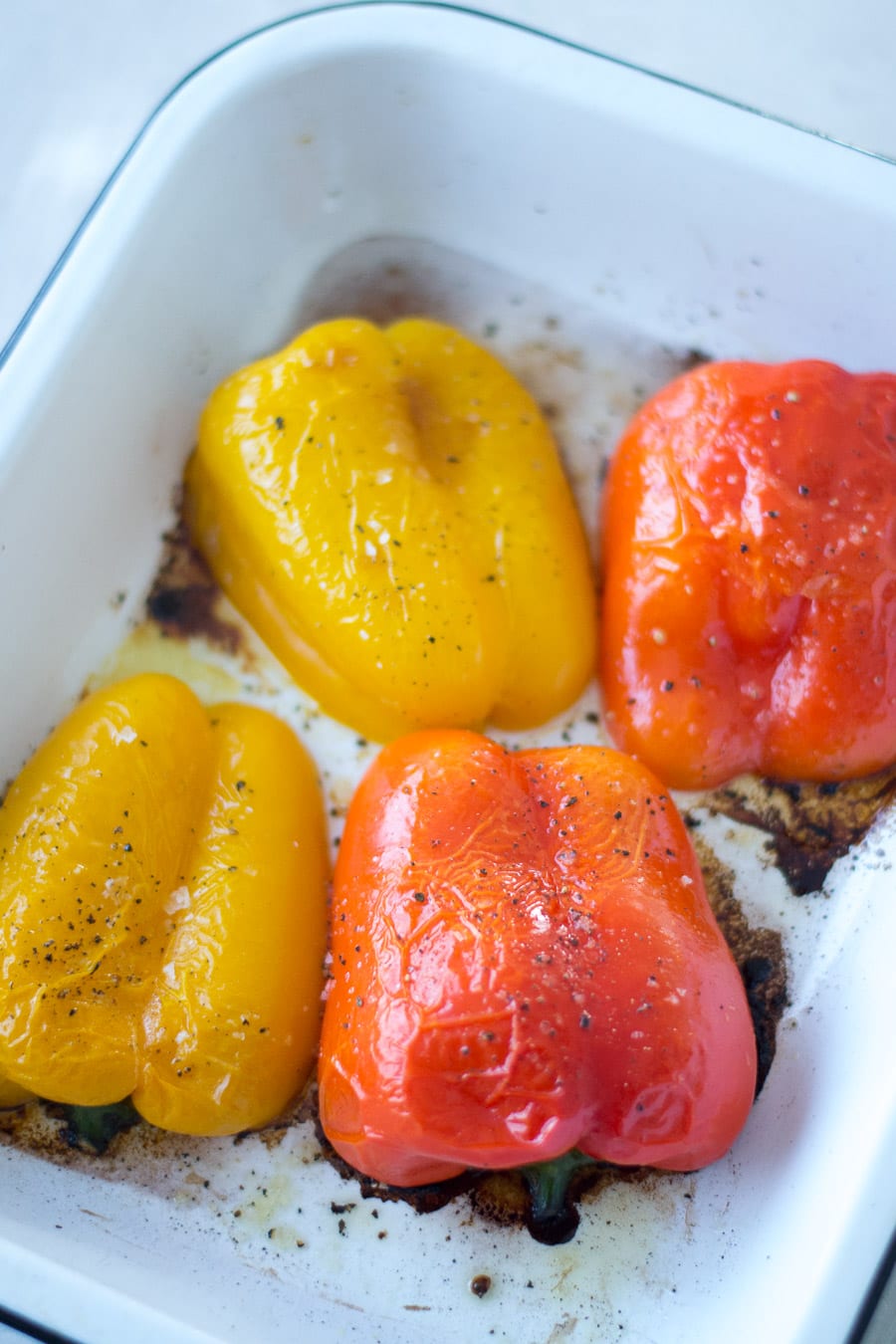 While the peppers are roasting, you have time to prep the quinoa.
I always use my recipe for Instant Pot cilantro lime quinoa.
You can always use plain quinoa cooked according to the packages instructions.
The stuffing for black bean and quinoa stuffed peppers is made up of onion, jalapeño, garlic, black beans, corn, quinoa, and lots of salsa.
The salsa is another trick to keep the stuffing from drying out.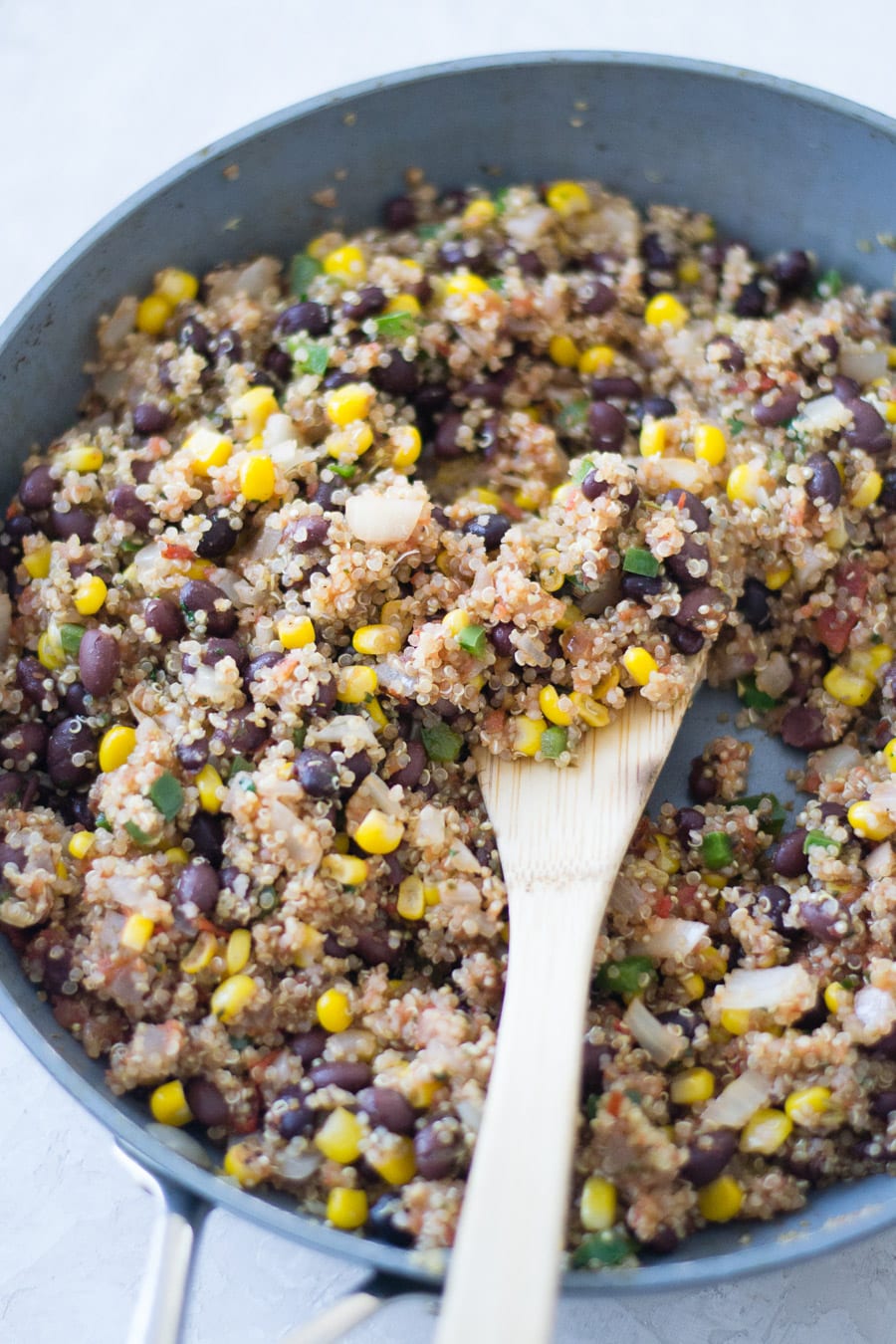 After the peppers are roasted, flip them and then stuff with the filling.
Cover with a blend of cheddar cheese and queso fresco.
Bake until the cheese is melted.
This recipe makes enough for 6 pepper halves.
In my house, we planned on a half per person but we actually ate an entire pepper per person.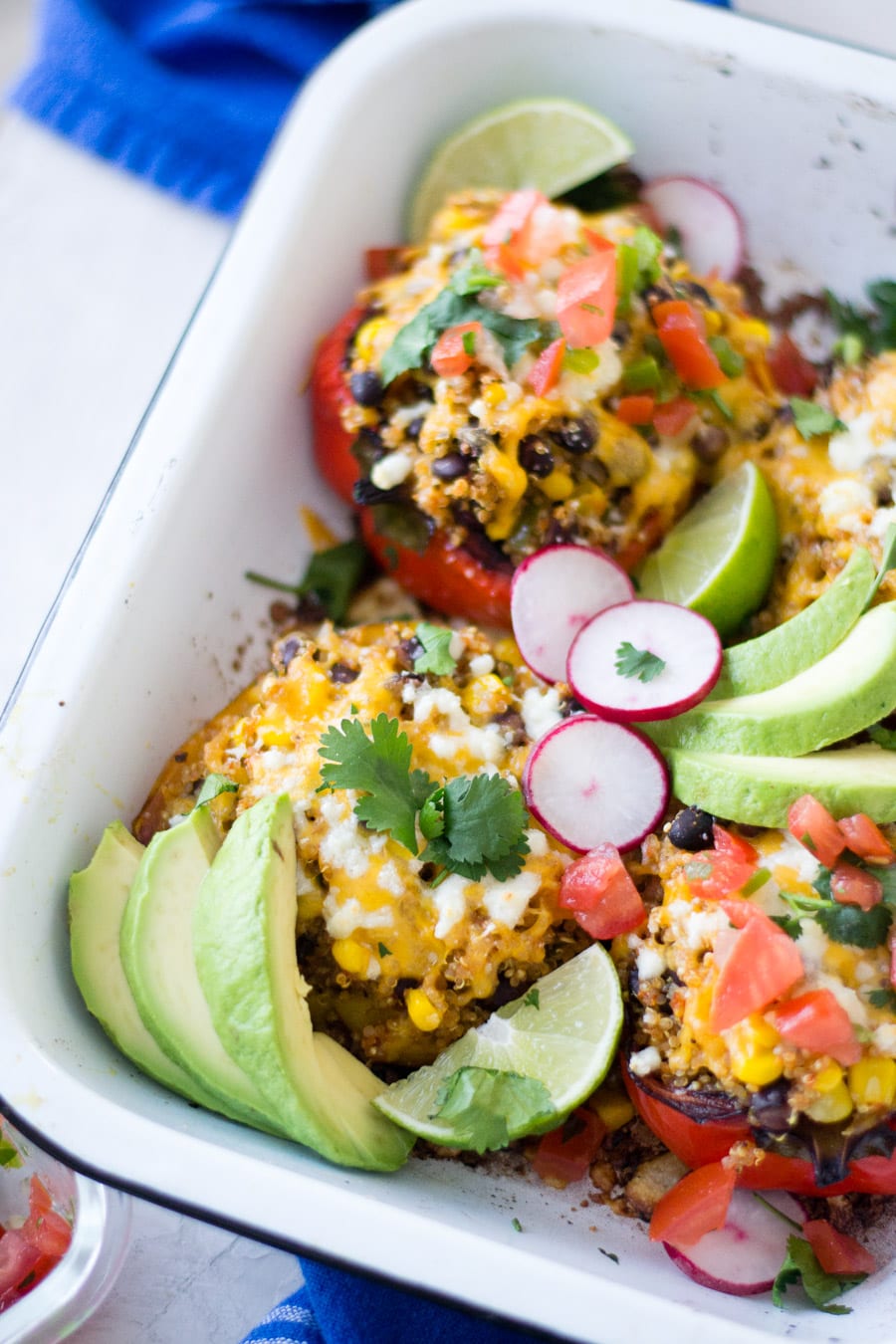 It was that good.
I highly recommend using my recipe for easy blender salsa.
Jarred salsa is totally ok to use too if you're in a pinch.
As always feel free to adjust the spice and heat level to your likes.
Feel free to toss in a diced up chipotle pepper or even some left over pineapple to add more levels to this dish.
This is meat free.
You do not need meat but if you wanted to brown up some ground turkey or chicken with the peppers and onions, that would be good too.
Do not skip on the toppings.
We like pico de gallo, avocado, radishes, lime juice, fresh cilantro, and/or sour cream.
Think of the bell pepper as the replacement for the tortillas.
You will be full and satisfied without all the guilt after these peppers hit your belly!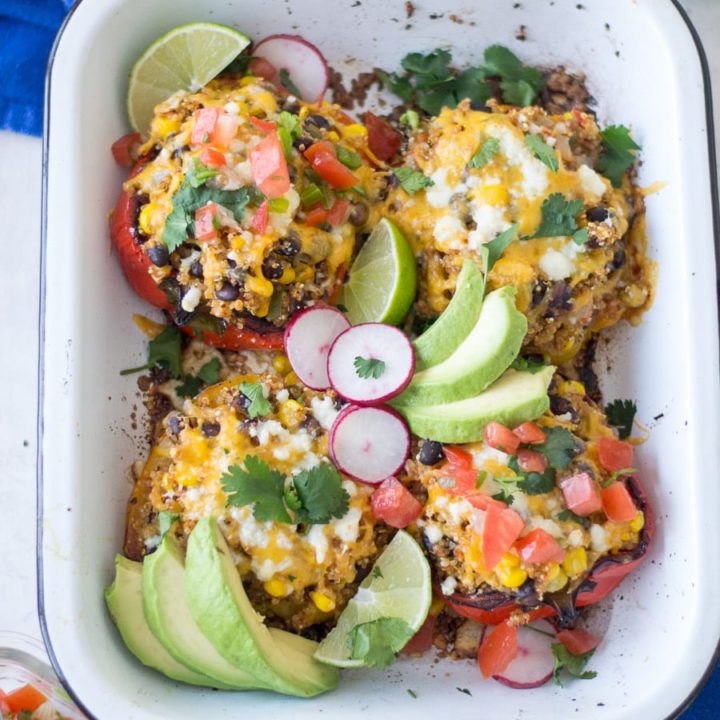 Black Bean and Quinoa Stuffed Peppers
Yield: 6 (halves) stuffed peppers

Prep Time: 15 minutes

Cook Time: 20 minutes

Total Time: 35 minutes

Black bean, cilantro lime quinoa, corn, and cheese stuffed bell peppers.
Ingredients
6 bell peppers, cut in half height-wise, seeds removed
1 tbsp grape seed oil or avocado oil
1 1/2 cups cooked cilantro lime quinoa
3/4 cup drained and rinsed canned black beans
3/4 cup frozen and thawed corn kernels
1 tbsp extra-virgin olive oil
1/2 yellow onion, diced
1 jalapeño, seeded and diced (you can also use one 4oz can mild diced green chilies)
2 garlic cloves, grated
1/2 tsp salt
1/4 tsp crushed red pepper flakes
1/2 tsp ground cumin
3/4 cup salsa
1/2 cup crumbled queso fresco
1 cup shredded cheddar cheese
Instructions
Preheat the oven to 435 degrees F.
Add the bell peppers to a 9x13 inch baking pan. Coat in the peppers in the grape seed or avocado oil. Toss to coat. Roast the peppers for about 10 minutes until they get soft and slightly charred. Remove from the oven and set off to the side once partially roasted.
While the peppers par-roast, cook the filling. Add the olive oil to a large skillet over medium heat. Add the jalapeño and onion and cook until translucent.
Add the garlic and cook for one more minute. Mix to combine.
Add the quinoa, beans, and corn. Season with salt, red peppers, and cumin. Mix to combine.
Reduce heat to low and add in the salsa. Mix to combine.
Flip the peppers. Add about 1/2 cup of filling to each pepper. Be sure to pack it down for max fill. Return each stuffed pepper half to the pan from before. Cover each pepper with equal amounts of cheeses.
Bake in the oven for about 10-15 minutes until the cheese is melted.
Remove from oven and serve with more salsa, avocado, sour cream, lime wedges, and fresh cilantro.
Recommended Products
As an Amazon Associate and member of other affiliate programs, I earn from qualifying purchases.