Toasted sesame and hot honey corn on the cob is delightfully nutty, sweet, and spicy. This different twist on grilled corn combines toasted sesame seeds, olive oil, hot honey, and basil.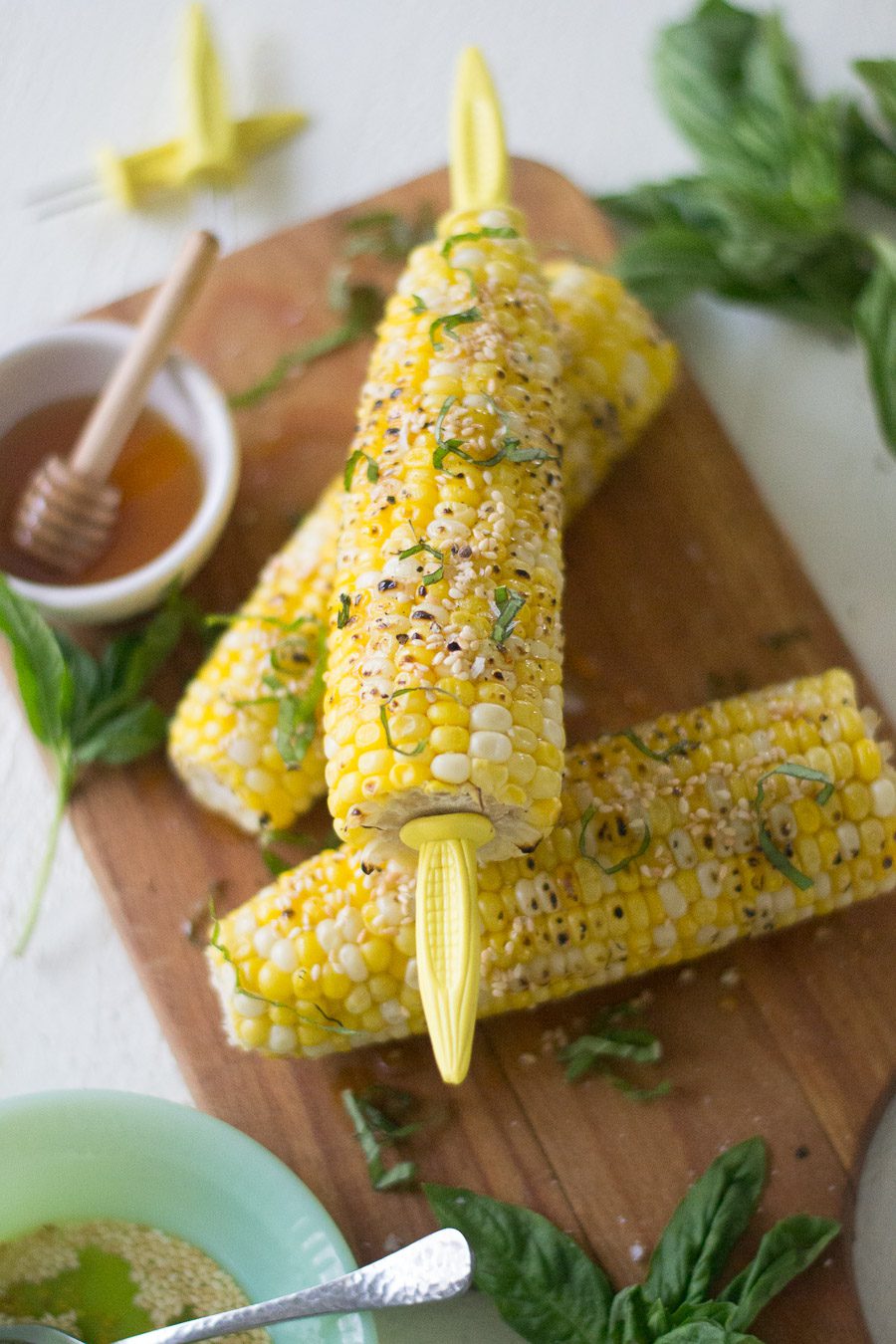 We get the joy of living by and looking out on corn fields each summer.
Actually, the farmers around here grow soy one summer and then corn the next.
I prefer the corn growing season for two reasons.
The corn is taller and blocks other buildings and streets from view.
I get to pretend I live on a farm. Sort of.
And without the work.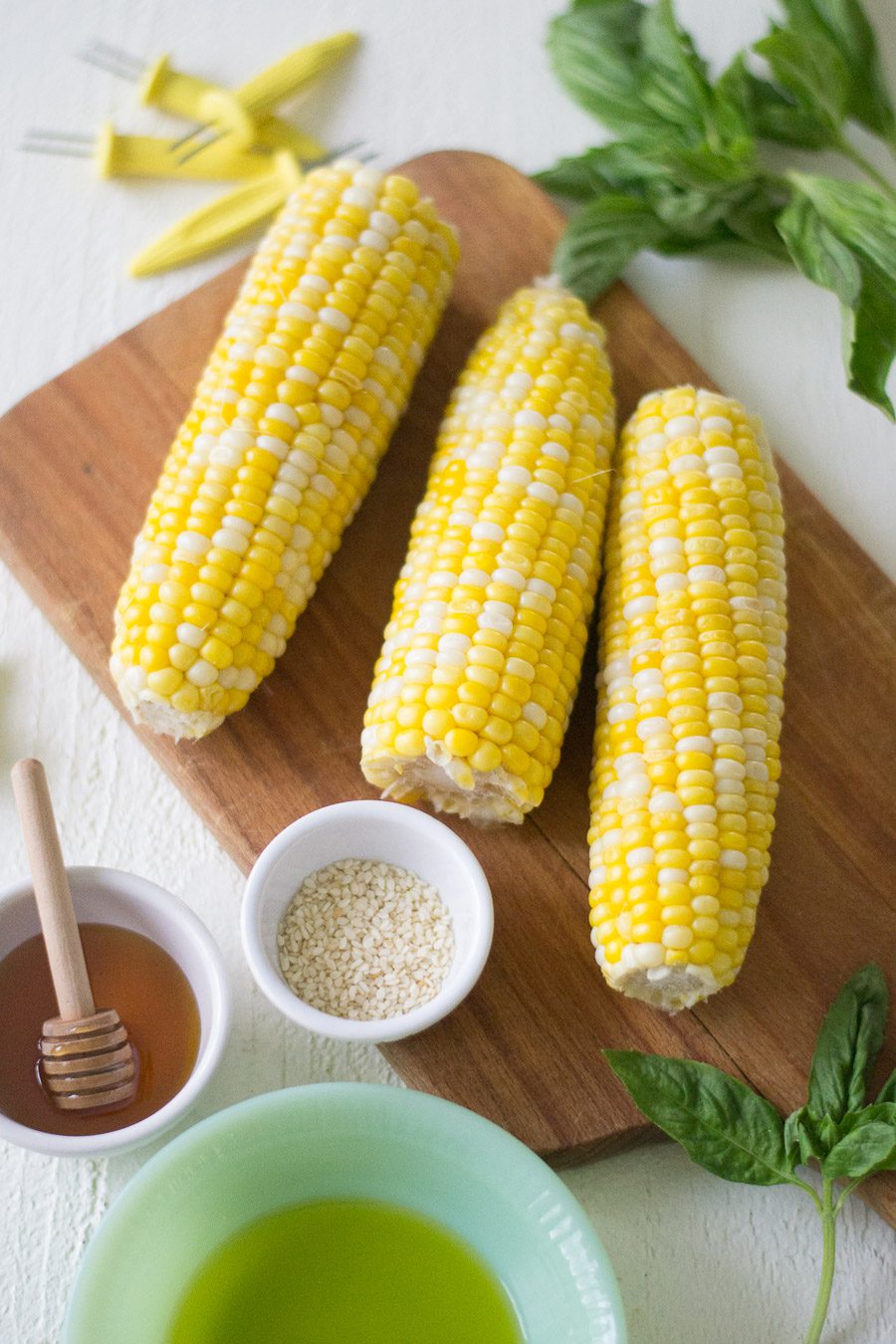 The second reason is that the corn is a better shield against harsh winds or storms for our house.
Those may have been the lamest sentences I have ever written.
Can you tell I live a old lady, boring, #homeownerproblems life?
The third reason is clearly because corn on the cob may be (aside from tomatoes) the penultimate summer food.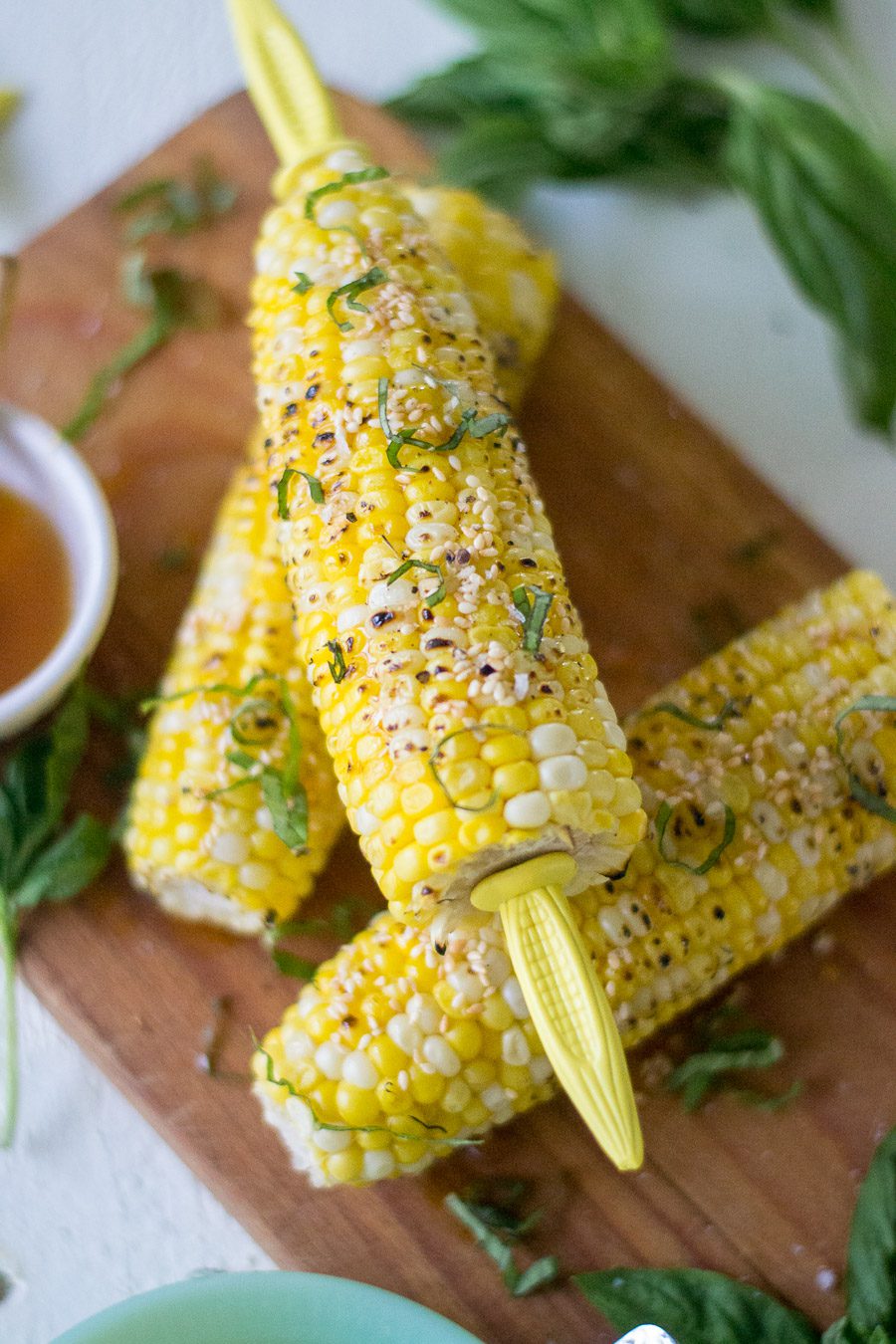 My favorite thing to get at our local festival growing up was a big ear of corn on the cob.
It was always over-salted and dripping in butter.
As it should be, right?
Why mess with the original?
Because it is my job, that's why!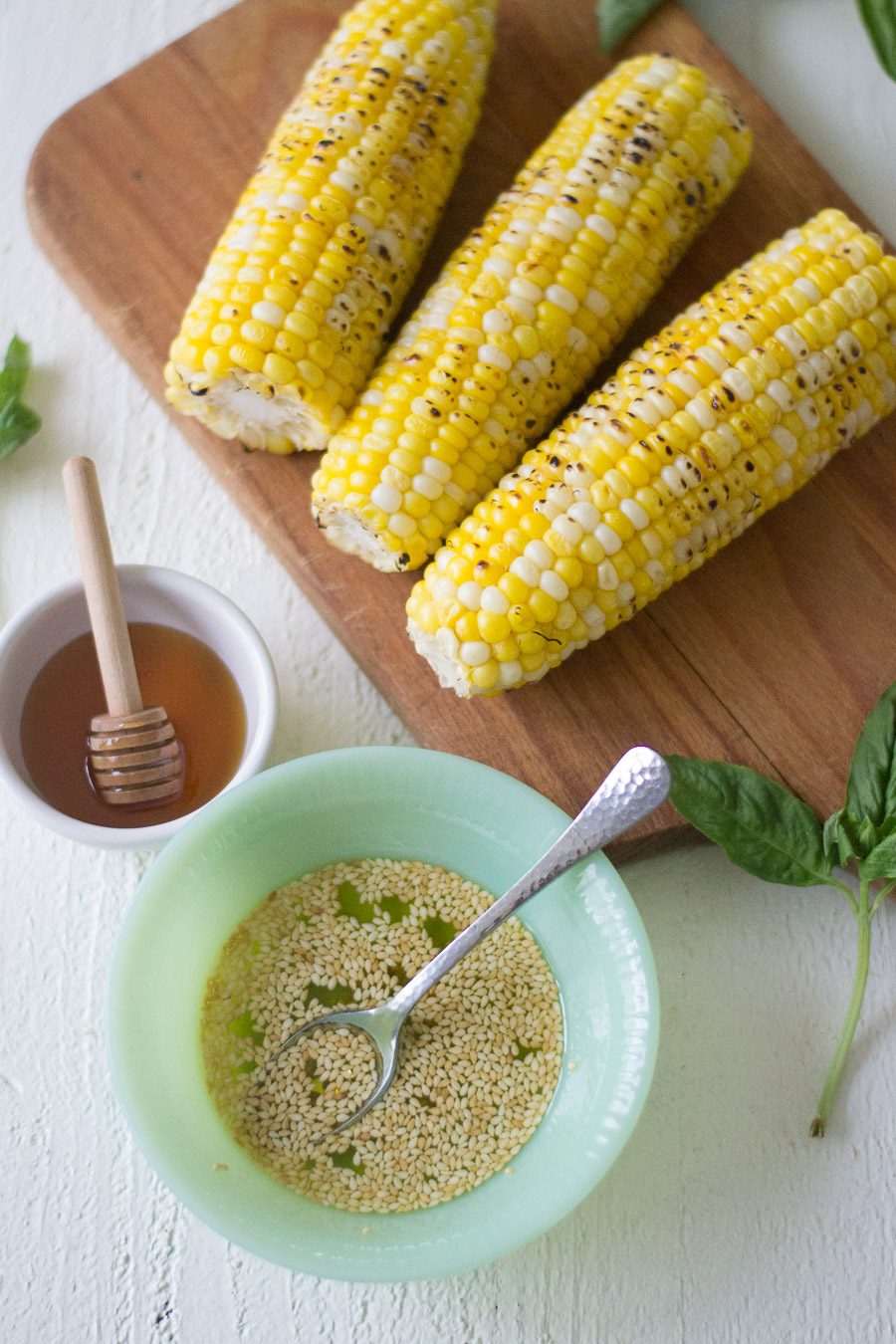 Toasted sesame and hot honey corn on the cob will leave your lips tingling.
Here is what we have going on with these corny babies:
Sesame seeds toasted in a little extra-virgin olive oil.
A healthy drizzle of hot honey.
Fresh chopped basil and a big pinch of salt to finish it off.
You can make your own hot honey if you don't have access to Trader Joe's and their version.
The sweet, fresh basil plays off the honey and soothes out that spice.
The toasted sesame seeds add some crunch and a deep, almost nutty flavor to the sweet corn.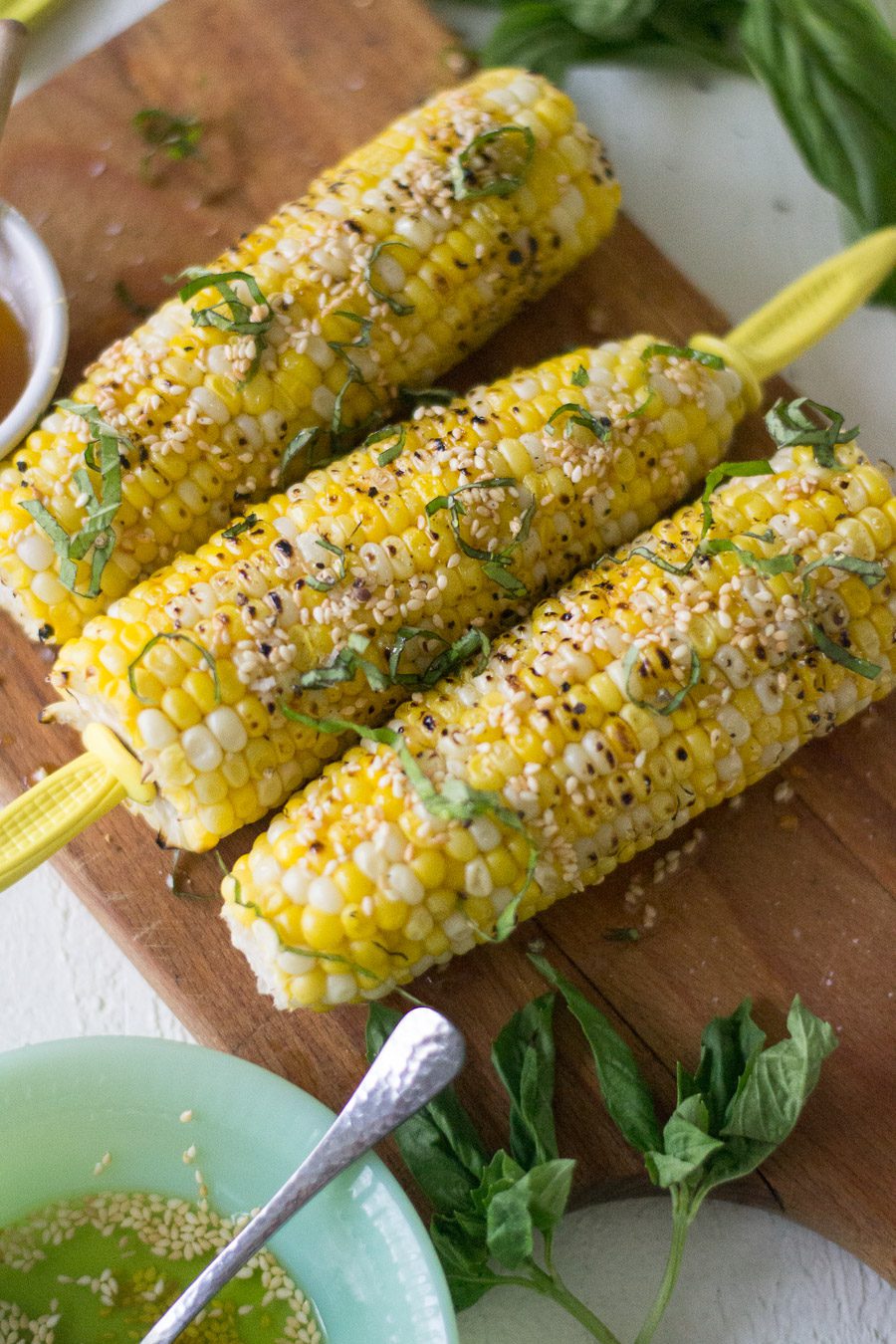 Cut the corn off the cob and toss it together with the hot honey, sesame seeds oil, fresh basil, and salt.
Serve it as a little side salad at your next BBQ.
Use up the leftovers inside a grilled cheese or quesadilla!
Another of my favorite ways to use corn is in Mexican Street Corn or Elotes, if you're looking for another recipe or two.
The next recipe I have for you will include my other fave summer fruit/veggie (tomato/tuh-mah-toe) the tomato.
Enjoy the last few weeks of this summer veggie bounty!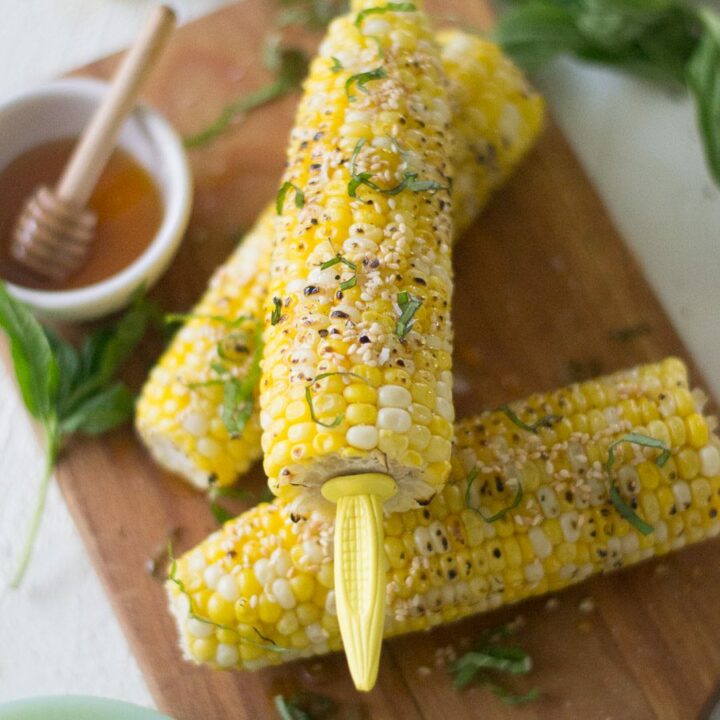 Toasted Sesame and Hot Honey Corn
Yield: 4 -6 Ears

Prep Time: 5 minutes

Cook Time: 10 minutes

Total Time: 15 minutes

Par-boiled and then grilled until charred corn on the cob topped with a toasted sesame seed oil, fresh basil, salt, and hot honey.
Ingredients
4 ears of fresh corn on the cob, shucked
1/4 cup extra-virgin olive oil
1 tbsp sesame seeds
1-2 tbsp hot honey
big pinch of Maldon Sea salt
1/4 cup chopped fresh basil
Instructions
Bring a shallow pot of water to a boil, enough water to just cover the corn.
While the water comes to a boil, add the oil to a small omelette pan over medium/low heat. Once the oil is shimmering, add the sesame seeds. Keep a careful watch and when the seeds start to turn lightly golden, remove from heat. Transfer the oil and seeds to a small heatproof bowl. Set off to the side.
Add the corn to the boiling water. Boil the corn for a few minutes, 3-5 until the color intensifies. Remove and transfer to a plate.
Heat your grill* with all burners on high. Once the temperature is above 375 degrees F, add the corn and grill on each side (with the lid open) until lightly charred. Once grilled to your liking, remove corn from the grill, and transfer back to plate.
Drizzle the sesame seeds and oil, using a spoon, over each ear of corn. Top with generous drizzles of the hot honey. Sprinkle basil and salt on top. serve warm
Notes
*You can also place the corn right over the gas burner flame on your stove. Be careful, it will char quickly over a high flame. Turn the cobs regularly until charred to your liking.