Baked clams casino dip is an addictive dip filled with lots of clams, bacon, bell peppers, and cheese. This is a recipe for a crowd and is from one of my favorite summer books. You can eat it year round though, of course!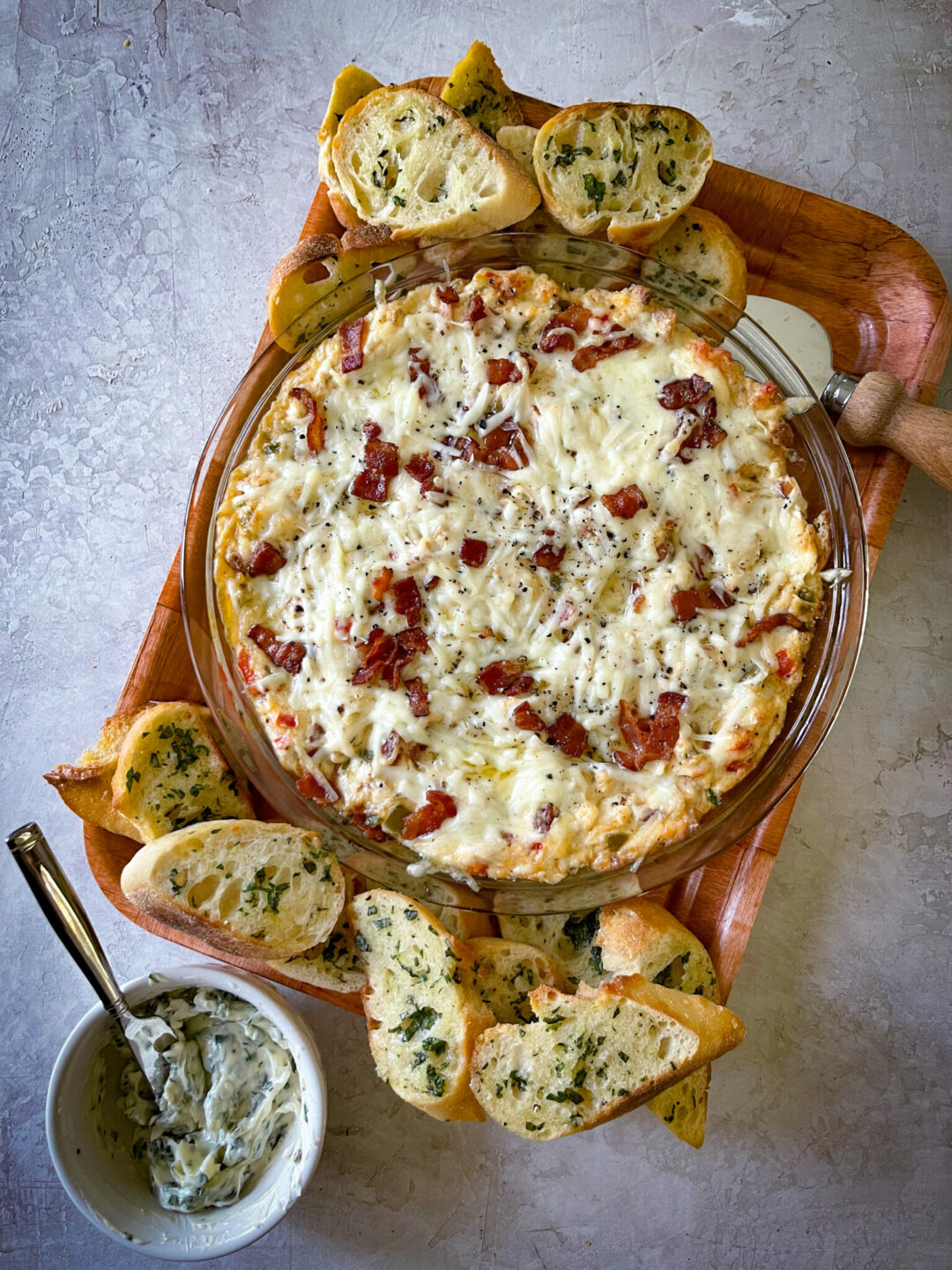 If there is one thing this pandemic was good for, it was helping me to rediscover my love of reading.
I can remember staying up late at night finishing a good book from childhood into adulthood. Then I had kids.
Sleep and tv shows became a normal thing to do with free time. Not that there's anything wrong with that.
The kids are older and now I can carve out more time for books. It is easier to chill out and calm down before bed with a good boon instead of tv or scrolling my phone.
No judgments. That's just what works for my crazy brain.
I love everything from fantasy and romance to YA and thrillers.
Everything is more interesting in fiction than real life.
I should probably talk to somebody about that…
An author that I gravitated towards was Elin Hilderbrand. She writes about Nantucket. The summer or winter homes of your dreams.
The food in her books is dreamy too!
I like to read her summer books in summer and her winter themed books around Christmas.
They have the coziness of a Hallmark movie but more spice and drama and laughs.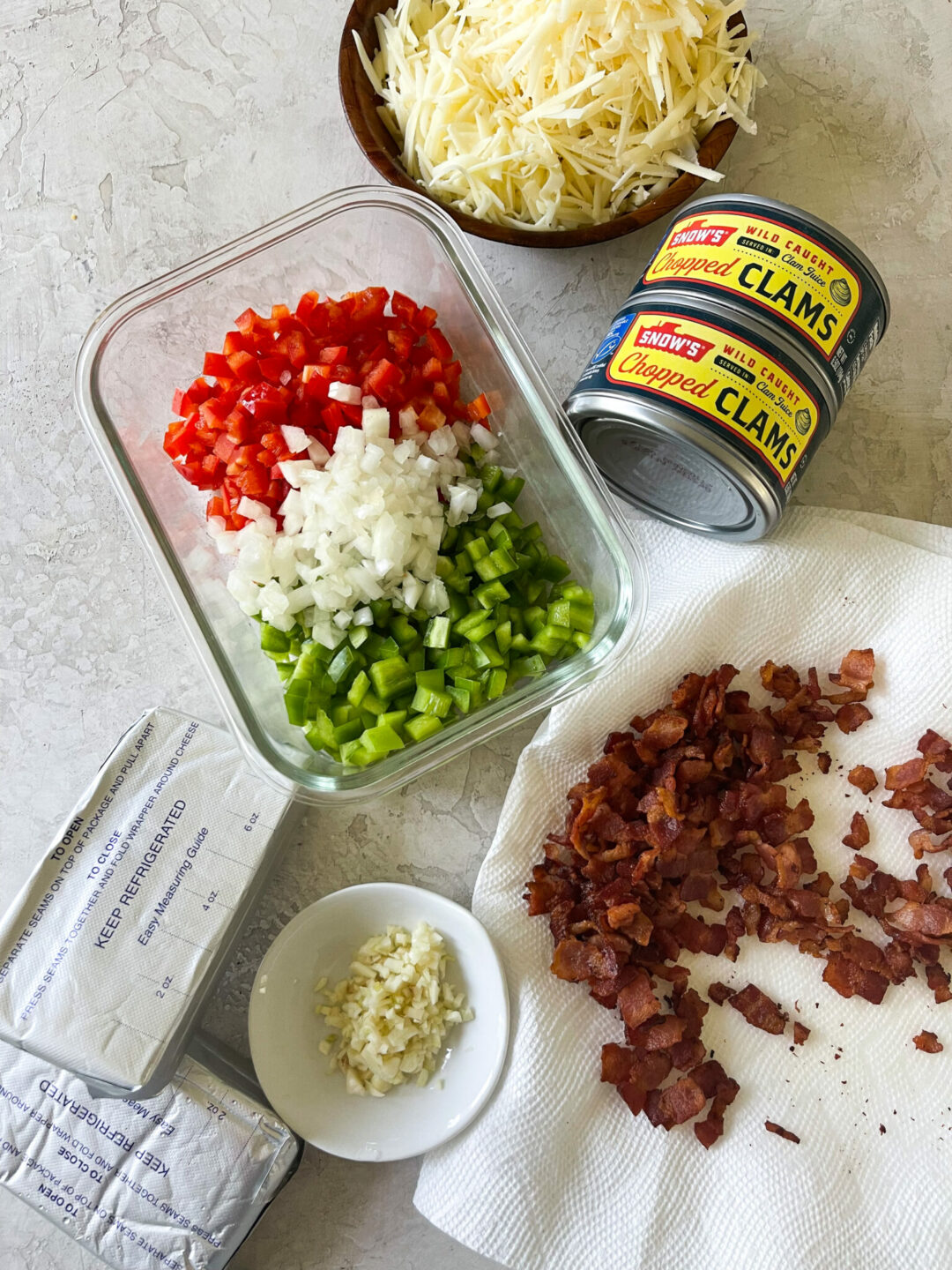 In her book, Here's to Us, there are actual recipes from the fictional famous chef's renowned dishes. One of my fave bloggers, Jessica, actually helps top bring the food to life/reality.
It is like a cookbook mixed with the tale of the wife, ex-wives, and children left behind by this food wizard.
Enough book talk.
Baked clams casino dip can be made with fresh clams or canned clams.
I used canned because I didn't want to mess with fresh and shells and all that shucking business.
Here is everything you need to make this epic dip:
canned clams
bacon
bell peppers
onion
garlic
smoked paprika
cream cheese
fontina or gruyere cheese
parmesan cheese
There are not that many ingredients to be honest.
The bacon and clams add all the flavors.
The cream cheese and cheese make this a super filling dip.
The dip is perfect on toasted slices of bread. In the book, there is a recipe for herb butter baguette as well.
You could also drizzle some olive oil to thick slices of baguette and grill for a few minutes.
Thick, wavy potato chips or bagel chips would also be a solid dipping mechanism.
This dip can be made ahead of time and then stored in the fridge overnight.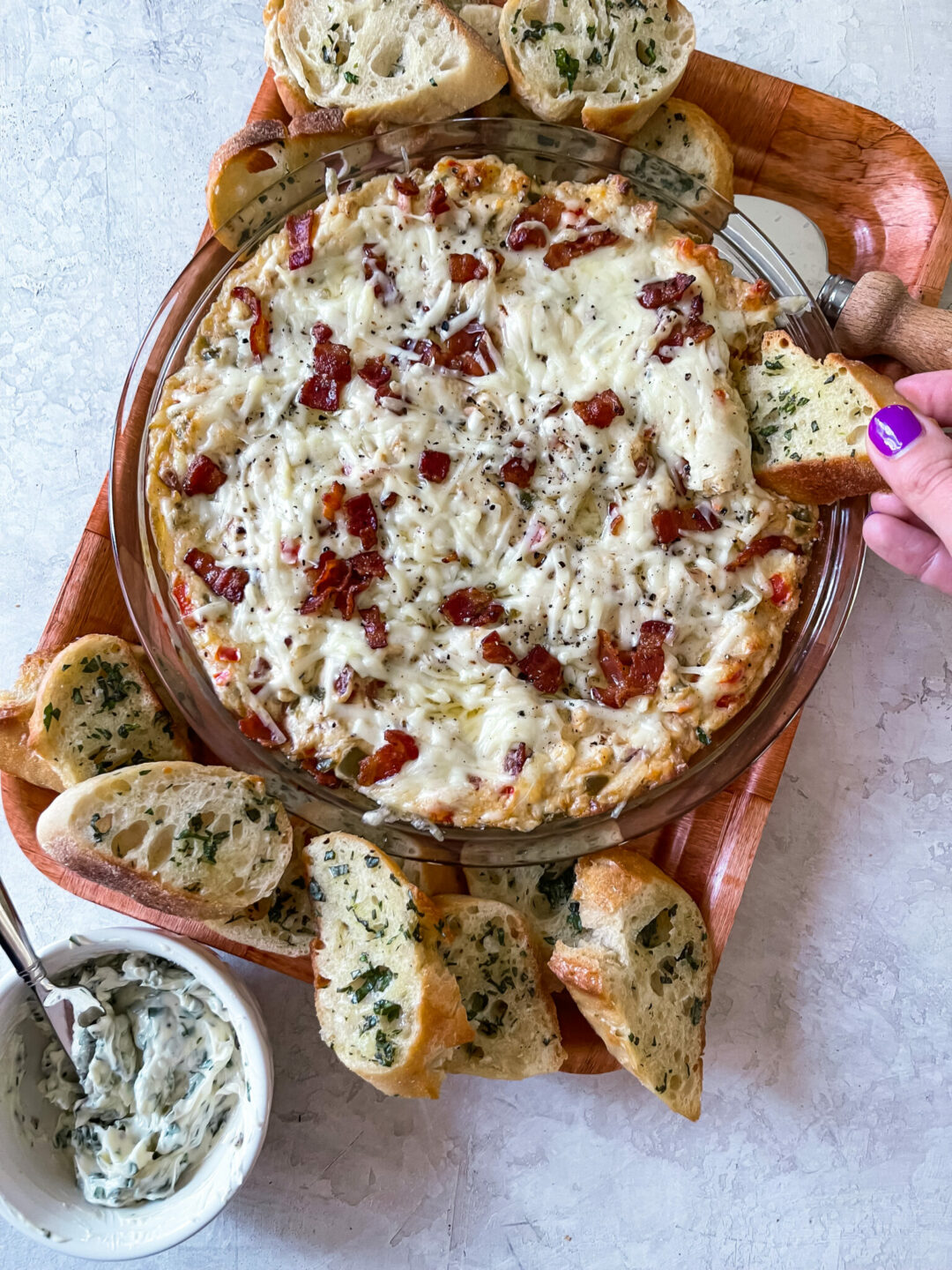 Bake it when you are ready to serve.
I love reading books, but books that include good food inspiration are a total win win.
What books have you read that made you want to cook everything in that book?
Lemme know because I want to read them!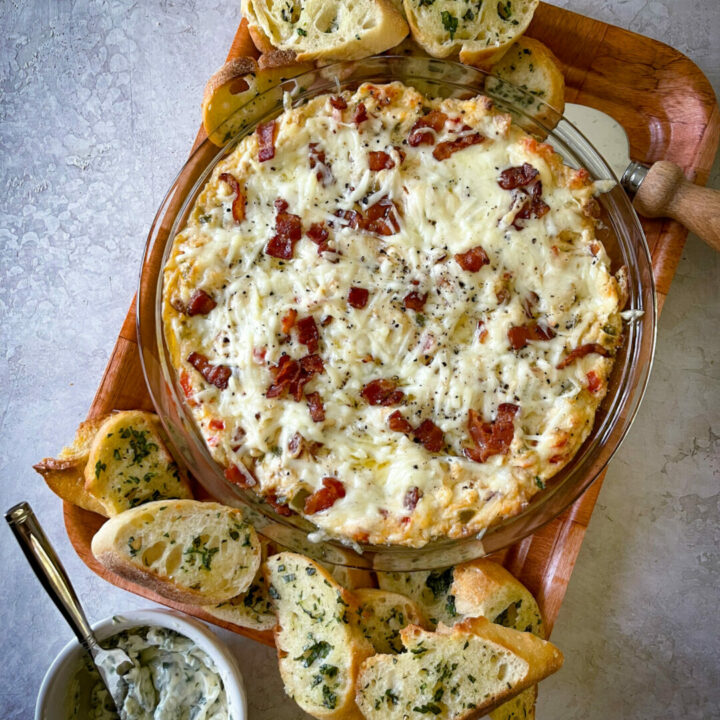 Baked Clams Casino Dip
Yield: Serves 6-8

Prep Time: 10 minutes

Cook Time: 45 minutes

Total Time: 55 minutes

A cheesy dip with lots of bacon, belle peppers, onion, garlic, and clams baked until golden and melty.
Ingredients
8 slices of bacon, chopped
1 green bell pepper, diced
1 red bell pepper, diced
1/2 yellow onion, diced
1/2 tsp smoked paprika
1/4 tsp black pepper
4 garlic cloves, minced or grated
2, 6.5 oz cans chopped clams, drained
2, 8 oz, blocks cream cheese, room temperature
8 oz gruyere cheese, grated
4 oz Parmesan cheese, grated
toasted baguette slices, chips, or bagel chips for dipping
Instructions
Preheat the oven to 400 degrees F. Grease a 9 inch pie pan with butter or nonstick spray. Heat a medium cast iron or heavy-bottom skillet over medium. add the chopped bacon and cook until crispy. Remove with a slotted spoon and transfer to a paper towel lined plate off to the side.
Drain out about half the bacon grease. Reduce the heat to medium-low. Add the peppers and onion to the skillet. Stir and cook for about 7-10 minutes until tender. Add the clams, garlic, paprika, and pepper. Stir to combine. Cook for an additional 2 minutes.
Remove the vegetables and clams with a slotted spoon. Transfer to a medium mixing bowl. Add in the cream cheese blocks and about 3/4 of the cheeses and bacon, reserving some for the top of the dip. mIx with a spatula until smooth and combined.
Transfer the combined dip to the prepared pie dish. Use the spatula to smooth the dip into one even layer. Top the dip with the remaining cheeses and bacon.
Bake the dip for 25-30 minutes until golden and melted thoroughly. Allow to cool for about 5-7 minutes before serving. Use a spoon to scoop the dip on to slices of toasted baguette, thick wavy chips, or bagel chips.
Notes
You can complete steps 1-4 the day before you want to eat/serve the dip. Cover the prepared dip with plastic wrap and store in the fridge until ready to bake.