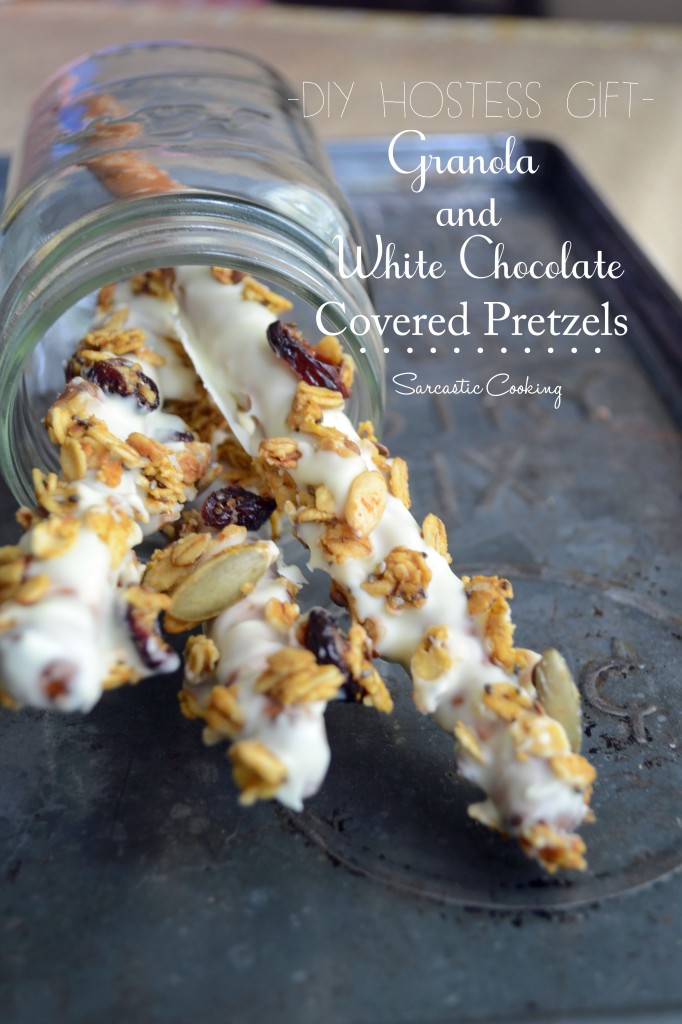 You cannot find a bigger advocate for the sweet and salty combination than me. My favorite dessert of all time, Strawberry Pretzel Jell-O, is the perfect example of sweet and salty. It is another bullet point on the ever changing list of things Mike will not eat.
I swear to God, sweet and salty is like his kryptonite. If I even go near him with a chocolate covered pretzel, he cowers in fear and repulsion. It is kind of like the same reaction Weezer has when you try and put clothes on him. He just goes limp or acts like you are murdering him. They are both a bit theatrical. Let's hope the new little man in the house doesn't have their shared flare for the dramatics!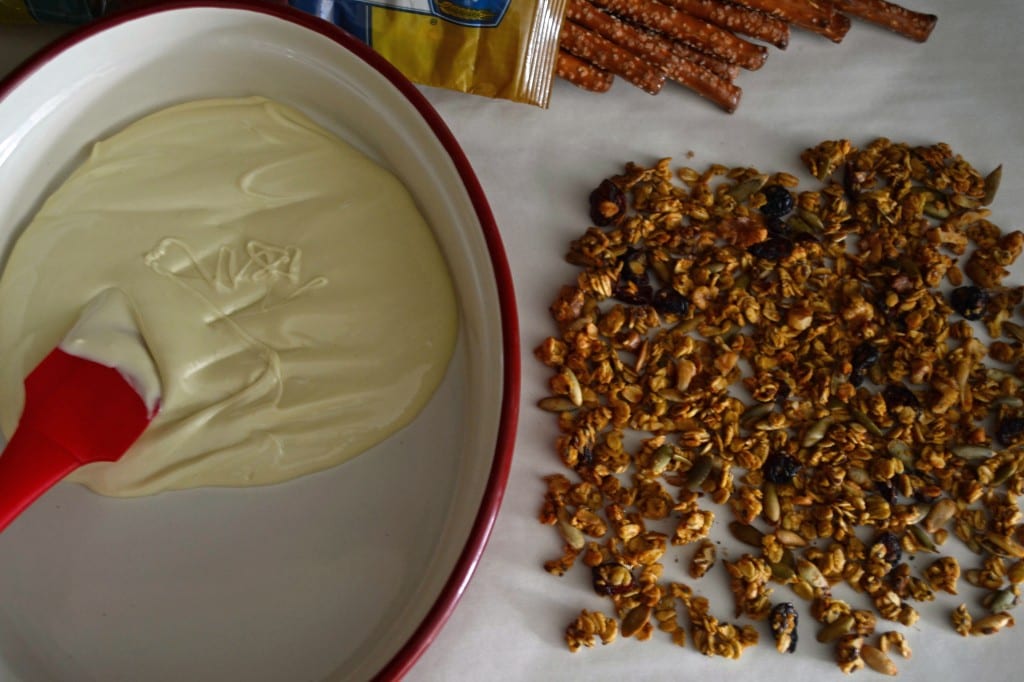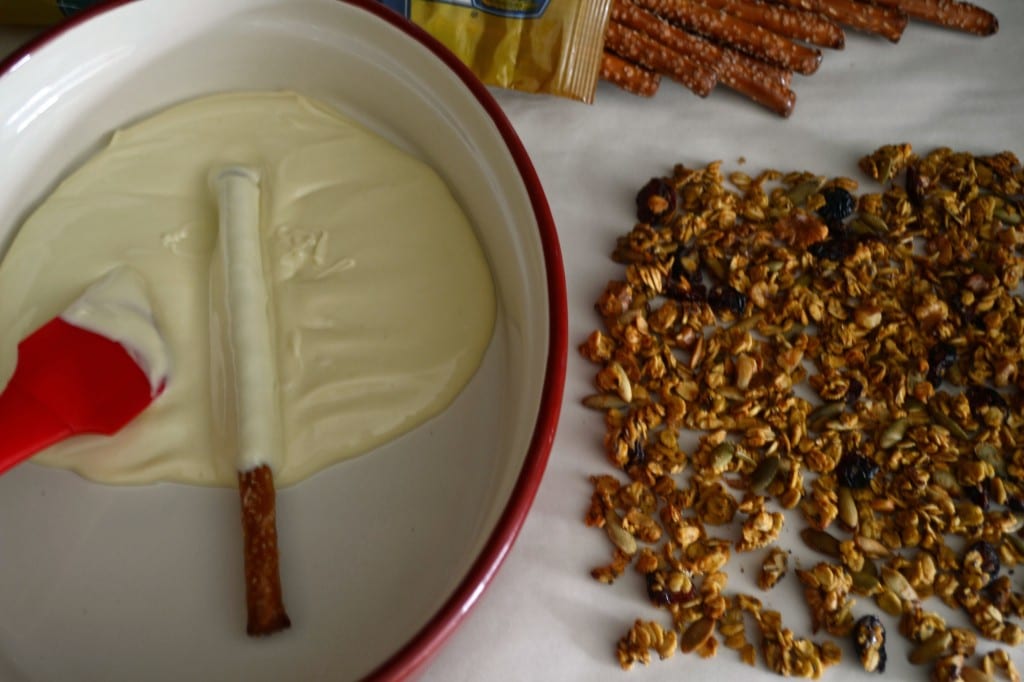 When I shared this granola recipe with you yesterday, I really had ulterior motives. I knew that I wanted to take that beautiful fiber packed healthy granola and add it to chocolate covered pretzels. I thought it was kind of genius.
Since I have a little baby on the way, my mind has started thinking way, way in advance about the holidays. I don't know how much time I will be able to dedicate to blogging during December, so I thought I better share this with you now.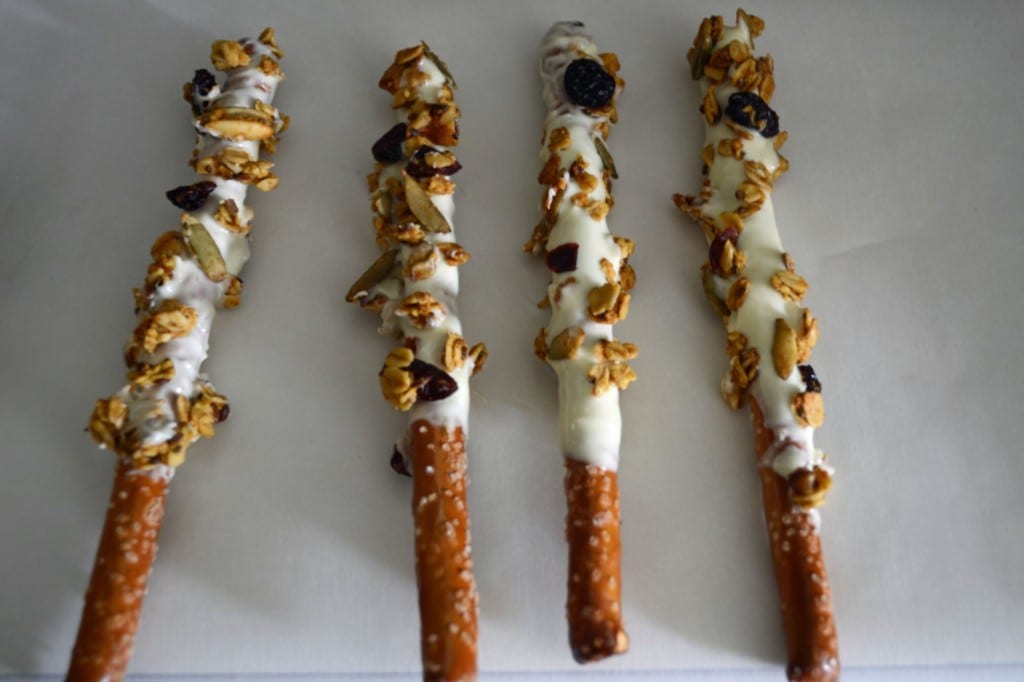 These handmade treats would be so cute as a hostess present or a quick little something for that person you forgot to buy a gift for. Don't lie. you know there is always somebody that falls through the cracks. Pin this for later because I know this is going to be a huge hit during the holiday season.
Granola and White Chocolate Covered Pretzels
Author:
Prep time:
Cook time:
Total time:
Ingredients
8 Ounces White Chocolate Chips
1 Cup Granola
12 -16 Pretzel Rods
Instructions
Add chips to a microwave safe bowl. Microwave chocolate for a minute and then stir. Microwave for an additional thirty seconds if the chips aren't all fully melted. Stir the white chocolate. Add the melted chocolate to a large flat dish. Keep the chocolate on one end of the dish so you have open space to keep the end of the pretzel rod free of chocolate.
Create an assembly line along your table/counter. Place your melted chocolate dish next to a piece of parchment. Arrange the granola on the parchment paper in one even layer, making sure to break up any big chunks of granola. Line a baking sheet with parchment paper and place at the end.
Dip the pretzel rod in the chocolate and then quickly turn and remove once it is evenly coated. Wait a good 30 seconds, then gently roll the pretzel through the granola. Don't load it up too much or all the granola and chocolate will drip off. Place the finished dipped pretzel rod on the lined baking sheet. If it looks like there isn't enough granola on the rod, you can always sprinkle a bit extra on top as it dries. Continue until all the chocolate is used up or you have created the desired amount of rods.
Place rods in the refrigerator to harden for at least three hours. Gift in a mason jar with a bit of ribbon tied around it or in a cute tin.
Notes
Save some time and use your favorite store bought granola instead.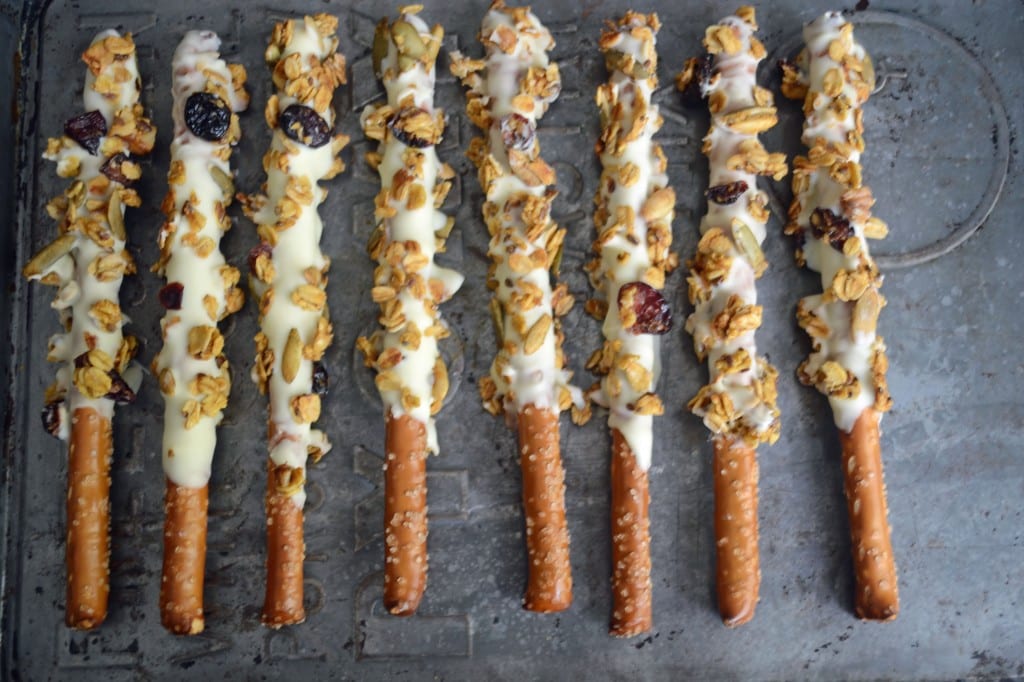 Related posts: