Hey my lovely readers! I have a treat for you! Every Friday for the months of December and January, I will be featuring guest posts from some of my amazing food blog friends. You really didn't think I would leave you hangry and lonely with no new recipes while I am busy preparing for baby and then figuring this whole motherhood thing out, did you?
Kicking things off for the month of December is my friend Julia from A Cedar Spoon. She is actually expecting a baby boy too! This will be her second little guy! She knows a lot about juggling baby and blog and has been a great sounding board through this pregnancy of mine.
Her blog is filled with quick, easy, and healthy weeknight meals and treats. If you haven't checked her site out yet, I highly recommend it!
Hi guys! My name is Julia and I am the cook over at A Cedar Spoon.  I am excited to be posting over here on Sarcastic Cooking to give Stefanie a little extra time to prepare for the arrival of her little man! I know how crazy last minute preparations can be so I am sure she can use all of the extra time she can get.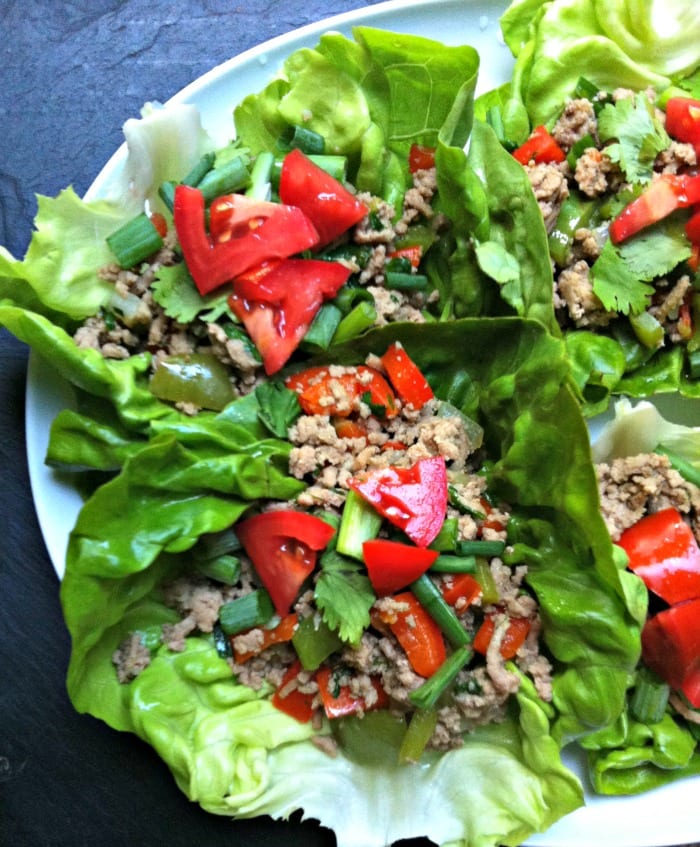 Today I am sharing a recipe for Thai Turkey Lettuce Wraps—a popular dish with both my husband and myself.  This is light, flavorful and healthy all packed into one crispy lettuce wrap.  I may be in the minority on this one but I prefer lettuce wraps to tortilla wraps.  I love the crunchy, crisp lettuce and I don't feel overly full after eating just one.  With Thanksgiving just one week ago I still feel like I am recovering from the deliciously big meal that we ate and this is the perfect light weeknight meal that you can pair with a side salad and rice.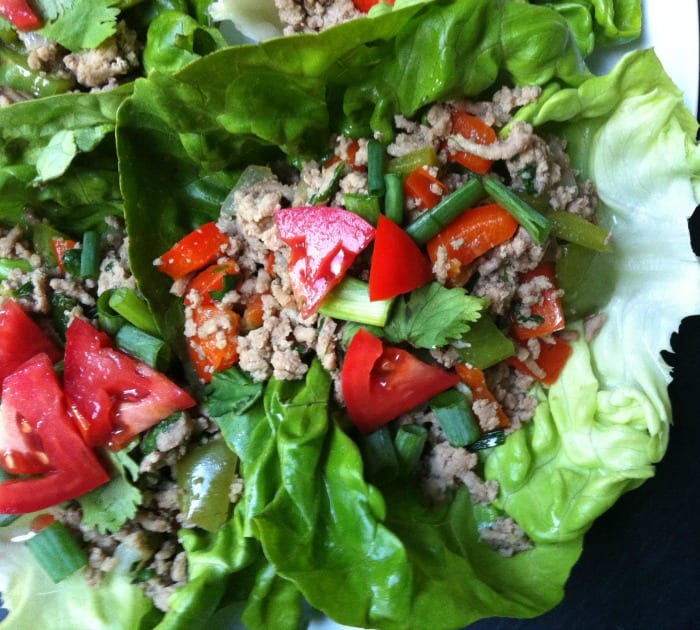 This recipe is also great for those busy people out there, like Stefanie, who will soon have more important things to worry about than what she will be putting on the table for dinner! 😉 I remember when I brought my son home from the hospital, the last thing I had the energy to do was make dinner.  Hopefully Stefanie can keep this recipe in her back pocket and convince her loving husband, Mike, to whip this up.
When I get home from an eight hour day of work this is one of my go-to recipes that can be made in less than 20 minutes!
Related posts: