Julia Child and my mom inspired my recipe for beef stew. You will most likely find fewer similarities between this recipe and Julia Child's famous boeuf bourguignon. Have you ever seen that recipe? In this day and age who has time to precisely follow a three page recipe? Don't get me wrong, when followed correctly and given enough time, that recipe is the culinary gold standard! I also have to give her credit because she knows how to use a bottle of wine!!! But my stlye and my mom's style of cooking is a little more low-key, less polished, but with more heart. We are both good Polish women who will take a potato (or any carb for that matter) over a pearl onion any day.
Ingredients
3 Slices of Bacon
2 TBSP Olive Oil
Salt & Pepper
1/3 Cup Unslated Butter
3 Cups Red Wine (I used a Shiraz-Cabernet blend)
3 Cups of Low-Sodium Beef Stock
2 TBSP Flour
6 Sprigs of Fresh Thyme
6 Sprigs of Fresh Parsley
3 Dry Bay Leaves
2 Cloves of Garlic, crushed
1lb and 1/2 Beef for stews
4 Carrots, peeled and cut on a bias in large pieces
3/4 Cup Onion, finely diced
1 Container of Baby Portobello Mushrooms, sliced and stems removed
1lb Baby Dutch Yellow Potatoes
In a large oven-safe pot/dutch oven, heat 2 TBSP of butter. Sautee bacon in the butter. When the bacon is crispy, remove and place on paper towel. Add another TBSP of butter to the pot and turn the heat to medium/high. Pat the beef dry. Season beef with salt and pepper then add to pot. Brown the beef on each side. Do not crowd the pot. You are going to have to cook the beef in a few batches to make sure it properly browns.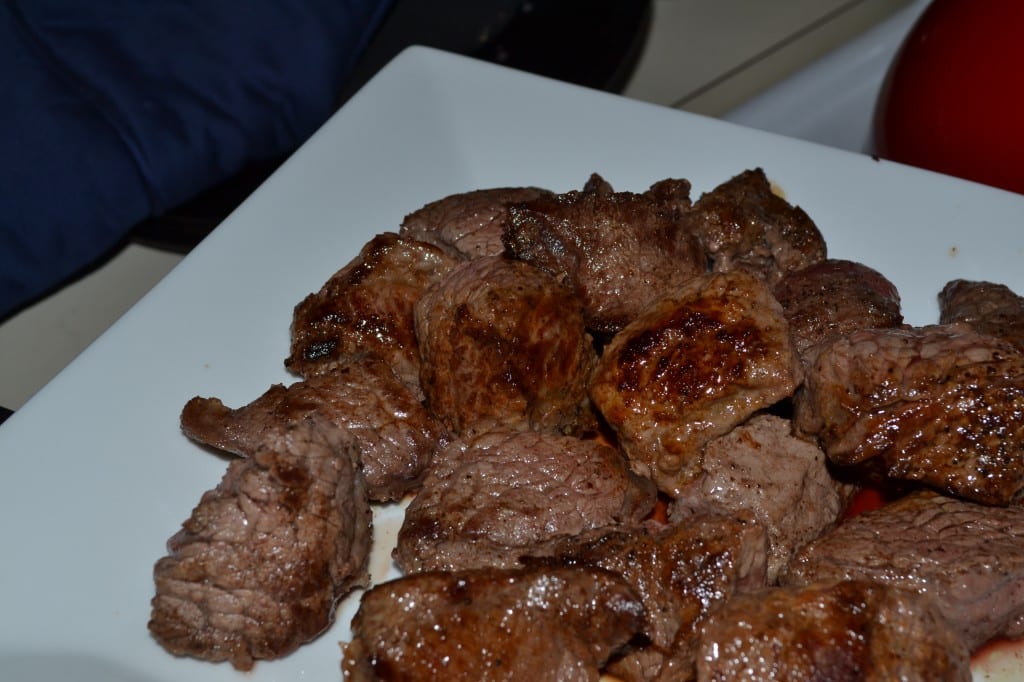 After the beef is removed drop in the onions and cook for about three minutes. Then add in the carrots and cool for another ten minutes. Remove carrots and add the beef back in with a TBSP of butter. Add in the two TBSP of flour using a sifter. Cook out the flour, approx.  five minutes. Add the vegeatbles back into the pot. Add in the crushed garlic cloves, 3 sprigs of thyme, 3 sprigs of parsley, 2 bay leaves,three cups of red wine, and the 2 cups of beef broth. Using a rubber spatula, scrape up all the bits off the bottom of the pot and mix the stew for a minute. Remove from heat and place into the oven for 325 degrees for 2 hours and 40 minutes.
In the meantime, add 1 1/2 TBSP Butter and 2 TBSP of olive oil to a pan. Cook potatoes for 10-15 minutes until golden. Then add in the last cup of stock, remaining parsley and thyme and simmer over low/med heat for 20 minutes with the lid on. In another pan add a TBSP of butter and brown your mushrooms.
*Note to the reader: Most of my meals that are really good require a lot of dishes, plates, or pans. This is not fun when you don't have a dishwasher but is great when you have somebody that doesn't mind cleaning up after a good meal.
Keep the potatoes and mushrooms separate until the beef is done. Adjust the oven to 250 degrees after the 2 hours and 40 minutes and continue to cook the beef stew for two and a half more hours. When the time is up, remove the beef and carrots. Strain out all herbs and chunks of beef from the sauce.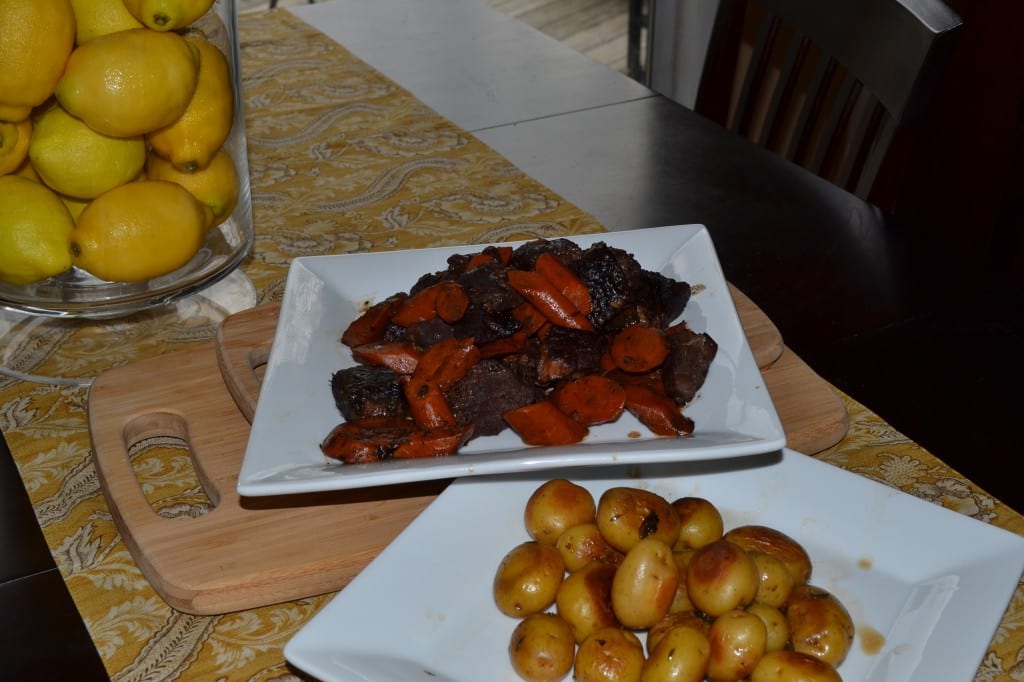 Bring the sauce to a simmer and skim off any fat that has risen to the top. Combine all elements in the pot and serve.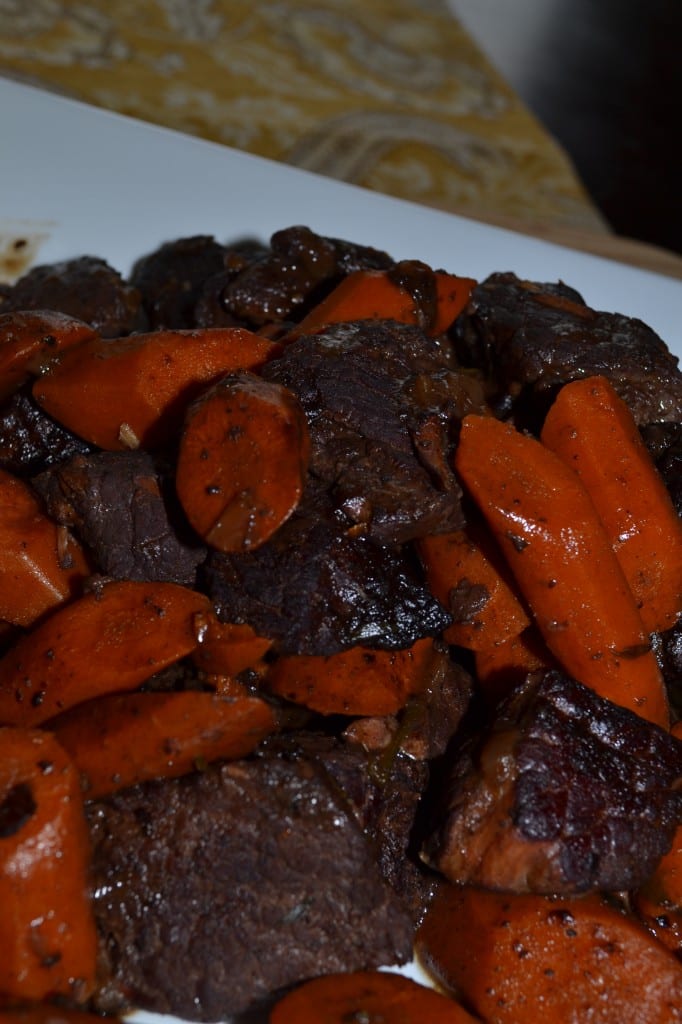 After all that cooking time, your house starts to smell like home.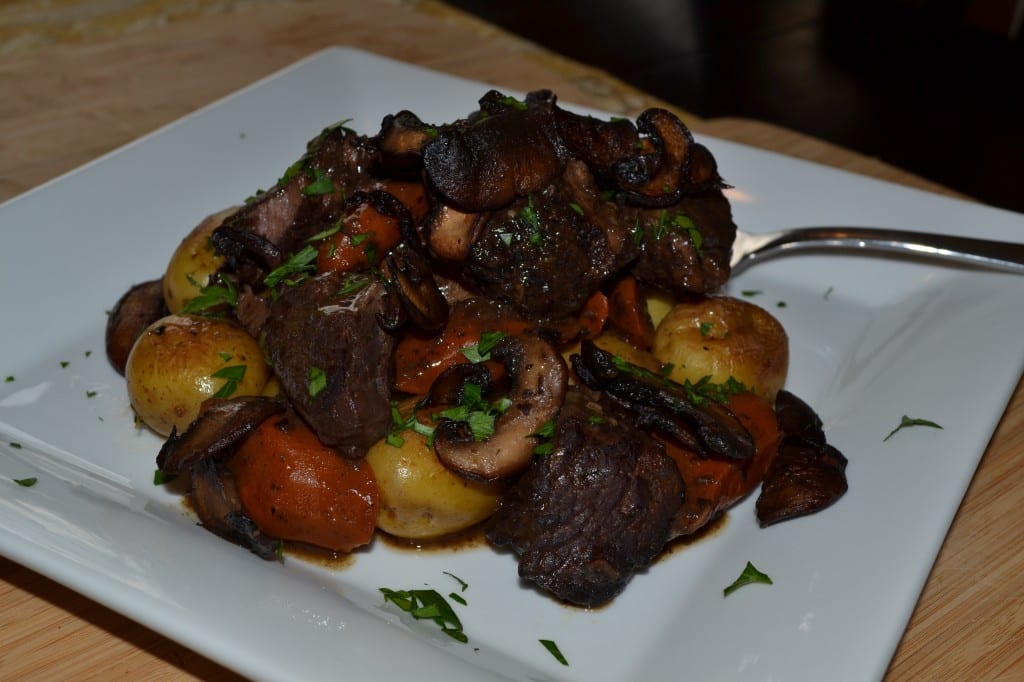 It's a dish like this that reminds me of where I came from, and even though some people have left the table and we aren't all eating dinner together….
…it still feels like the whole family is at the dinner table with me!
Related posts: