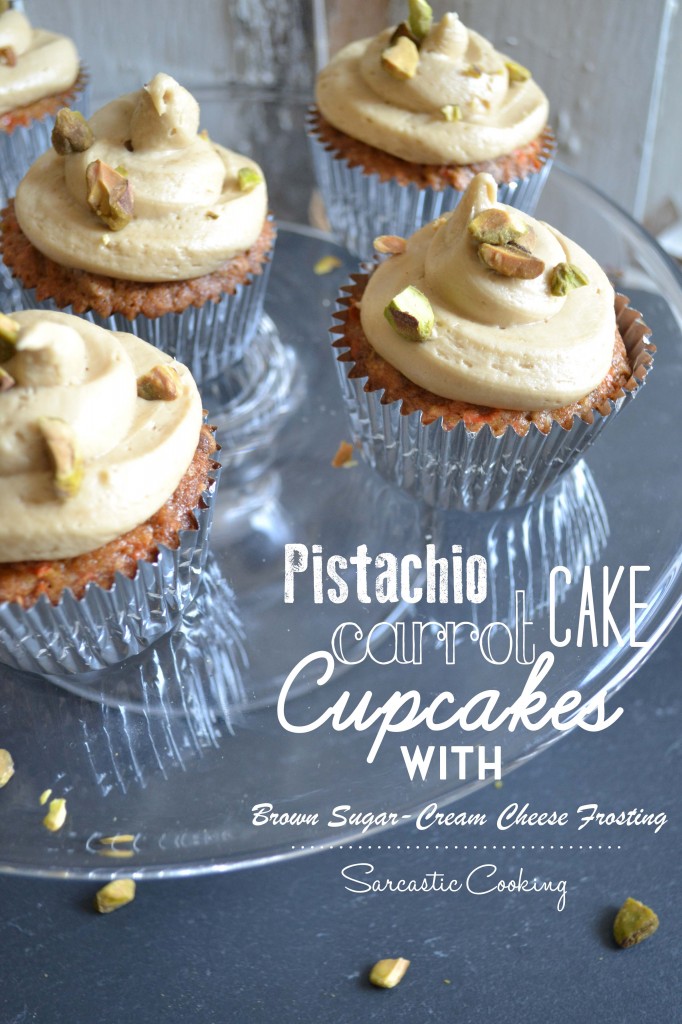 Like any normal, pink-blooded, soon-to-be-29-year-old woman/girl, I love a good night in with a rom com and a baked good or two (husband/significant other totally optional). Sometimes said baked good might be soaked in melty ice cream, or in this case, topped with the most sugary cream cheese frosting ever.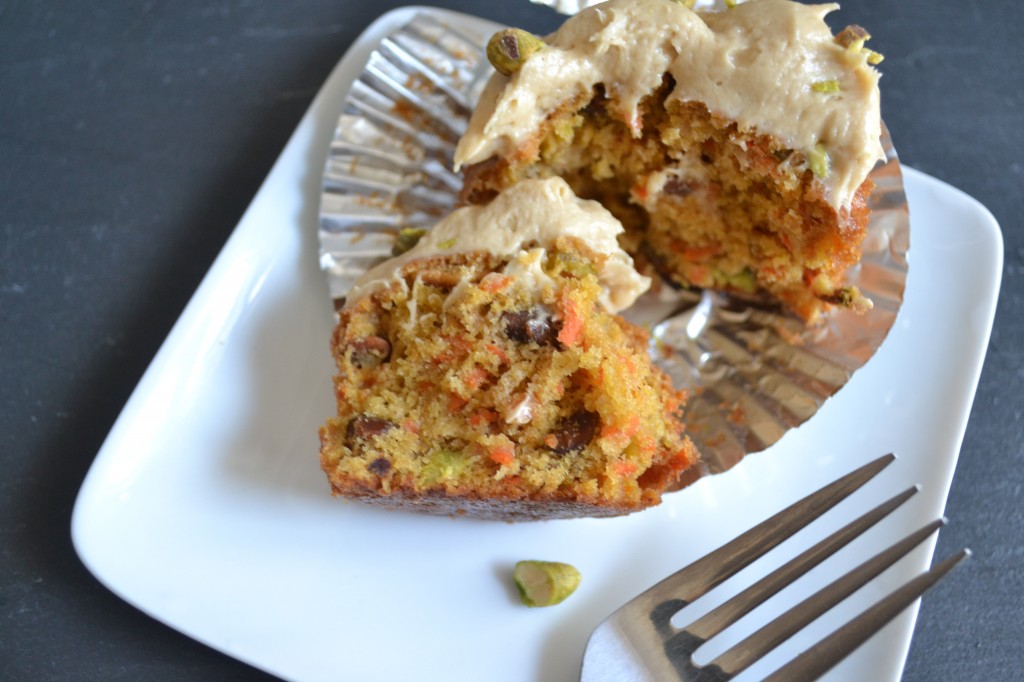 I know I have been doing a lot of recipes from Aida's cookbook, but there are so many good ones. This recipe was originally a cake. Since I didn't want to accidentally eat an entire cake while having a night in, I made carrot cake cupcakes. It's all about portion control, right?
I like baking early in the morning. Then the house smells lovely all day. If I am blogging the recipe, I bake, take pictures, and finish up some work. Sometimes, a little sneaky pug appears and steals a bit of frosting, which may or may not throw off my work day.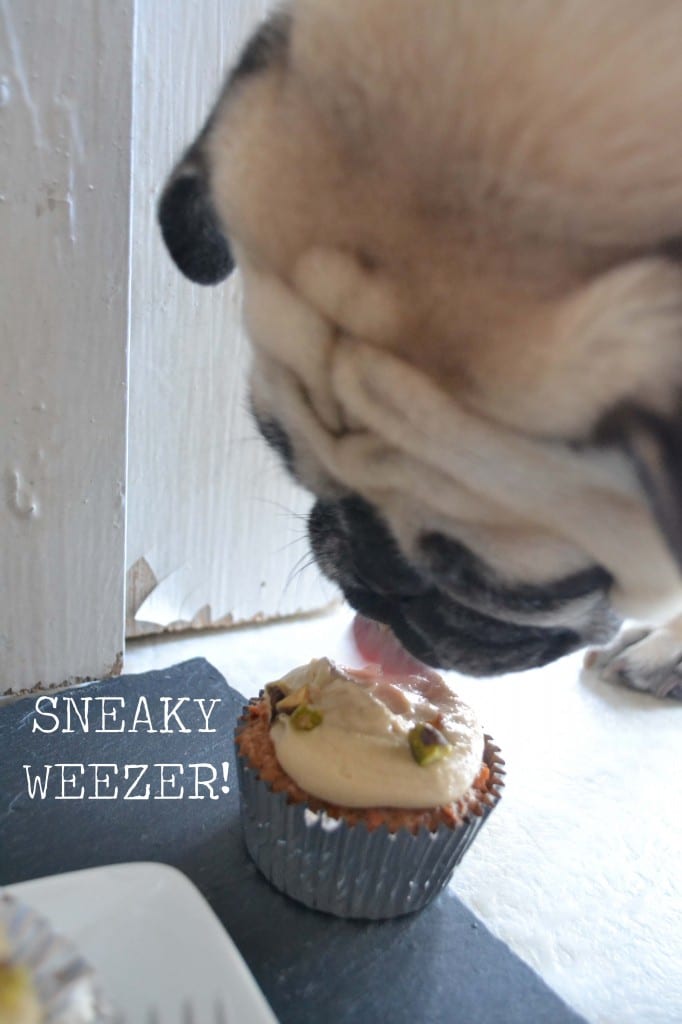 After the work day is over, I love to eat dinner and then immediately change into pajamas, as long as I have nowhere else to go, even if it is only 6 o'clock. Then I park it in front of the TV and enjoy my dessert.
Some of my favorite rom coms to enjoy dessert to are:
Bridesmaids. Duh! Kristen Wiig is so funny and she is a baker, so of course this movie pairs well with baked goods.
Bridget Jones' Diary. Sigh, Mark Darcy. Plus all she does is eat and drink and embarrass herself, something any girl can relate to.
When Harry Met Sally. When he runs to find her on New Year's Eve! I cry every single time. That is definitely a call for a baked good.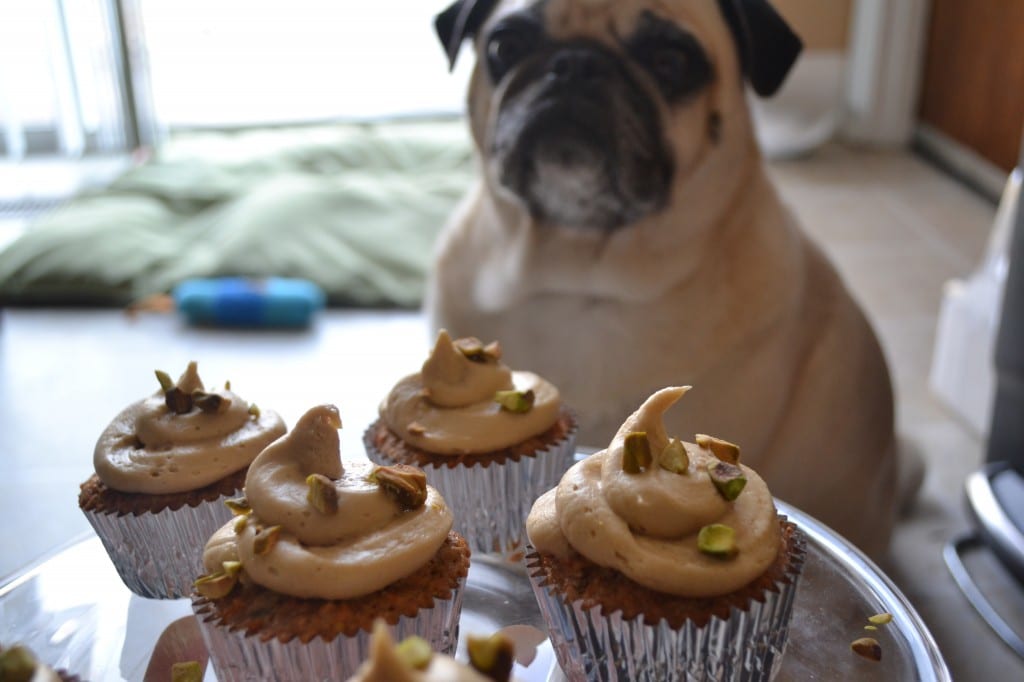 I have yet to get into Downton Abbey. I know tons of people love this show. I feel like that would be a good weekend marathon show. I need to get on this. The trick is to wait until Mike goes to sleep or is out on the town with the boys.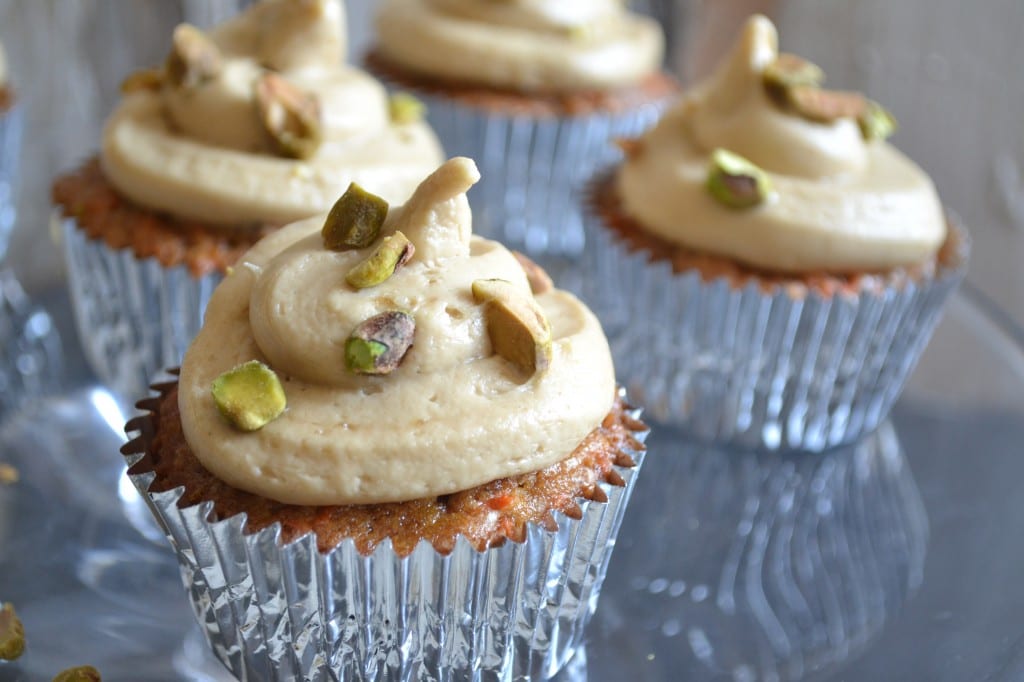 I have saved extra cupcakes just in case the mood to paint my nails and stay in hits me again in the next few days.
Pistachio Carrot Cake Cupcakes with Brown Sugar-Cream Cheese Frosting
Author:
Prep time:
Cook time:
Total time:
Ingredients
[b]For the Frosting:[/b]
1 Pound Cream Cheese, at room temperature
½ Cup Unsalted Butter, at room temperature
1 ¼ Cups Powdered Sugar
1 Cup Packed Dark Brown Sugar
1 Teaspoon Vanilla
¼ Teaspoon Kosher Salt
[b]For the Cupcakes:[/b]
2 ¼ Cups All-Purpose Flour
2 Teaspoons Baking Powder
2 Teaspoons Kosher Salt
1 Teaspoon Cinnamon
½ Teaspoon Baking Soda
3 Large Eggs, at room temperature
1 Cup Granulated Sugar
1 Cup Packed Dark Brown Sugar
2/3 Cup Coconut Oil
1 ½ Pounds Carrots, peeled and grated
2 ½ Cups Finely Chopped Shelled Roasted Pistachios
Instructions
To make the frosting, add the cream cheese to the bowl of an electric stand mixer fitted with the paddle attachment. Whip on medium speed until light and fluffy, about three minutes.
Scrape down the sides, add the butter, powdered sugar, brown sugar, vanilla, and salt. Mix slowly to combine. Then increase the speed to medium and beat until well combined. Transfer frosting to a separate mixing bowl and refrigerate until ready to use.
Clean out the bowl of the mixer and the paddle attachment.
To make the cupcakes, preheat the oven to 350 degrees F.
Combine eggs, sugars, oil, and vanilla in the bowl of an electric stand mixer fitted with the paddle attachment. Mix on medium/low speed until eggs are broken up and combined.
In a medium mixing bowl, whisk together the flour, baking powder, baking soda, salt, and cinnamon. Fold the flour into the sugar/egg mixture using a rubber spatula.
Add the carrots and pistachios to the bowl, fold into the batter to combine.
Add about 1/3 of a cup scoop of batter to each cavity in two muffin tins lined with paper cupcake liners. Bake in the oven for thirty minutes, until a toothpick inserted into the center of a cupcake comes out clean.
Let the cupcakes cool on a wire rack for about ten minutes before frosting. Take the bowl of frosting out of the refrigerator to allow it to come to room temperature.
When ready to frost, add the frosting to a piping bag or a large quart sized sealable plastic bag with one corner cut off. Pipe the frosting on to each cupcake. Top with a few extra chopped pistachios. Store cupcakes in an airtight container in the refrigerator for up to two days.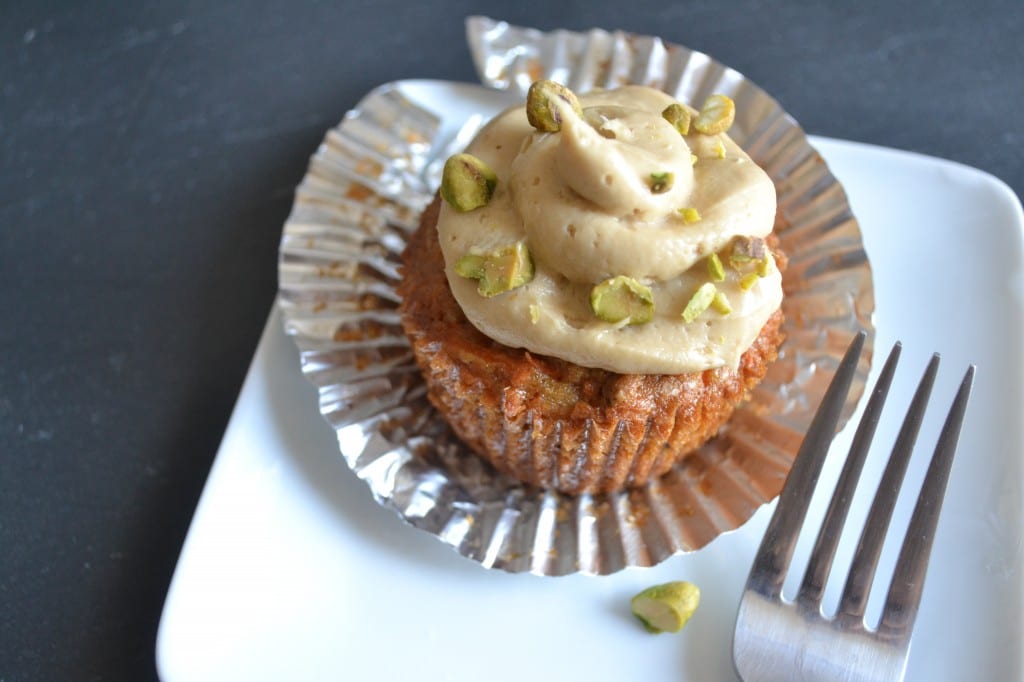 Related posts: