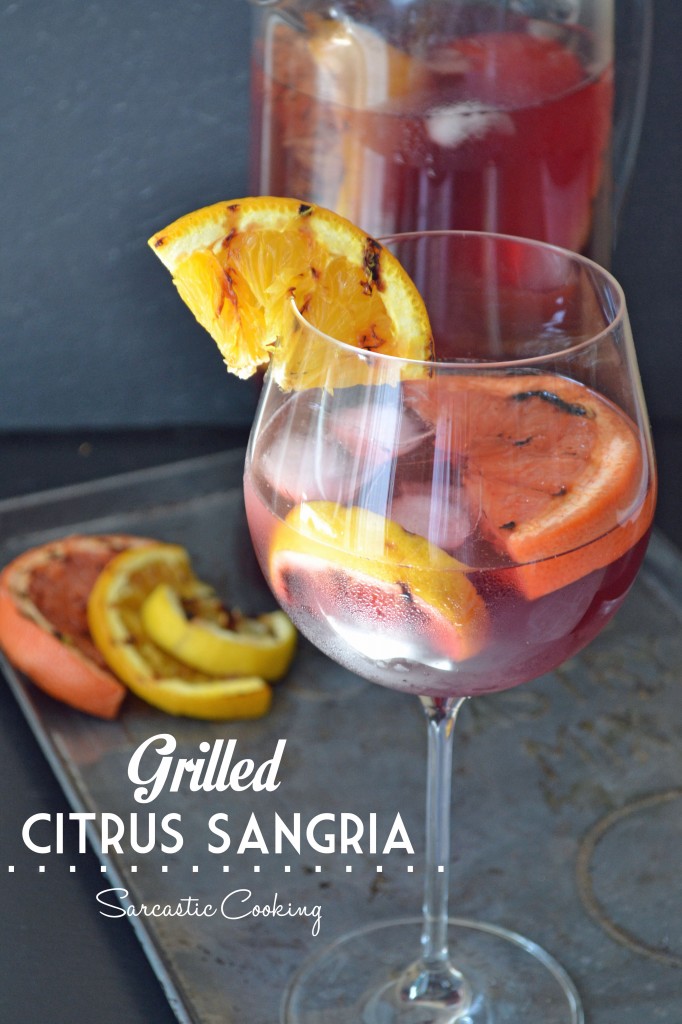 A while ago, Mike and I went to the prettiest beer garden and burger joint ever. It was one of those rare summer days where we felt like trying something new. Ya know back in the day when we still wanted to go out on dates all the time?
In this pretty little beer garden were tall oak trees, strands of twinkling lights, big picnic tables, and small colored iron tables for two or four. It sounds perfect right?
Mike and I originally went for a beer, a burger, and to sit in the beer garden, but when I saw a bunch of other tables enjoying the large pitchers of sangria, I knew we had to try it. Mike, being the good partner that he is, abandoned his hoped for a tall frosty beer and went with my fruity lady drink instead. I really didn't have to try and convince him too much since it was on special.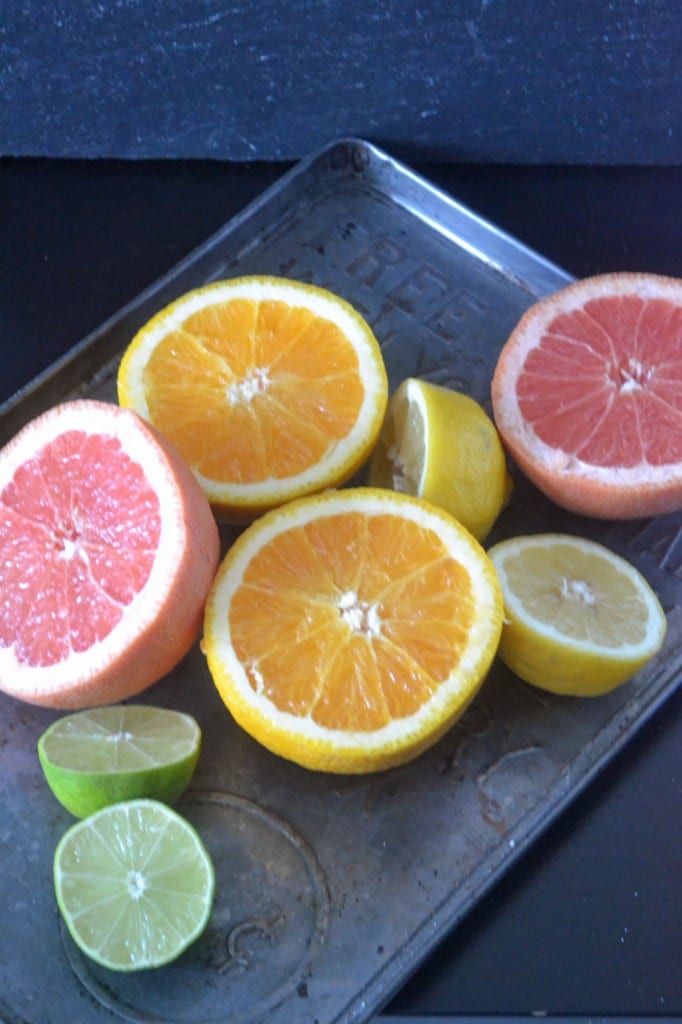 Our server came with a big pitcher of sangria. Floating in the pitcher were tiny bits of diced fruit. If only I had a picture of the sangria…but this was pre Instagram and iPhone days. The drinks just went with the ambiance a lot better than a couple of beers.
We were having a wonderful time; enjoying our drinks and eating the simplest yet tastiest cheeseburgers. About halfway through our date I noticed half of Mike's face was becoming redder and redder. It was like I was on a date with Two Face all of a sudden! I tried not to overreact (Mike may say differently), but I asked him if he felt ok and "What is wrong with your face?" Mike rushed to the bathroom and came back with no explanation for his face.
He started drinking water and went back to rinse his face off with cold water. We stopped at a Walgreens for some Benadryl. After a few more glasses of water, and much red face discussion, we decided it must have been the sangria. I felt fine and kept drinking my perfect summer drink whereas Mike ordered what he wanted originally, a tall frosty beer.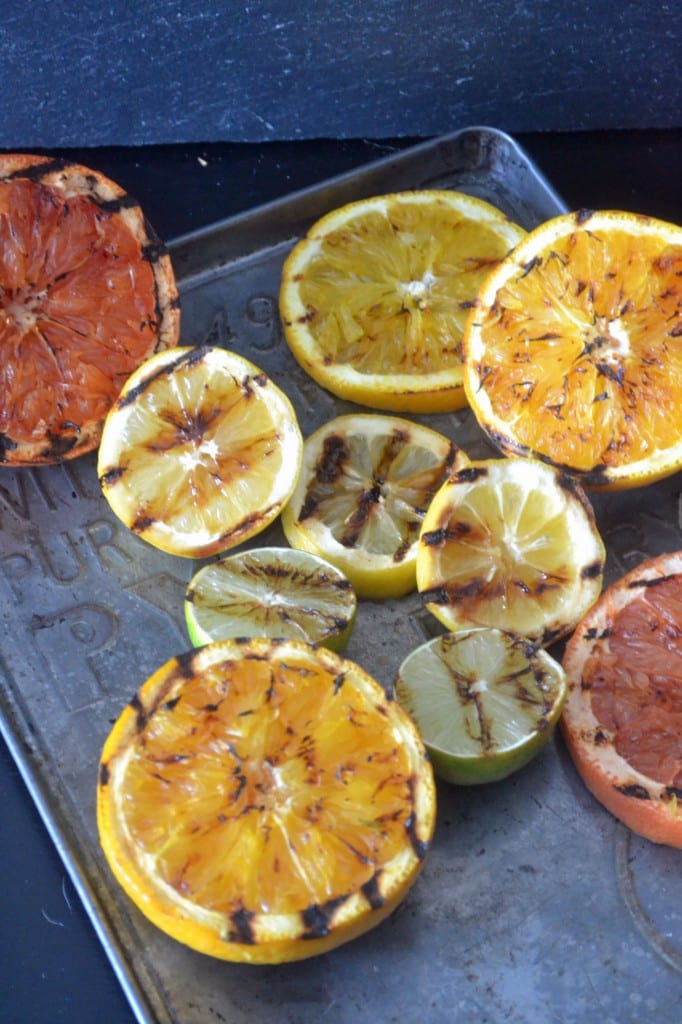 We had a good laugh and still have a good laugh every now and then thinking back on this date. Because, aside from the allergic reaction, it was a pretty amazing summer date. Mike has never really had sangria since then unless I make it at home. I say it is out of fear of Two Faced-ness, but he says otherwise. I, however, still carry the sangria torch on for the two of us!
During the summer, you can always count on somebody to make sangria. It is so delicious! I know you may be looking at these grill marks on the fruit and be thinking that I have lost it, but I swear I haven't. Well, not officially. Grilling the fruit not only adds a hint of smokiness to the sangria, but it also helps to release all the fruit juices. This is a new spin on a classic and one that I think will be the talk of your next summer party.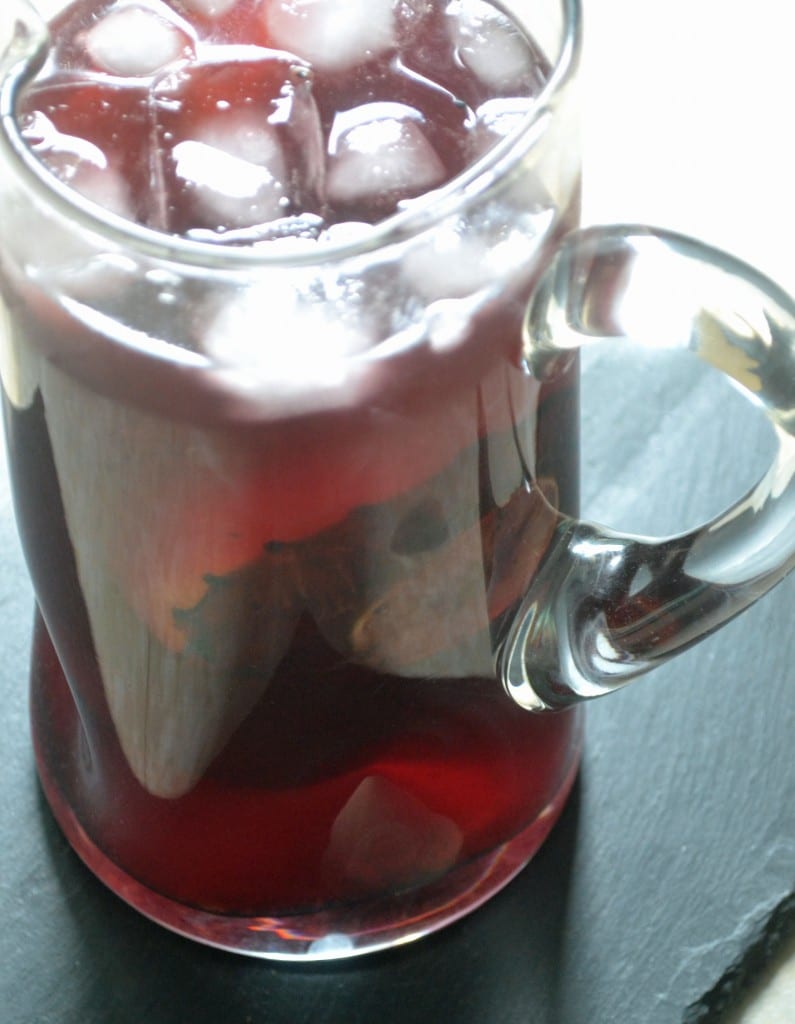 Cheers!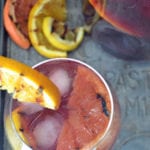 Grilled Citrus Sangria
Ingredients
12

Ounces

Ginger Beer

½

Cup

Simple Syrup

¼

Cup

Cointreau/Grand Marnier

1 ½

Bottles Red Wine

zinfandel or pinot noir

1

Grapefruit

halved

1

Orange

halved

1

Lime

halved

1

Lemon

halved

Ice
Instructions
Heat a grill pan or an outdoor grill for about five minutes over medium/high heat.

While the grill heats up; add ginger beer, simple syrup, Cointreau, wine, and ice to a large pitcher. Stir to combine.

Place each half of fruit cut-side facing down on the grill. Grill for 5-6 minutes until good grill marks appear. Remove fruit with a pair of tongs, they will be very hot. Place fruit off to the side to slightly cool.

When the fruit can be handled, squeeze each half into the mixture in the pitcher. Add the squeezed halves of fruit to the mixture as well. Stir to combine. Chill for at least thirty minutes. Serve over ice with small grilled citrus slices as garnish.