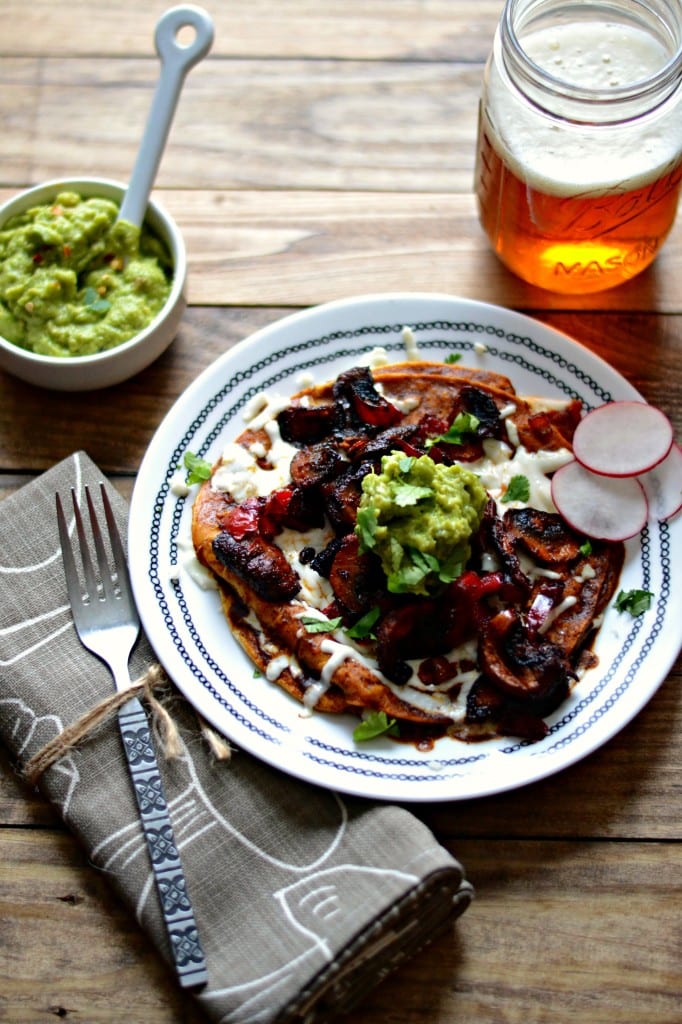 Having this blogging job means that I am my own boss, which is both awesome and daunting. I can give myself any days off I see fit, yet on the other hand, I have to get myself back to work. Sometimes, my laziness and the ease at which I get wrapped up in my own personal life/drama make me fall off the face of the blogging world.
I wish that I was one of those people who, when the you-know-what hits the fan, immerses themselves in their work and get after their goals even harder to keep their mind off of whatever is bothering them. I sadly am not that person. I am a worrier and a wallower.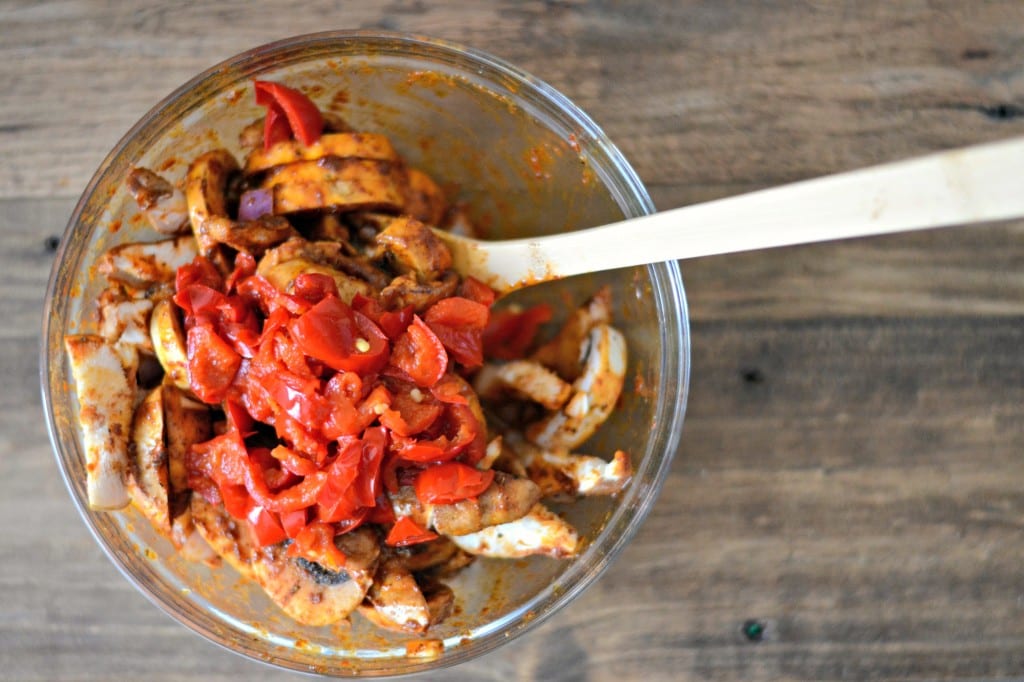 If I haven't blogged or gone to yoga in a while, it is ten times harder for me to get motivated to get back into it. I also have this habit of lying to myself and saying that I will watch just one episode of Friends on Netflix and then I will get back to work. Ha! Right. Ten episodes later…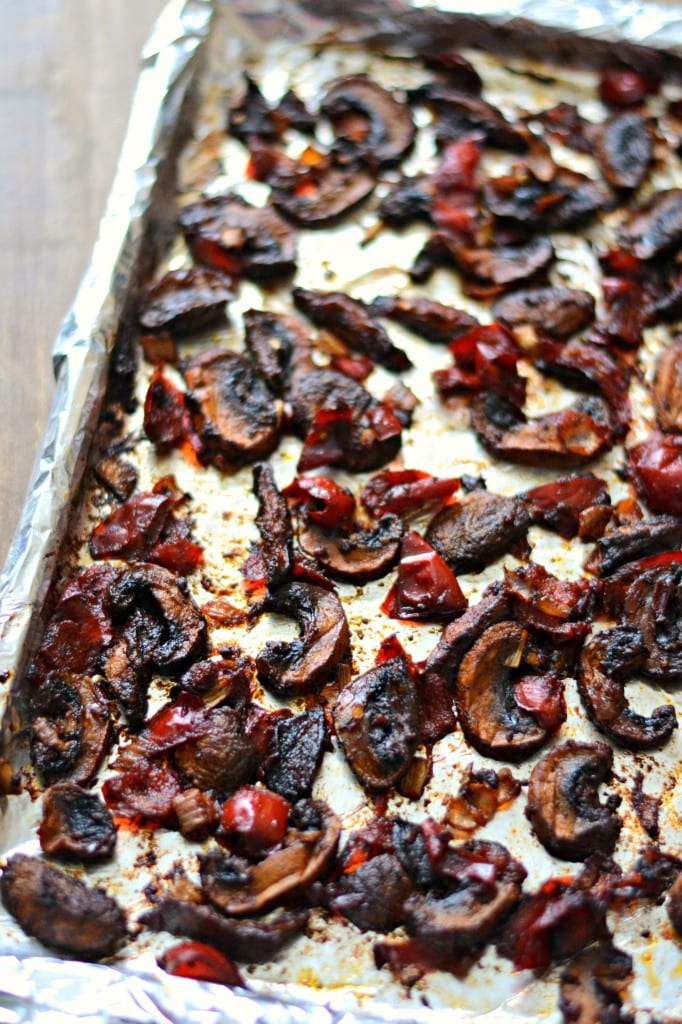 I am also the same person who finished the entire series of Parenthood in less than a month. It was so good, I couldn't help it! Plus, of all the things I could have on in the background while Andy is awake (i.e. Girls or The Walking Dead), I figure Parenthood is the least harmful to little Andy's psyche.
Anyway, I guess what I am trying to get at is there are some things going on in the background of my life and I am sorry it took me away from you guys for the past few days. I am not going to lie, it may happen again.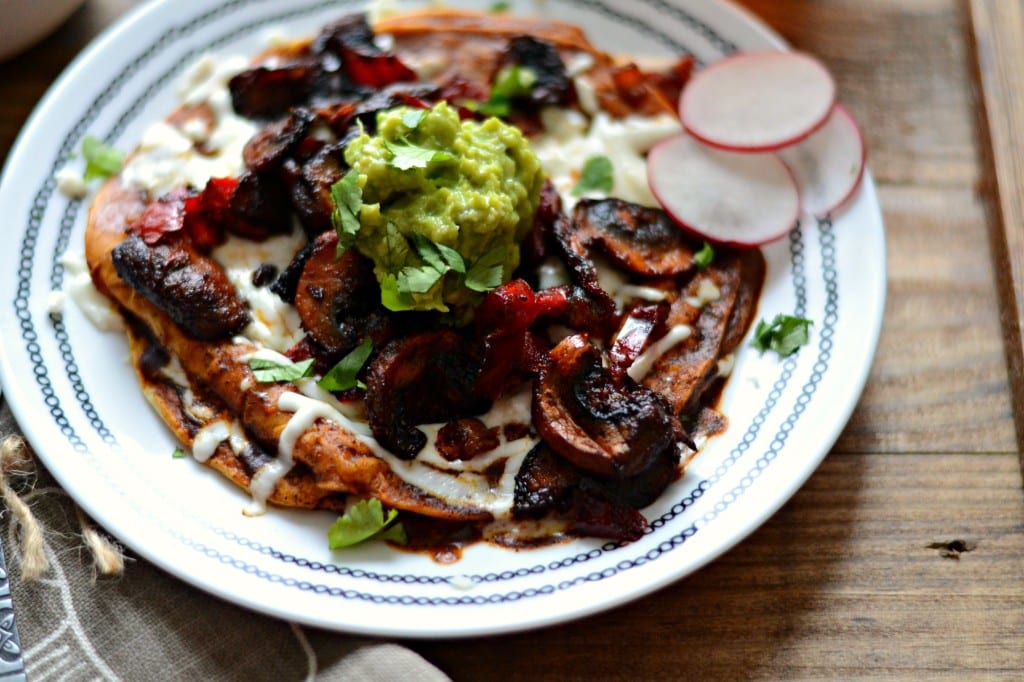 In the meantime, let's enjoy another meatless creation to kickoff the season of Lent. Stacked enchiladas are a thing. Did you know this? I had them the day after Valentine's Day with chorizo and eggs on top. Clearly I couldn't recreate that dish for Lent, so I made my meatless version.
Um, do you guys think I can give up cheese for Lent? I ask you after I post a cheese filled recipe! Ha! What about being on my phone when Andy is awake??? I feel like those are two biggies I may be able to tackle this year.
Or maybe just cut back on… We shall see!
Red Enchilada Stacks with Spicy Roasted Mushrooms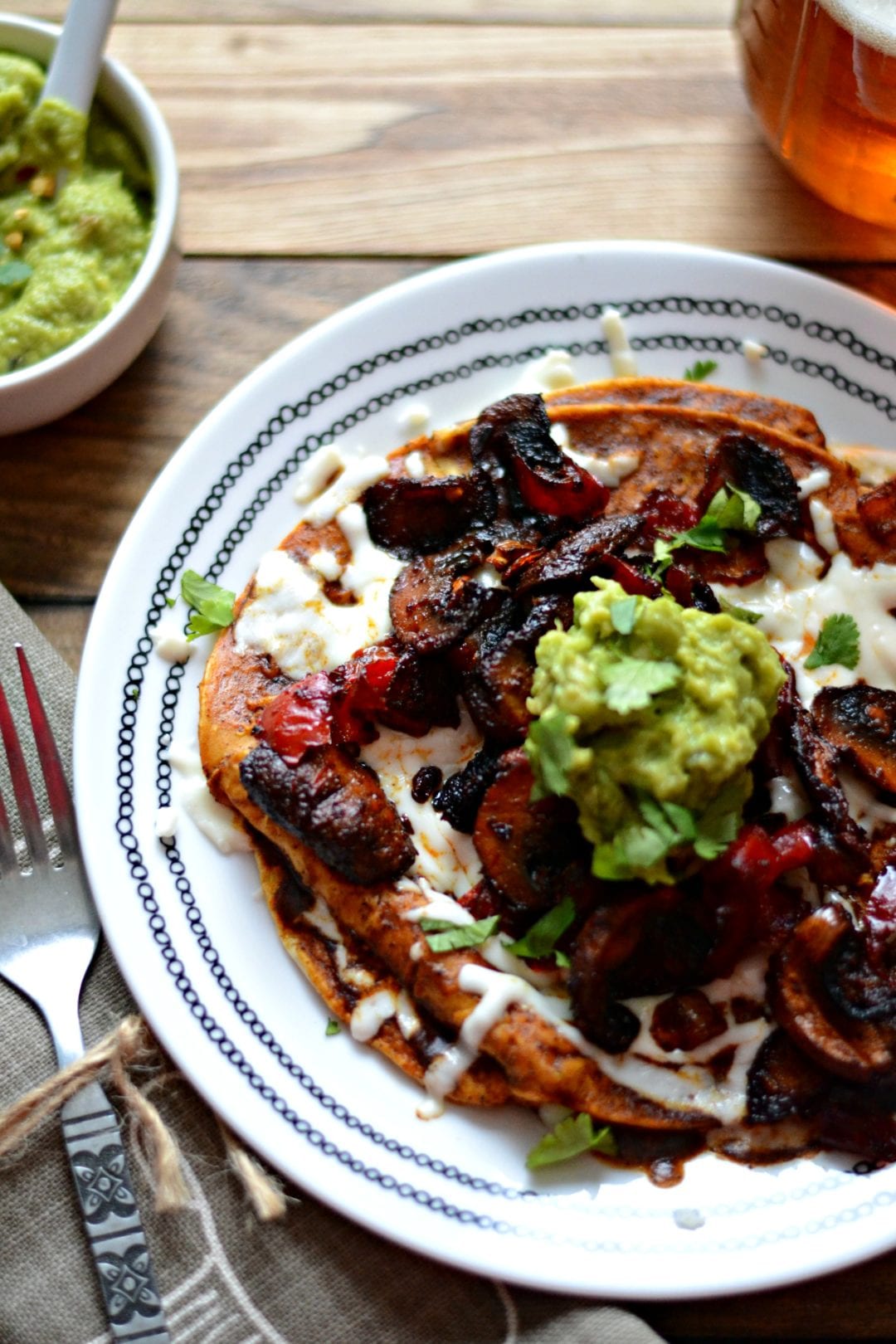 Warm tortillas coated in red enchilada sauce and queso fresco topped off with spicy and crispy roasted mushrooms and cherry peppers.
Yields: 4 Stacks
2 Tablespoons Canned Tomato Sauce
¼ Cup Olive Oil
1 Tablespoon Pureed Canned Chipotle in Adobo Sauce
1 Teaspoon Chili Powder
1 Teaspoon Taco Seasoning
½ Teaspoon Salt
¼ Teaspoon Black Pepper
1/2 Teaspoon Dried Oregano
Pinch of Crushed Red Pepper Flakes
A Couple Dashes of Tabasco Sauce
6 Ounces Shitake Mushrooms, stems removed and sliced
10 Ounces Button Mushrooms, stems removed and sliced
8 Jarred Cherry Peppers, drained and chopped
1/3 Cup Diced Red Onion
12 Small Flour/Corn Tortillas
1 Cup Red Enchilada Sauce
1 ½ Cups Shredded Queso Fresco
Preheat the oven to 325 degrees F. Line a medium baking sheet with foil and set off to the side.
Whisk together the tomato sauce, olive oil, chipotle puree, chili seasoning, taco seasoning, oregano, salt, pepper, crushed red pepper flakes, and tabasco in a medium mixing bowl. Add the mushrooms, red onion, and cherry peppers. Mix to evenly coat and combine.
Lay the mushroom mixture out on the prepared baking sheet in one even layer. Bake for 25 minutes, flip and then bake for 20 minutes more until crisp.
Wrap the tortillas in a damp paper towel and then microwave for 60-90 seconds until warm and pliable.
Add the enchilada sauce to a small skillet. Heat over medium until the sauce starts to simmer. Reduce heat slightly. Dip each warm tortilla into the sauce and then place on serving plate. Sprinkle a large pinch of cheese on top of the hot sauce. Do the same to two more tortillas so it is three total in a stack. Top each stack with two spoonfuls of the roasted mushroom mixture. Continue that process until four stacks have been made.
Serve each stack with fresh cilantro and guacamole.
Preparation time:

15 minutes

Cook time:

60 minutes

Total time:

1 hour 15 minutes