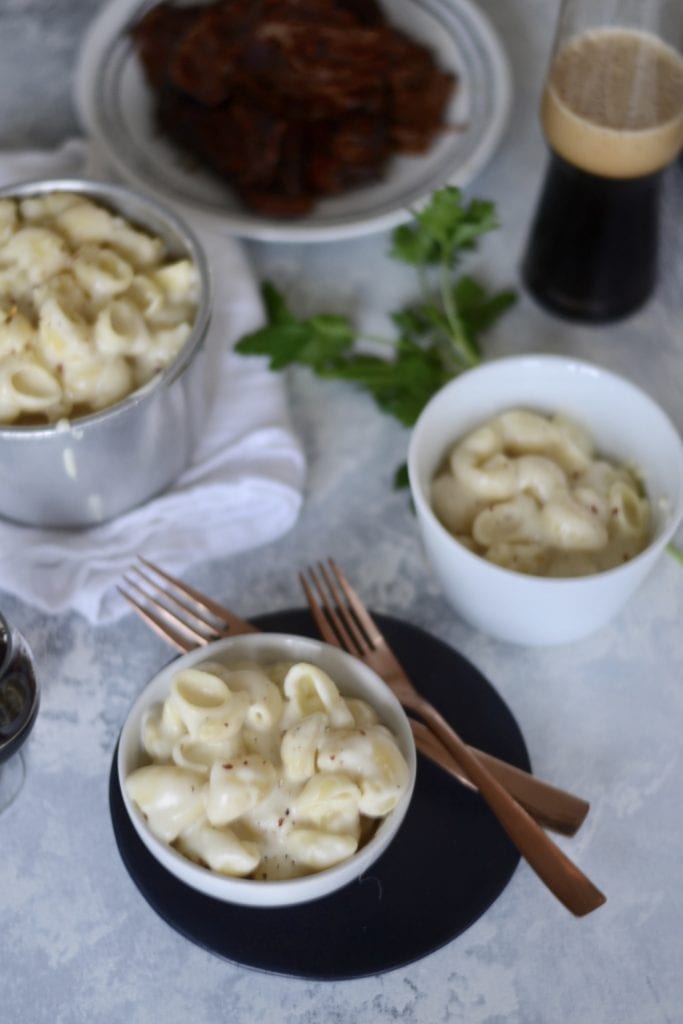 I told ya so, told ya so, told, told, told ya so!!! Yep. That is right. Get ready we are allll going on diets after this meal right here. This along with a few bottles of wine and champagne is the perfect way to kiss this ish show of a year goodbye. Am I right?
And honestly, based upon what recipes I have in the bag, I can promise you that you won't see many salads or healthy things for some time. Sorry.
In my defense though, I was looking through the top posts from this past year and lemme say, you guys love carbs as much as I do. Pasta and pizzas are the only things in my top ten. I am contractually obligated to feed the masses. Even if I am really only feeding your eyeballs.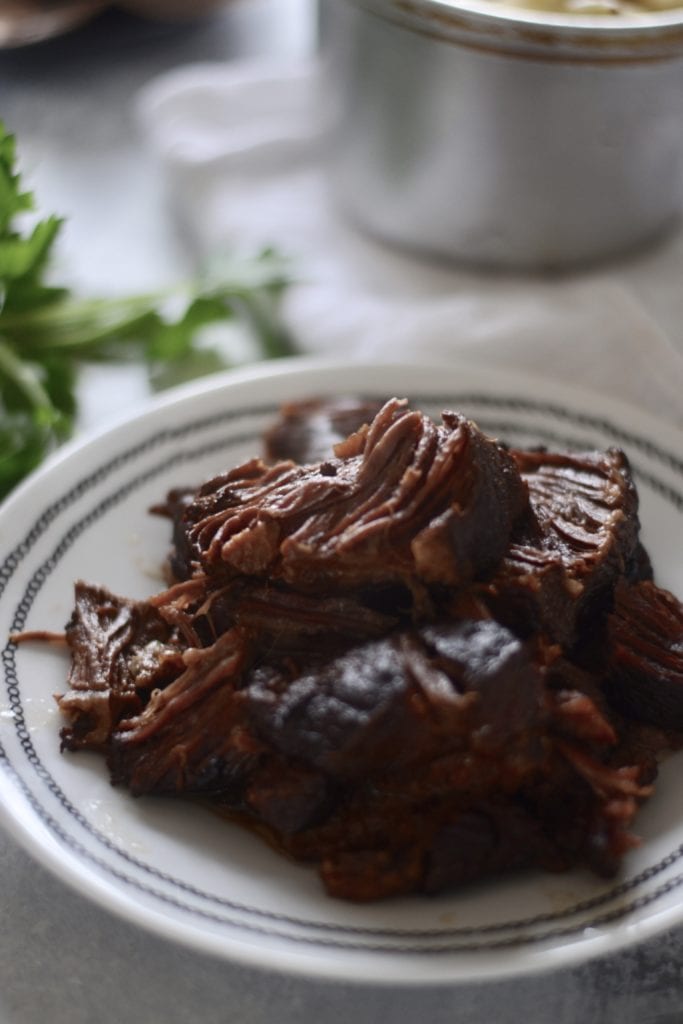 Last year, Jack was less than a month old so we didn't do much. We listened to podcasts and music and drank way too many bubbles. Oh, I think I made nachos. Ooooo! Some of this leftover short rib would be perfect on some sheet-pan nachos. Side tracked.
This year we are venturing out with some friends and children for a cute little early-bird balloon drop and beers kind of thing. Then, rush back home. Get Jack down for bed. Prep some snacks. Get Andy in bed. Pop some bottles. On to course two!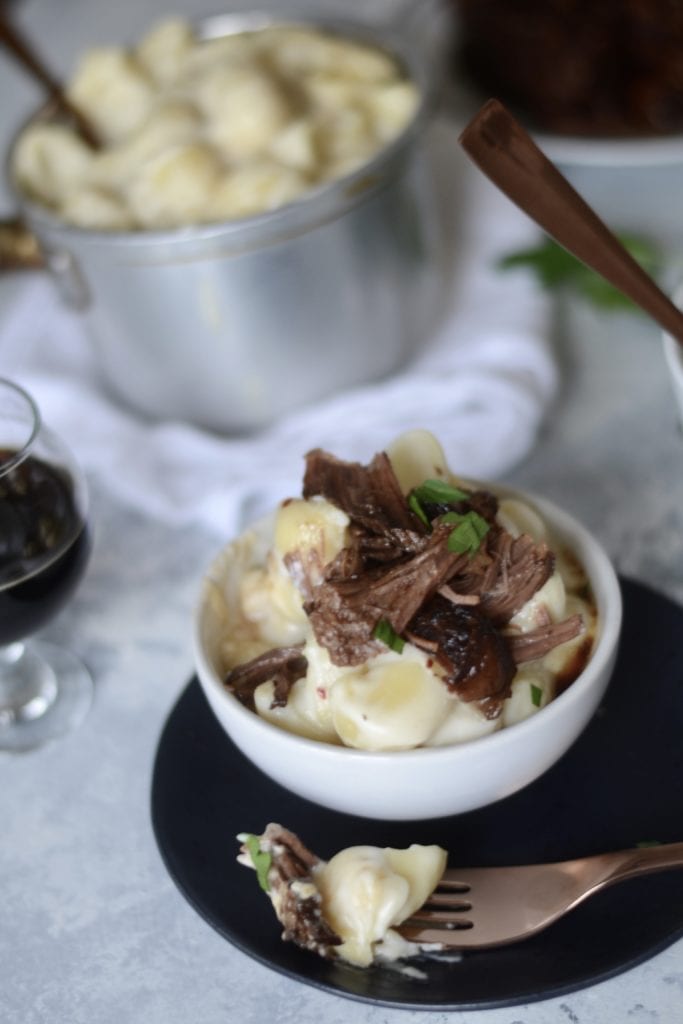 I am sure I will be in a food coma by ten and asleep before midnight. Meh. It is ok.
Oh God. Remember the days of New Year's Eve drink packages at bars? It was super stressful because you would have to start thinking about what you were doing before Thanksgiving. It was fun getting all dressed up. It was not fun standing around in heels all night because there were no chairs. It was fun meeting up with friends in from out of town. Not fun, trying to hail a cab after midnight with no coat on in the city of Chicago. Fun seeing random make out sessions.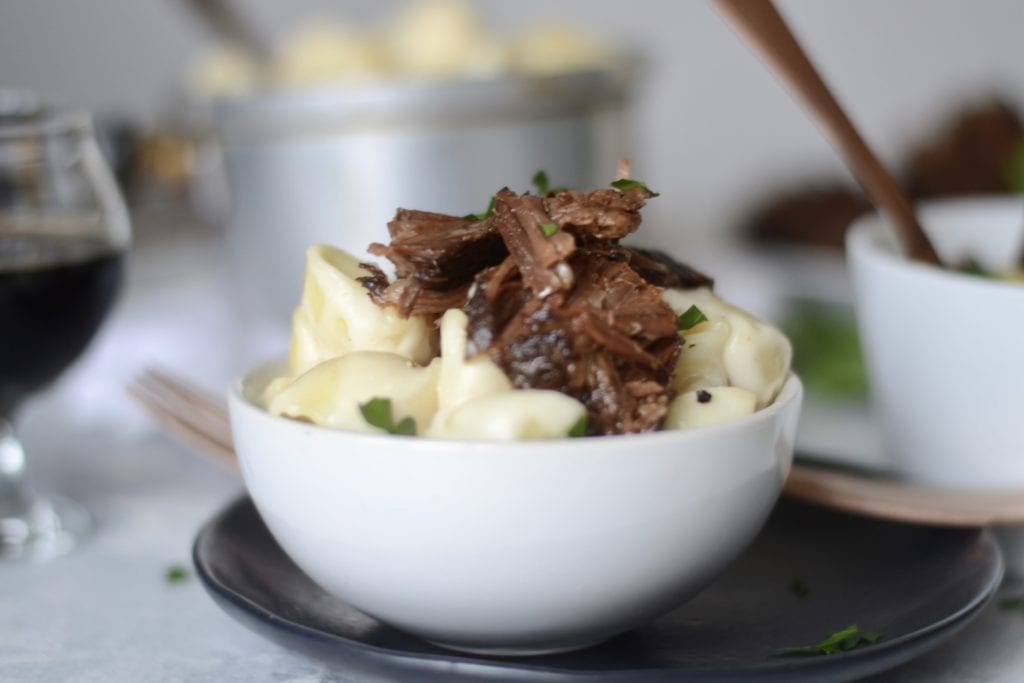 As fun as all that was, I won't give up my pajama, cheese, couch situation.
I hope you all have a safe and fun night. Make these short ribs. It is the perfect balance of sweetness from the stout and spice from the pepper jack. You're going to feel 100% times better when you eat that first salad of the new year because you will be able to look back at this and know you did it up RIGHT!
Slow Cooker Stout Braised Short Ribs and Pepper Jack Mac and Cheese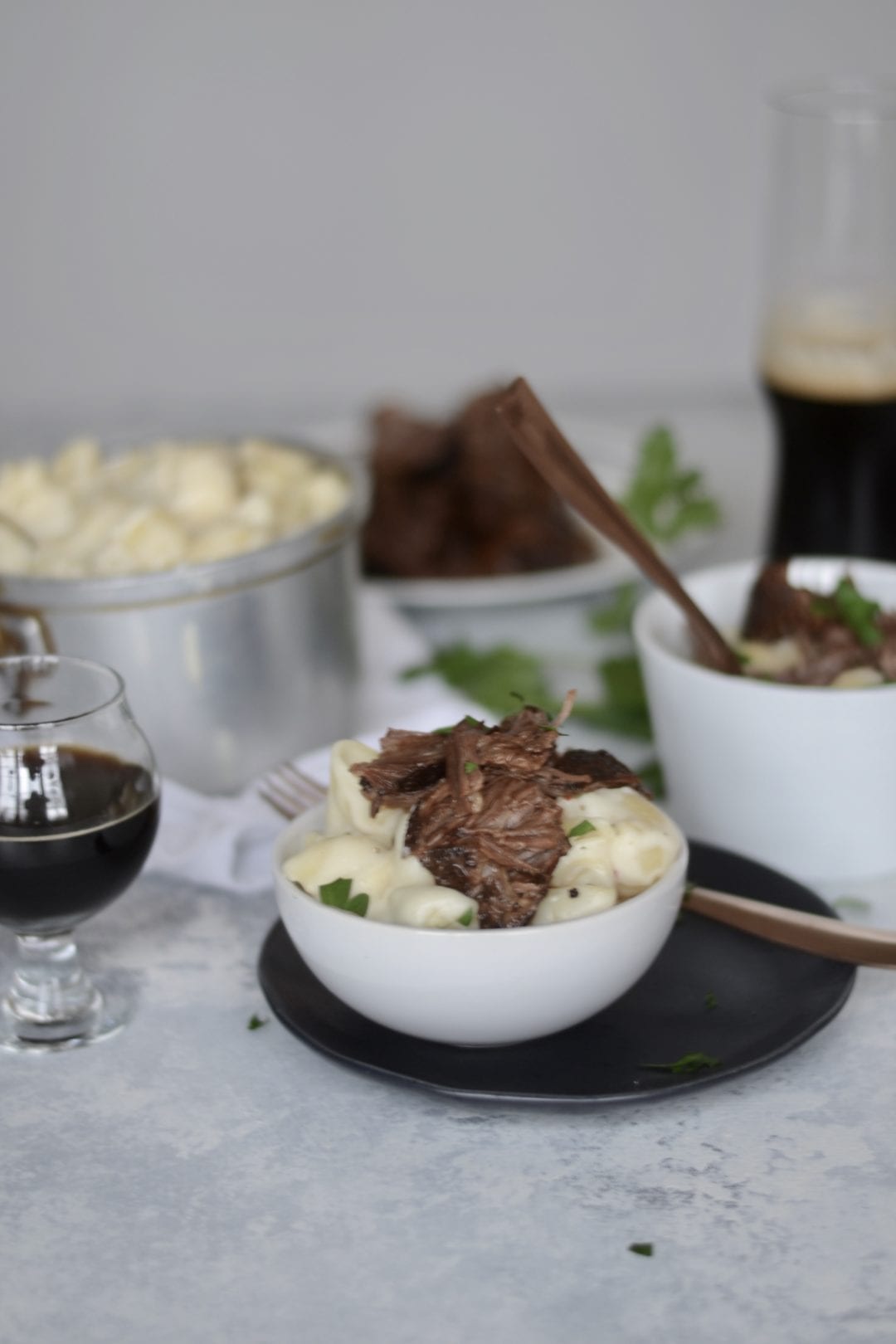 A decadent way to end the year or celebrate any cause, really! Stout braised short ribs make the perfect compliment to spicy, creamy mac and cheese.
Yields: Serves 2-4
For the Short Ribs:
4 Bone In Beef Short Ribs
12 Ounces Favorite Stout Beer
1 Tablespoon Tomato Paste
1 Clove Grated Garlic, grated
1/4 Teaspoon Grated Horseradish
1 Teaspoon Worcestershire Sauce
Salt and Pepper
Fresh Parsley, chopped
For the Mac and Cheese:
10 Ounces Macaroni or Pipe Rigate Noodles
1/4 Cup Unsalted Butter
1/4 Cup All Purpose Flour
1 Clove Garlic, grated
3 Cups Milk
1/2 Teaspoon Salt
1/2 Teaspoon Ground Cumin
1/4 Teaspoon Smoked Paprika
8 Ounces Pepper Jack Cheese, grated
Combine the stout, garlic, tomato paste, Worcestershire, and horseradish in the slow cooker. Whisk to combine.
Add a tablespoon of canola oil to a skillet. Heat over high heat for a minute or two until the oil starts to ripple. Season the short ribs liberally with salt and pepper. Sear each side for a minute until dark golden. Remove from heat and transfer to slow cooker.
Cook short ribs for 12-16 hours on low. Keep short ribs on warm setting until ready to add to the mac and cheese.
Bring a large heavily salted pot of water to a boil. Add noodles and cook according to packaging instructions. Cook until al dente and then drain.
Add butter back to the pot you just finished using for the noodles. It saves on dishes. Heat the butter over medium/low until it melts. Whisk in the flour until a roux forms. Cook the roux for two minutes.
Add the garlic and whisk to combine. Heat for an additional minute.
Reduce the heat to low. Pour in the milk. Add the salt, cumin, and paprika. Whisk to combine.
While stirring, slowly increase the heat to medium. Keep whisking until the sauce thickens. Add in the cheese and reduce heat to low.
Once the cheese melts, add the noodles. Mix to combine. Add more salt and black pepper if needed. Remove pot from heat and cover with lid until short ribs are prepared.
Now, prepare the short ribs. Remove the bones and toss in the garbage. Add the short ribs to a small plate. You should be able to use the side of a fork to gently push and pull the meat apart.
Pour the sauce through a mesh strainer lined with a paper towel into a large measuring cup or bowl.
To serve, add some mach and cheese to a bowl. Top with a big pile of shredded short ribs, and few spoonfuls of reserved cooking liquid, and a sprinkle of freshly chopped parsley.
Preparation time:

20 minutes

Cook time:

12 hours and 20 minutes

Total time:

12 hours and 40 minutes