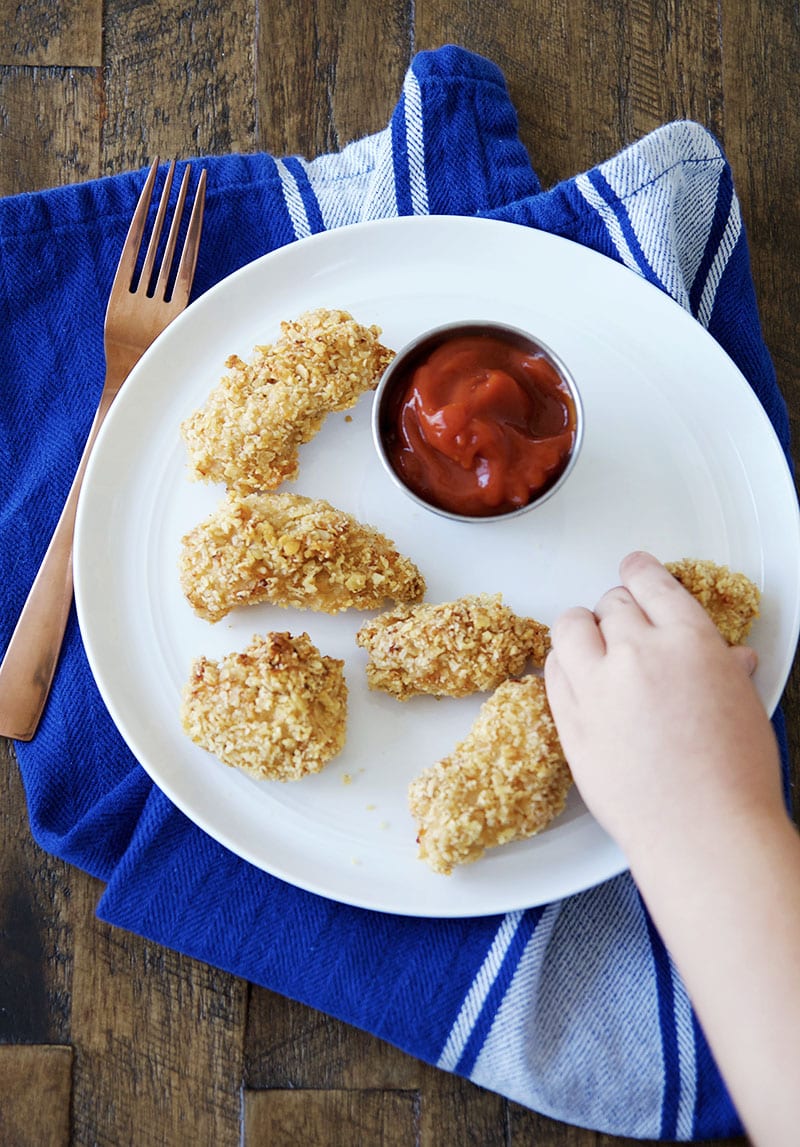 As you are reading this, I am in a far away land where dreams really do come true. Me and the fam are kicking it Disney style this weekend. I looked over the forecast before we left. I am suuuuper thrilled to be back in the midst of shorts season. Also, very happy I did not fully commit to my no-shave-the-legs winter rule yet. Yep, totally got you thinking about food now, right?
It seemed only fitting to share this shockingly easy kid friendly meal. When I say shocking, I mean my friggen kids actually liked these. The last time my kids ate something that was a kid recipe for the blog, it was this green semi-homemade mac and cheese. I told Andy he used to eat that and he told me there was no way he would eat something that… green.
All I had to do to get them to eat these, or at least try them, was skirt around the truth and maybe withhold a little bit of info.
Was I totally honest when I told them they were chicken nuggets from a fast food joint? Absolutely not.
Was I honest when I then told them that they were crusted in potato chips? Mostly…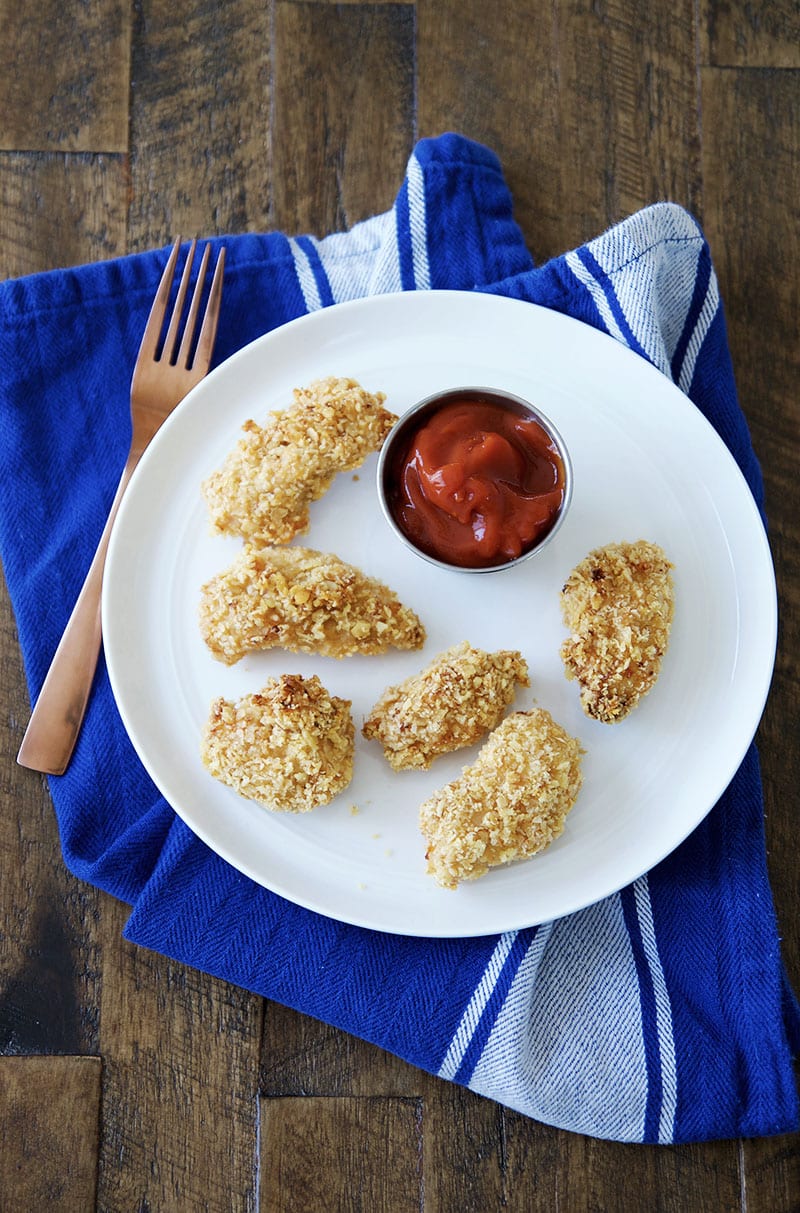 What they don't know won't hurt them , right? Another positive was these were also a hit with Mike. It was like having a side of chips right with your nuggs. It is also a way to use up the last stale bits of chips that are sitting in that rolled up bag on the top of your fridge. You know the one you can't quite justify throwing out but don't actually want to eat. Us moms and semi-responsible eaters, we gotta stick together.
That is why I threw in the oats–because chips alone would have been too kid friendly.
Well, enjoy your nuggs and gimme all the hot spots to hit up while here in Disney over on Instagram, Facebook, or in the comments.
Easy Oat and Potato Chip Crusted Baked Chicken Nuggets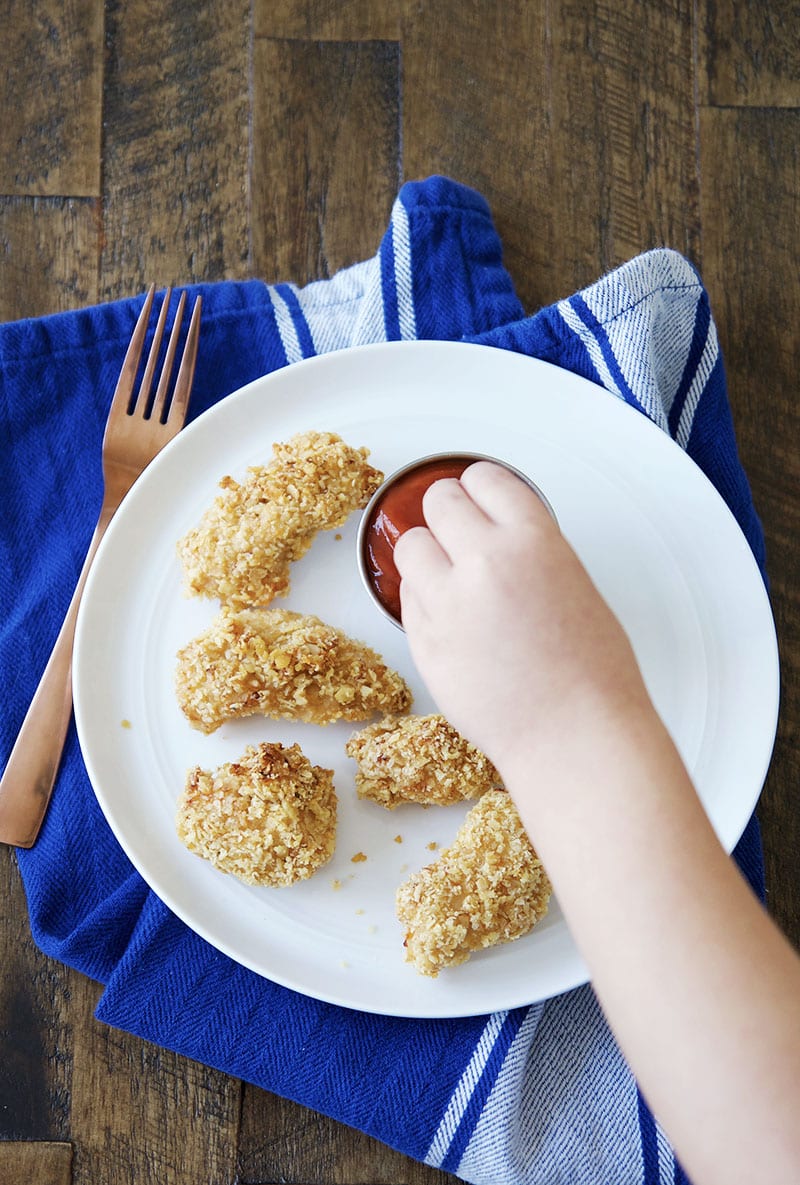 Crispy, slightly salty, slightly healthy, easy baked chicken nuggets with a oat potato chip breading.
Yields: 12-20 nuggets
1 Pound Chicken Tenders, cut into thirds width wise
1/2 Cup Rolled Oats
2 Cups Potato Chips (non-ridges work best)
4 Tablespoons unsalted butter, melted
1/4 Cup Low-fat Buttermilk, room temp
Preheat the oven to 375 degrees F. Line a large rimmed baking sheet with foil and a wire rack.
Combine oats and potato chips in a food processor and pulse until a fine crumb. Transfer the chip mixture to a pie plate or a large dinner plate.
In a shallow bowl whisk together the buttermilk and melted butter. Add the cut chicken nuggets into the mixture, making sure all the chicken is covered in liquid, and let sit while you prepare the chip/oat mix.
Firmly press the chicken nugget into the crumb mix. Coat evenly and then place on the baking sheet.
Once all the nuggets are coated and breaded, bake them in the oven for 25-30 minutes until golden and crispy.
Preparation time:

15 minutes

Cook time:

25 minutes

Total time:

40 minutes