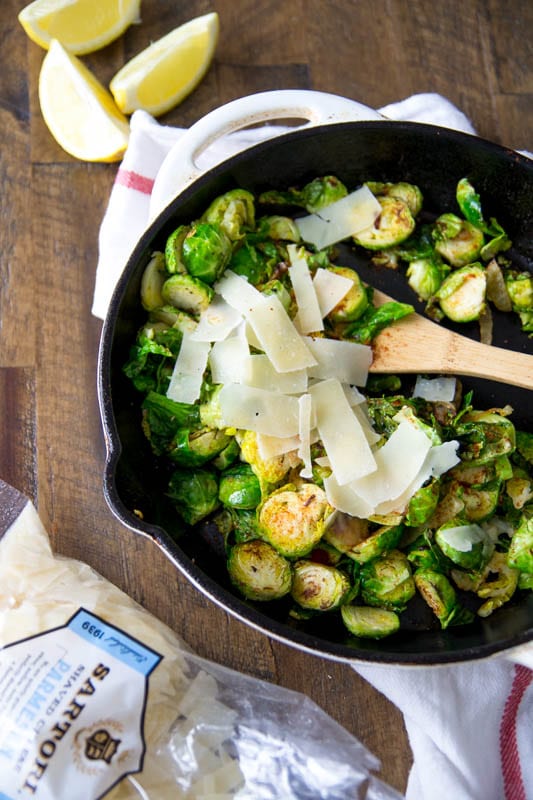 Crispy Brussels sprouts with caramelized onion and lots of fresh lemon.
Sorry guys. This recipe for the easiest Brussels sprouts was supposed to be up like three days ago. This is what happens when Mom gets sick.
No offense to Dad's out there. I am sure when you guys get sick it is hard on you too. Maybe harder on your wife… Wait, who said that?
I was up all night coughing two nights ago. I got up at 2:30am to Google "natural remedies for post-nasal drip." Then I spent an hour on my phone, because hey, I was up anyway.
The super sucky thing was that I had to be up at 6am to drive my brother and Dad to the airport. No rest for mom.
I was able to go to sleep early. And by "go to sleep early" I mean go to my bed only to have a child fall asleep on me in my bed an hour later. That's ok.
It's two days later. I am still sort of coughing. The world keeps turning. I kept my home life ok, but blog work got waaaay neglected. Sorry guys.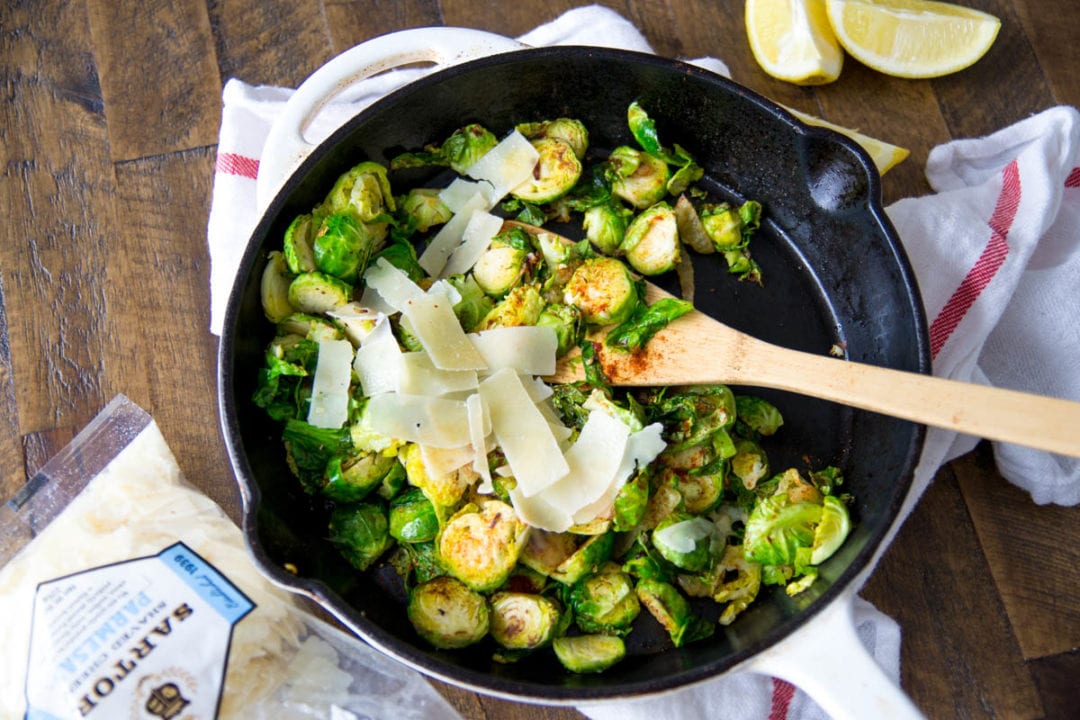 But, I'm back so let's not linger on the neglect.
Are you guys hosting Christmas? What kind of things are you still looking for food wise? How can I help?
aka lemme make it up to you for going MIA for a week.
Let's start with a super simple side dish that is aaaaalways around this time of year, Brussels sprouts. This recipe seriously takes like 10 minutes. Wait until all your other show-stopper menu items are cooked and cooling, then make these guys.
I think the fact that there isn't fatty bacon or a lot of overwhelming spice makes these a bit refreshing.
Sometimes winter foods can be too heavy. This is a perfect dish that will keep things light and healthy.
Ya know, so you can have extra calories to intake at dessert time.
Related posts: