This easy blue cheese plate with only five easy to find ingredients makes for one quick party appetizer. Keep your cheese board simple and you can come up with an appetizer in a pinch. Perfect for a night in or to bring to a party.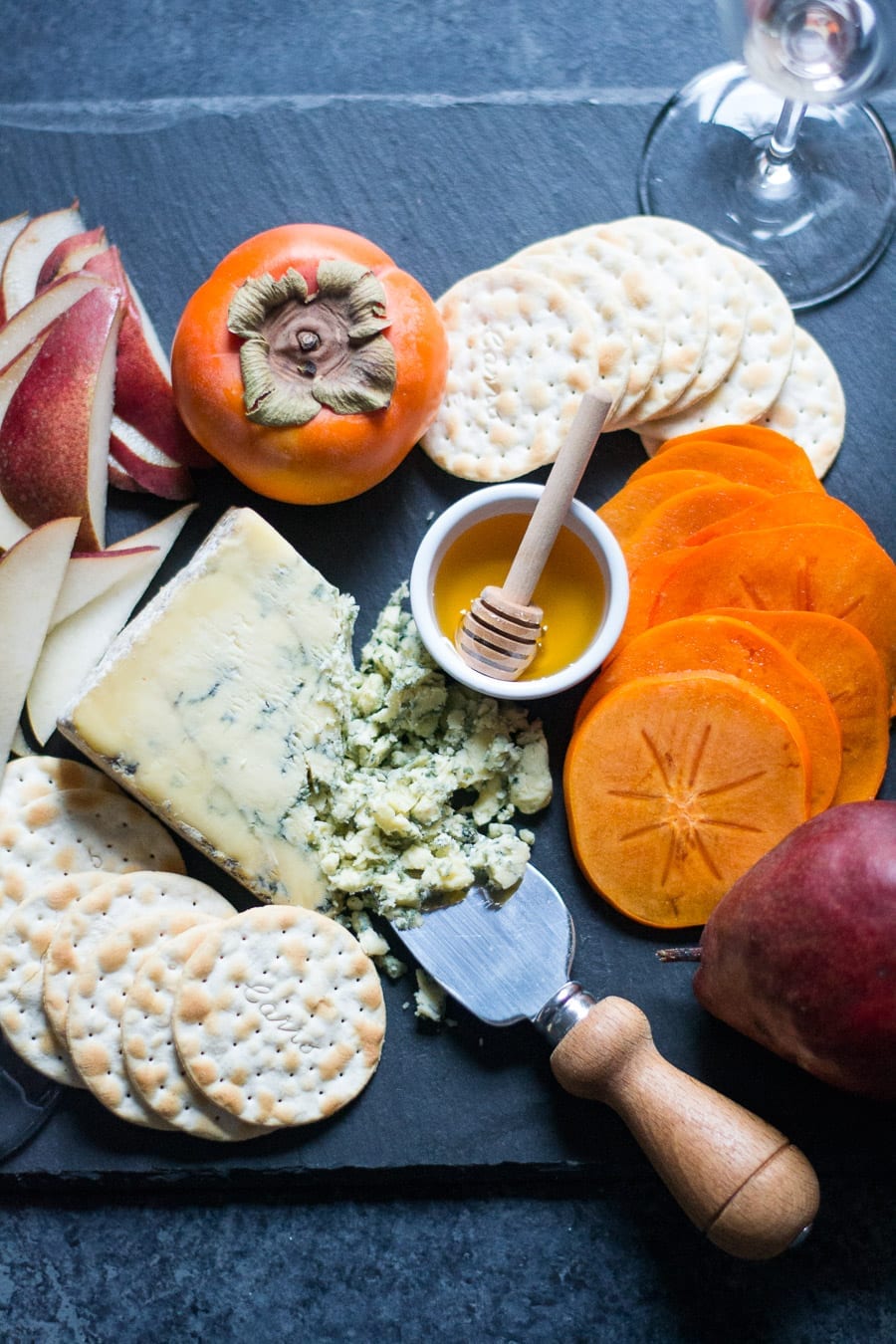 Have you all seen what is happening to cheese or charcuterie boards lately?
I think things have gotten out of control. Once a cheese board no longer fits on a cutting board or plate and takes over an entire table, we may have gone a little overboard, literally.
Right?
Don't get me wrong, I love a lot of choices on a cheese board and have been known to make an epic sports cheese board or fall cheese board in my day.
I prefer the cheese boards that are just for two. I always regret my amount of cheese intake after an epic board creation. My skin and stomach both get mad at me too!
I wanted to make a really easy cheese board. It consists of five ingredients. This easy blue cheese plate is centered round one stinky, beautiful blue cheese.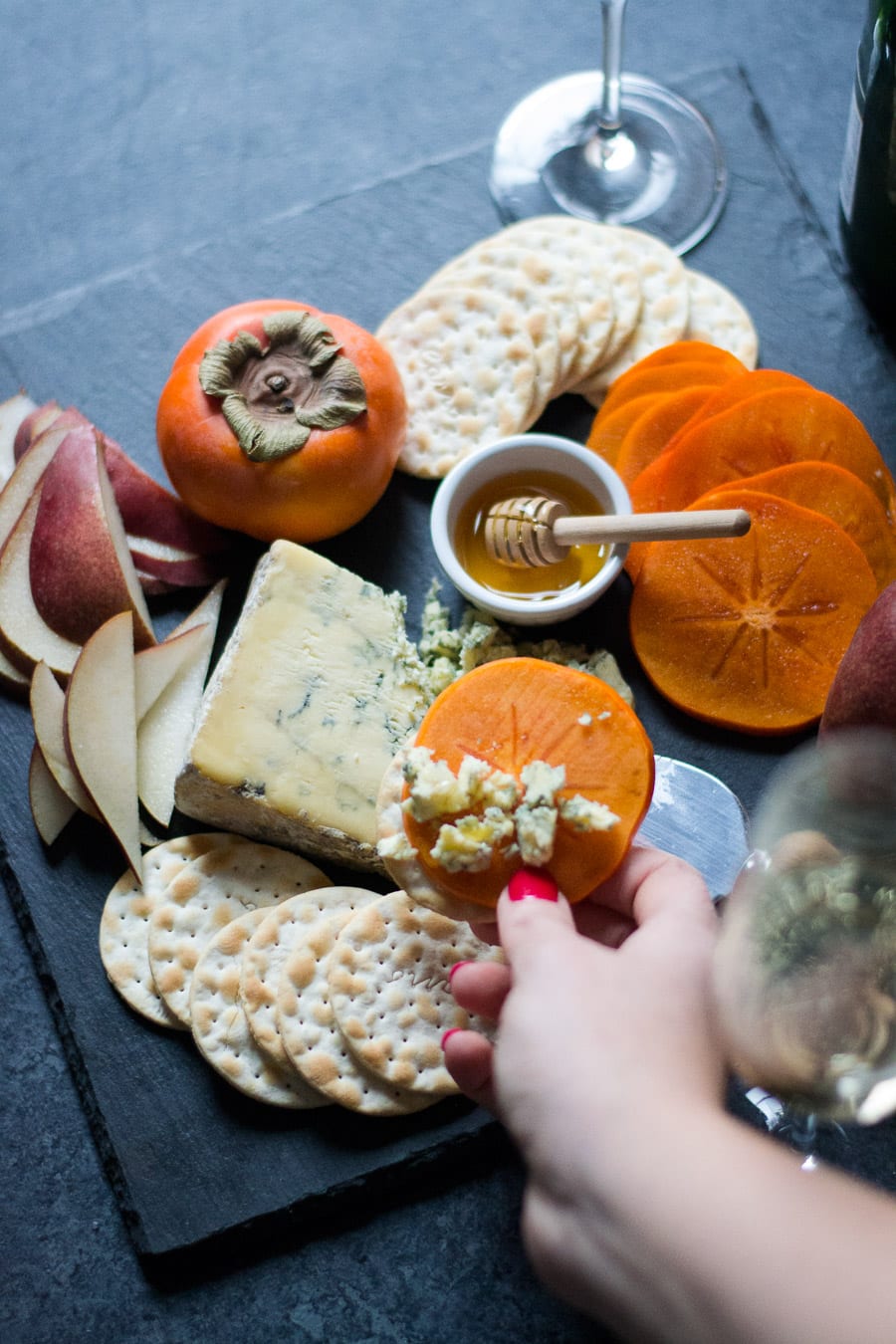 This plate has fresh pears and persimmons, crackers, honey, and blue cheese. That's all it takes to make the perfect snack or appetizer.
I think this is just what your New Year's Eve needs.
It's perfect if you're staying in or if you need a cheap and easy appetizer to bring to a friends' house for a party.
A lot of people ask what to do with a persimmon. Here is your answer.
Pick a funky blue cheese like a stilton, roquefort, or gorgonzola. Clearly, if you do not like a stinky blue, this platter is not for you.
You can always sub a nice brie or even a metly oven baked brie in on this cheese plate. Brie is ever so slightly stinky and will naturally pair nicely with the fruit too.
A cheese plate is always a welcomed appetizer.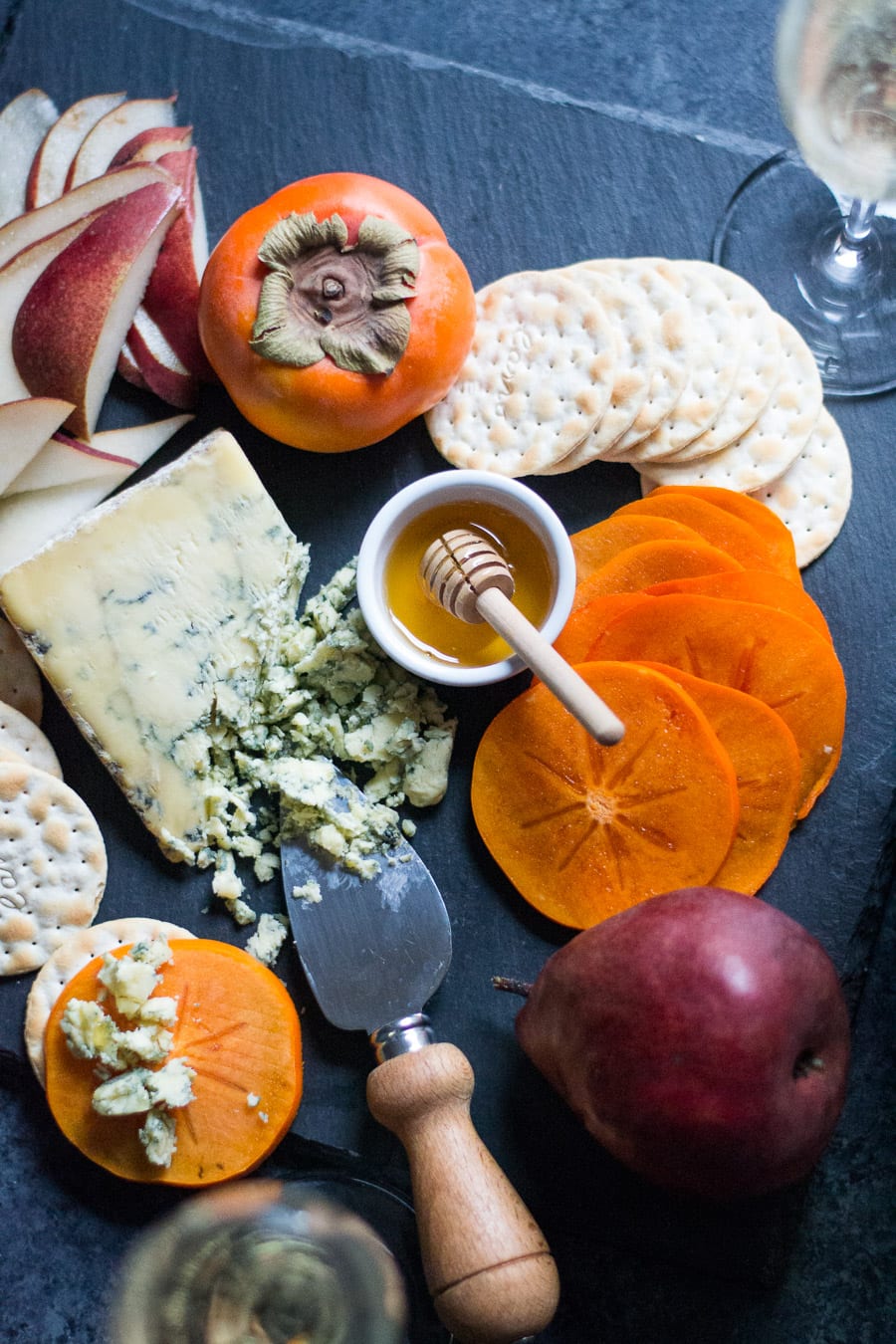 Hopefully I inspired you to keep things simple this NYE. Pick a good cheese, a favorite cracker, a meat, and a fruit. That is all you really need to make a stellar cheese plate.
Like my least favorite high school english teacher used to say, "KISS. Keep it simple sweetheart."
(She used to say stupid instead of sweetheart. You can see why she was my least favorite).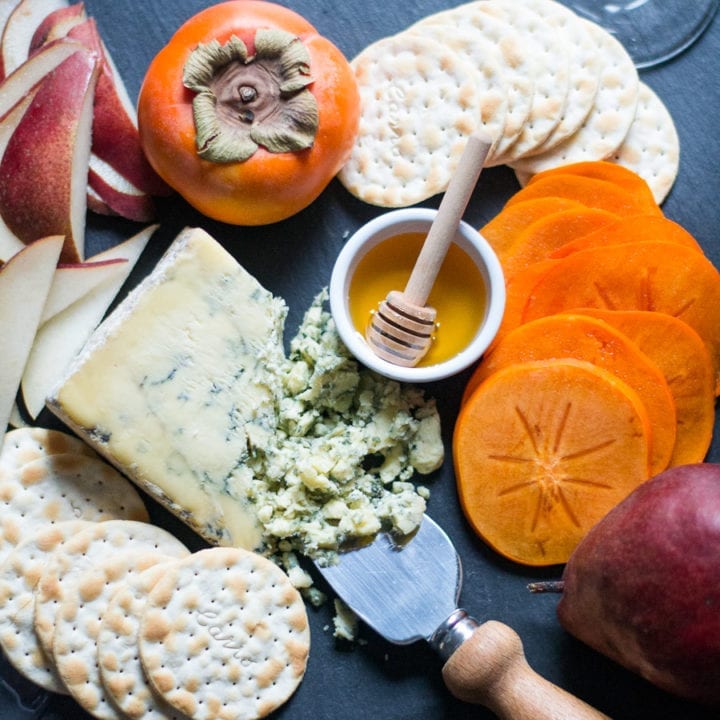 Easy Blue or Brie Cheese Plate
An easy five ingredient cheese board centered around a stinky blue cheese or brie.
Ingredients
1-2 persimmons, thinly sliced
1-2 red pears, sliced
4-6 oz blue cheese, stilton, roquefort, or brie cheese
12 oz water crackers
1/4 cup honey
Instructions
Arrange all the cheeses on a cheese slate or cutting board.
Top a cracker with a slice of fruit, bit of cheese, and then the honey.
Recommended Products
As an Amazon Associate and member of other affiliate programs, I earn from qualifying purchases.