Creamy corn and sausage spaghetti is light, spicy, and an easy dinner to throw together in under thirty minutes. Spicy andouille sausage, charred corn, heavy cream, and crushed tomatoes make the perfect sauce for a spicy spaghetti dish.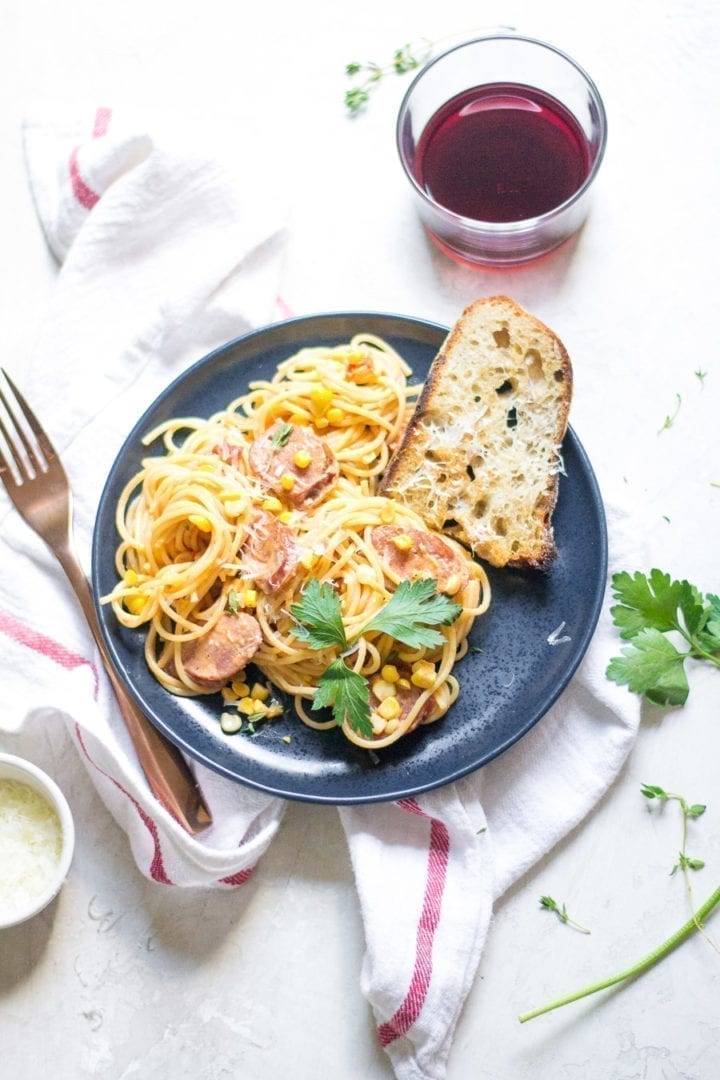 Is there something on your summer grocery list every single week?
Corn is our summer staple. Oh! And don't forget tomatoes.
We actually live across the street from several corn fields. I highly doubt they grow corn for human consumption but still, it is plentiful.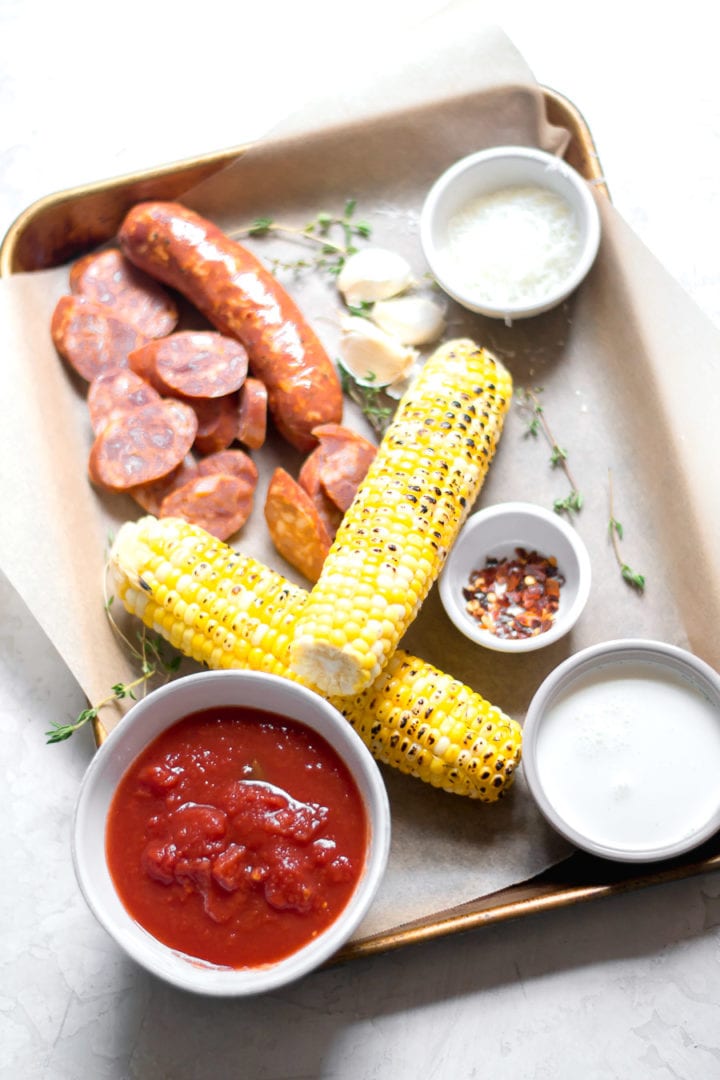 I love to make corn salsa or elote (aka Mexican Street Corn) for taco nights.
You guys know corn is always included in my shrimp boil skewers.
Creamy Corn and sausage spaghetti starts off with oil, butter, and some crushed red pepper flakes. That sets the heat tone in the background of the dish.
While that heats through, char some corn over an open flame on the stove or in the broiler.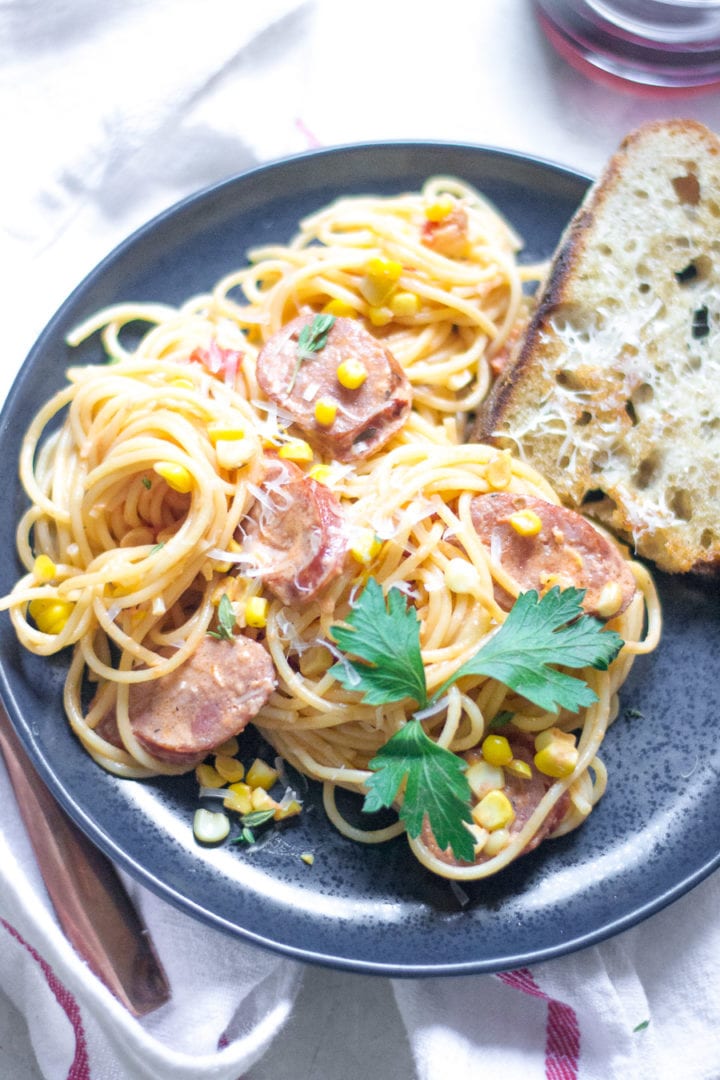 Cut the corn off the cob.
Add the corn and sausage to the hot butter and oil, chili flake mixture. Saute until the sausage is slightly browned.
Mix in the garlic, crushed tomatoes, and heavy cream. That is all you need to make this dish!
This can be cooked together in the time it takes to boil water and cook the pasta.
I like the pick color but let's say you are dairy-free. You can skip the heavy cream and cheese all together and make this a tomato based dish.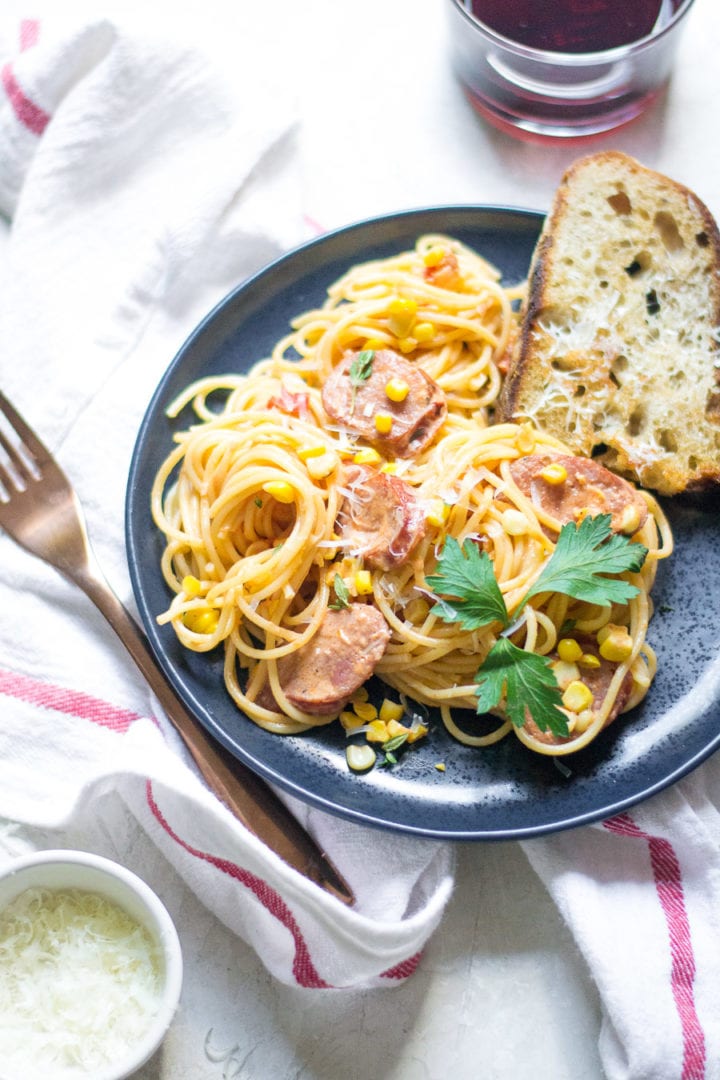 The flavors still pop!
I enjoy a smoky and spicy andouille sausage in this pasta but any sausage you have on hand would also work for this pasta.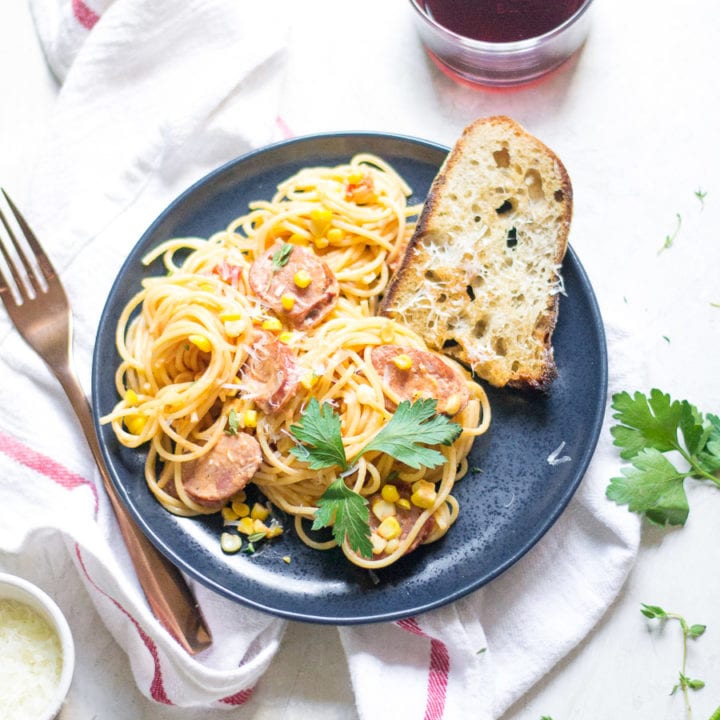 Creamy Corn and Sausage Spaghetti
Yield: Serves 2-4

Prep Time: 10 minutes

Cook Time: 15 minutes

Total Time: 25 minutes

Creamy tomato sauce coated spaghetti tossed together with charred corn and smoky Andouille sausage.
Ingredients
10 oz dried spaghetti
1 tbsp extra virgin olive oil
2 tbsp unsalted butter
1/2 tsp - 1 tsp crushed red pepper flakes
3 garlic cloves, minced or grated
8 oz sliced Andouille Sausage
2 Cobs of Corn, cooked
1 cup crushed tomatoes
1/2 cup heavy cream
1/2 cup reserved pasta water
1/2 cup freshly grated Parmesan cheese
1 tsp thyme (dried or fresh)
salt and pepper, to taste
Instructions
Bring a large pot of salted water to a boil. You can boil the corn cobs to cook them right in the pasta water as it comes to a boil to save time.
When the corn is cooked, remove it from the water, pat dry. Pop the cobs under a high broiler until all sides are charred or char the cob over a high flame on the open stovetop until the kernels have a little color. Slice the kernels off the cob.
Heat the oil and butter over medium heat until melted and combined. Add the chili flakes, stir. Cook for 1 minute.
Add the sausage and corn and garlic. Mix to combine. Cook for 5 minutes until the sausage is slightly browned on the edges.
Drop the pasta into the water and cook according to the packaging instructions. Be sure to reserve some pasta water for the sauce.
Add tomatoes and cream to the sausage and corn. Mix to combine. Add the half cup of pasta water and cheese. Reduce to low. Mix in salt and thyme.
Once the pasta is cooked add it to the sauce and mix to combine.
Recommended Products
As an Amazon Associate and member of other affiliate programs, I earn from qualifying purchases.