Grilled kielbasa and potato skewers are an easy grilled entree on a stick. Seasoned with olive oil, salt, pepper, and ground mustard these skewers are perfect for a quick meal.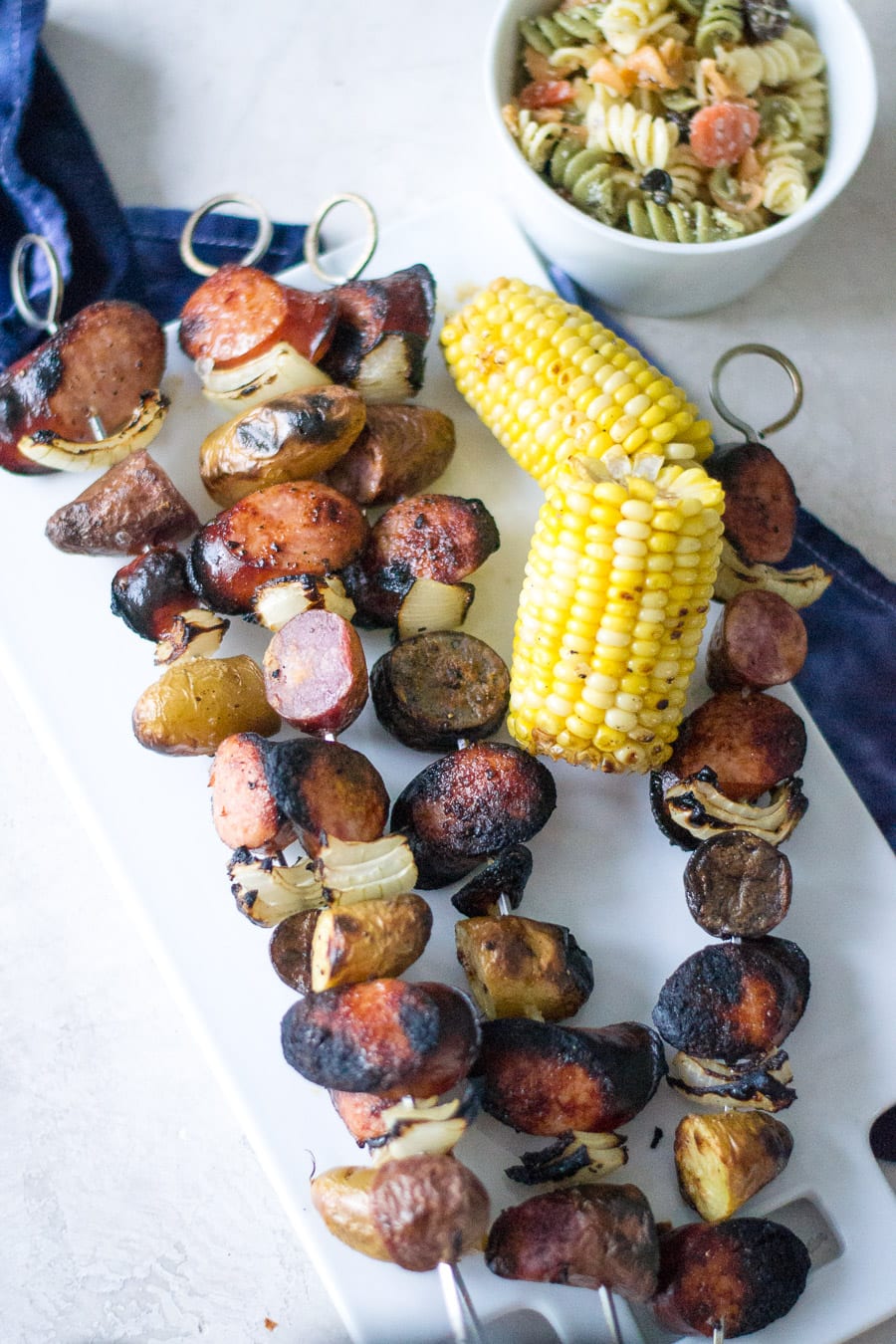 Grilling season is officially here!
Memorial Day is this weekend and if you are still searching for something to cook up for the fam, I got you covered.
Last year I did a big grilling faves round-up and am constantly adding to it.
So check it out here.
The grill is my go-to on those nights that I don't want to cook a huge meal.
It is also my go-to on nights when I don't want to clean up a huge mess.
Riiiight?!?!?
Throw some chicken on the grill and make a salad.
Done!
Hot dogs or burgers? Yes! I can almost feed my entire family and not have them complain when the food is cooked outdoors on the grill.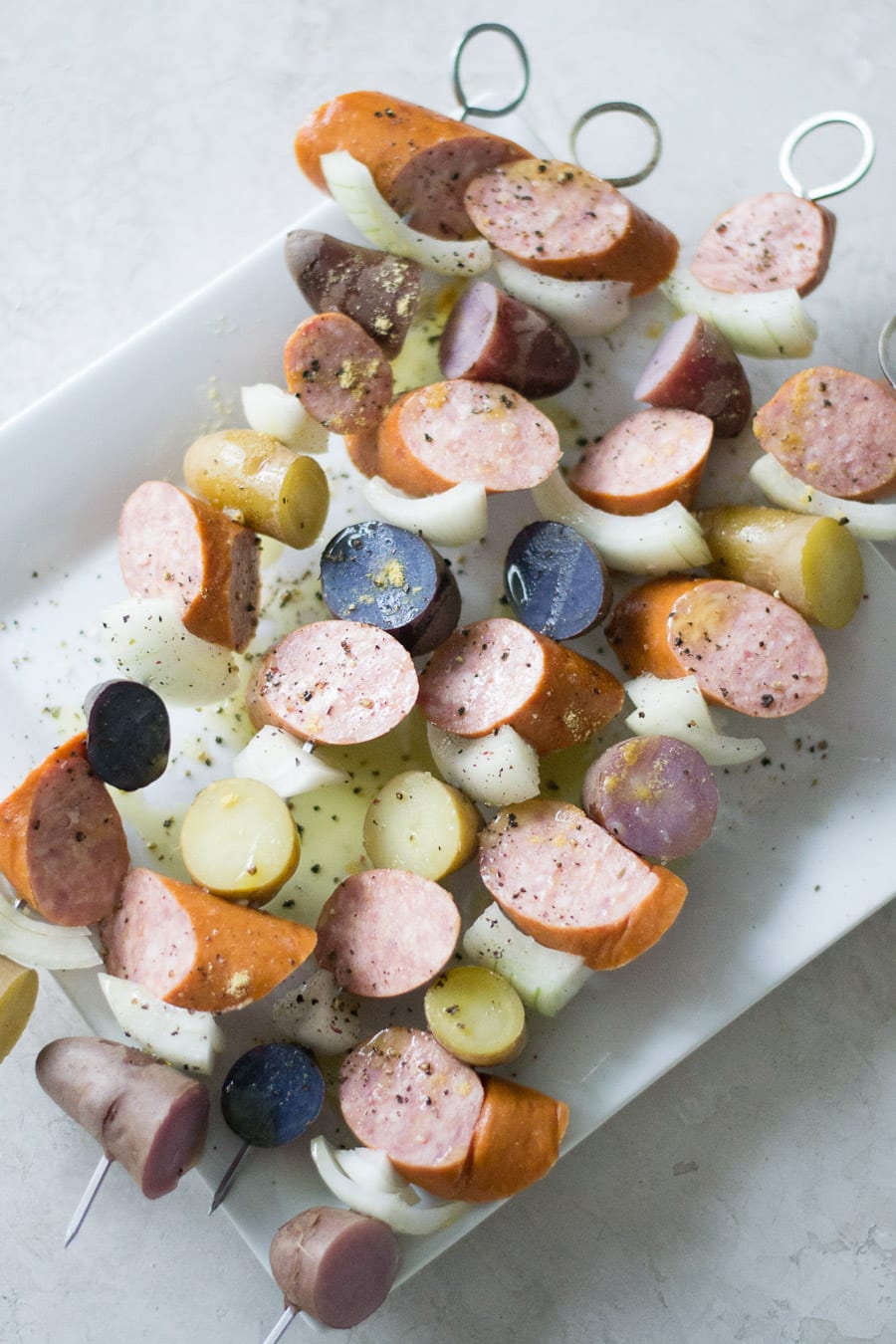 I do sometime get sick of the standard grill fare.
Enter the mighty Polish Kielbasa!
Kielbasa has so much spice and flavor in it already.
When you char it up on the grill, it adds so much depth to that flavor.
I like my kielbasa like I like my bratwurst, deeply charred!
Grilled kielbasa and potato skewers take that kielbasa and make it a whole meal.
Par-boil the potatoes ahead of time so that when you put everything on the grill it all cooks for the same amount of time.
I threw on some yellow onion slices to put all my favorite Polish flavors on one skewer.
The seasoning is super simple.
Aside from salt, pepper, and a little olive oil, we have a few dashes of ground mustard.
It adds just the right amount of bite.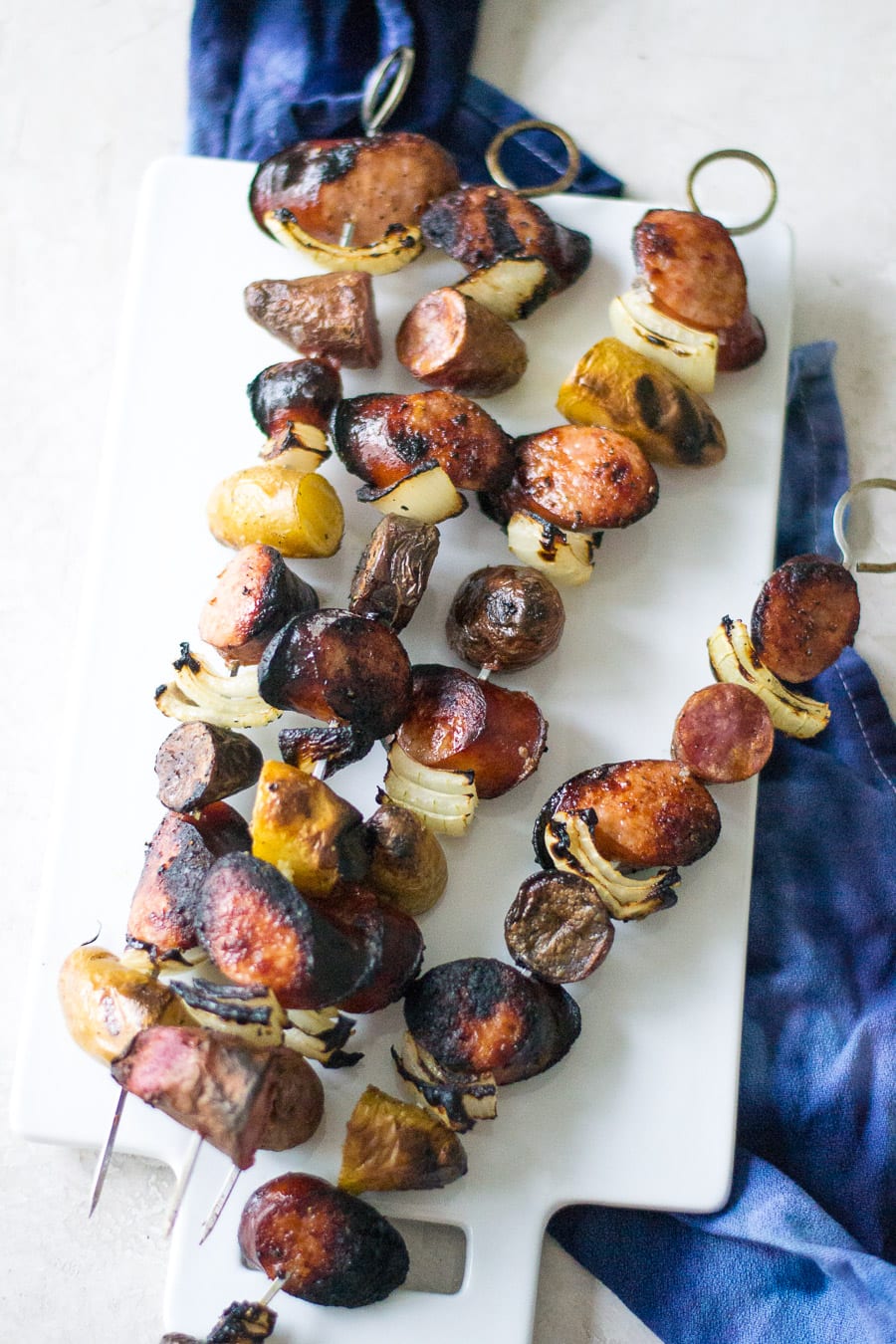 There isn't too much mustard flavor through.
You can still dunk that kielbasa in Dijon or spicy mustard if you so choose.
I also cannot recommend metal skewers enough!
You don't have to forget to soak them or worry about them burning.
Get yourself some for this grilling season because I have more skewers coming your way this summer.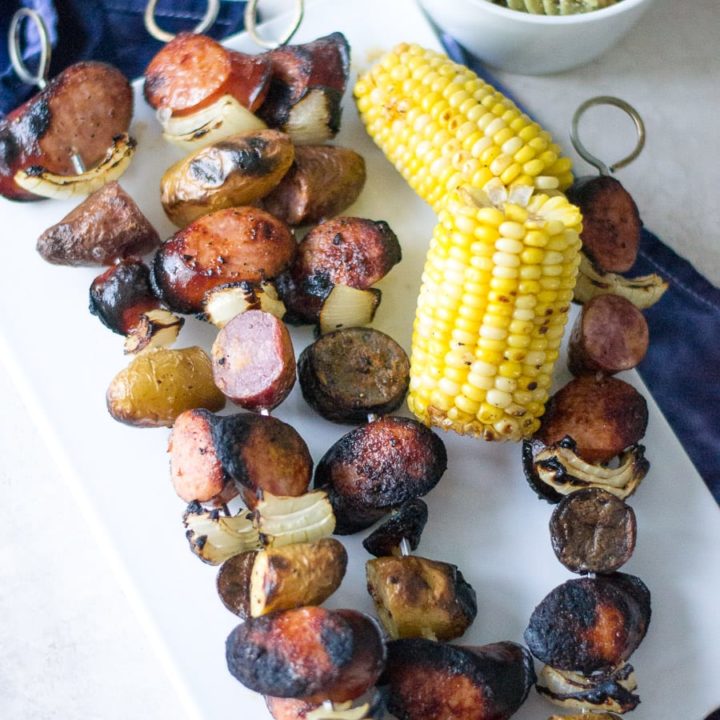 Grilled Kielbasa and Potato Skewers
Lightly seasoned, grilled skewers made of Polish Kielbasa, partially boiled potatoes, and yellow onions.
Ingredients
1 1/2 cups baby/fingerling potatoes, cut in half
14oz Polish Kielbasa Sausage, cut into 1 inch pieces
1/2 yellow onion, cut into a large dice
2 tbsp Extra-Virgin Olive Oil
1/2 tsp salt
1/4 tsp black pepper
1/4 tsp ground mustard
Instructions
Bring a medium pot of water to a roiling boil. Add the halved potatoes to the boiling water. Boil for about 8 minutes until just about fork tender. Drain the water and potatoes. Let them slightly cool.
Assemble the skewers; sausage, onion, and potato. You should end up with 4-5 large skewers.
Preheat your gas grill with all burners on medium.
Mix together the olive oil, salt, pepper, and mustard in a small mixing bowl. Use a pastry brush or your hands to spread the seasonings all over the skewers.
Cook the skewers on the grill for 7 minutes, flipping halfway through.
Recommended Products
As an Amazon Associate and member of other affiliate programs, I earn from qualifying purchases.