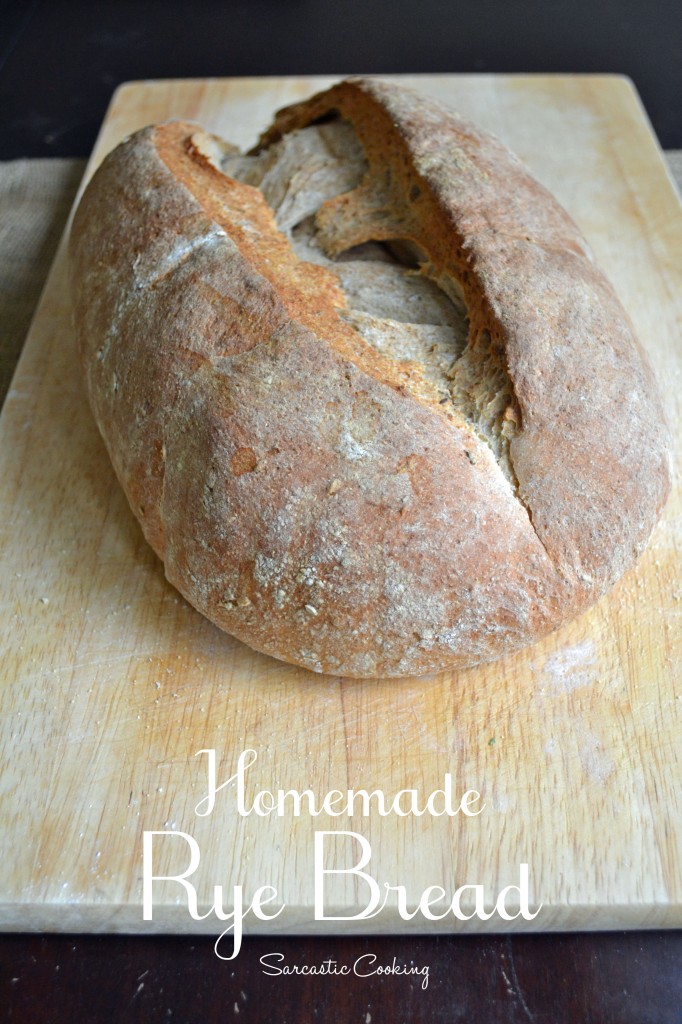 I friggen love rye bread. I grew up on rye bread. It is a carb that is very near and dear to my heart.
When I was little, I remember going to my Dziadzia's (pronounced jah-jah, Polish for grandpa) house and eating giant soft slices of rye bread that he would have sitting out on a paper towel along with some kielbasa (pronounced keel-basa, aka a type of Polish sausage) on his kitchen table for a snack.
I'm Polish. That's our definition of a snack.
The way to any of my family members' hearts is to share in our love of rye bread. Mike has known me for, like, ten years.
He knows that most of my days start with a piece of rye bread, untoasted, with a smidge of butter on top…OK, more like two pieces with a lot of butter on them.
When Mike first came over for Easter dinner with my family, he made the golden statement that he loved rye bread. My mom and I were so happy.
That's definitely a good sign. He made it through our holiday celebration unscathed and with bonus points.
My Dziadzia would have been soooo happy I found a boy that shared in our rye bread love.
Or at least, that's what I thought.
It wasn't until about a year ago where Mike let it slip that he doesn't like rye bread. Whhhhaaaaa?!?!?! He has been living a lie for all these years. On one hand, I am sad that he doesn't like rye bread. I would love to share my favorite bread with him.
On the other hand, I should feel flattered that he liked me enough to fake his love for rye bread and shovel down many slices at many of my family gatherings just for me.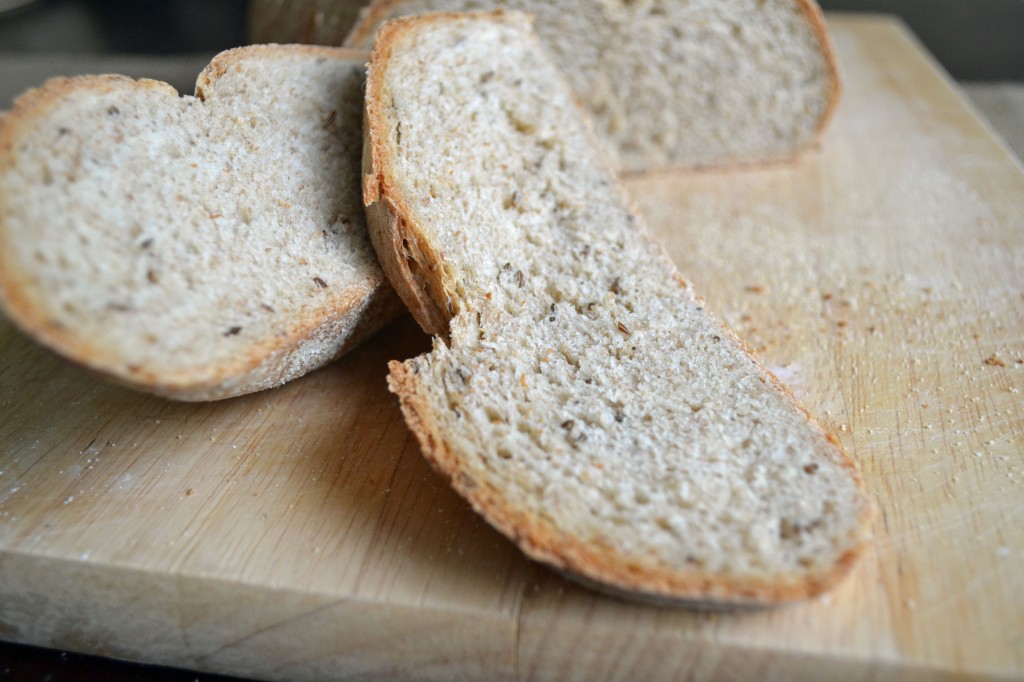 Also, another positive note I just thought of, there is more rye bread for me! Muahahaha!
Don't worry, Mike, I will still share the kielbasa.
Homemade Rye Bread
Recipe Type
:
Baking/Bread
Author:
Prep time:
Cook time:
Total time:
Ingredients
2 Tablespoons Whole Caraway Seeds
1 ½ Cups Organic Dark Rye Flour
2 Tablespoons Sugar
2 Teaspoons Salt
1 Tablespoon Active Dry Yeast
½ Cup Warm Water (110 – 115 degrees F)
1 Cup Milk (room temperature)
2 Tablespoons Olive Oil
2 ½ Cups All Purpose Flour
Instructions
In the bowl of an electric stand mixer fitted with the hook attachment, combine the warm water and sugar. Whisk to combine. Sprinkle yeast on top of water and let sit for five minutes until the yeast blooms and becomes frothy.
In a medium bowl, whisk together the flours, caraway seeds, and salt. Add the flour mixture along with the milk and olive oil to the mixer.
Mix on low until the dough starts to come together. Once the dough starts to form, turn the speed up to medium/high and knead for 8-10 minutes. Add additional all-purpose flour to the dough if it seems too sticky.
Place dough in a lightly oiled large bowl. Cover with a towel and let rise in a warm area for approximately an hour and a half, until it has doubled in size.
Lightly flour a work surface. Place the dough on the floured surface, punch down, and allow to rest for five minutes. Form the dough into a loaf shape and place in a loaf pan. Cover the pan and let the dough rise for another hour until it has doubled in size again.
Preheat the oven to 375 degrees F. Bake the loaf for 45 minutes until golden brown and crusty. The loaf should sound hollow when done.
Notes
Recipe adapted from [url href="http://www.bobsredmill.com/recipes.php?recipe=520&print=true" target="_blank" title="Bob's Red Mill"]Bob's Red Mill[/url]
Related posts: