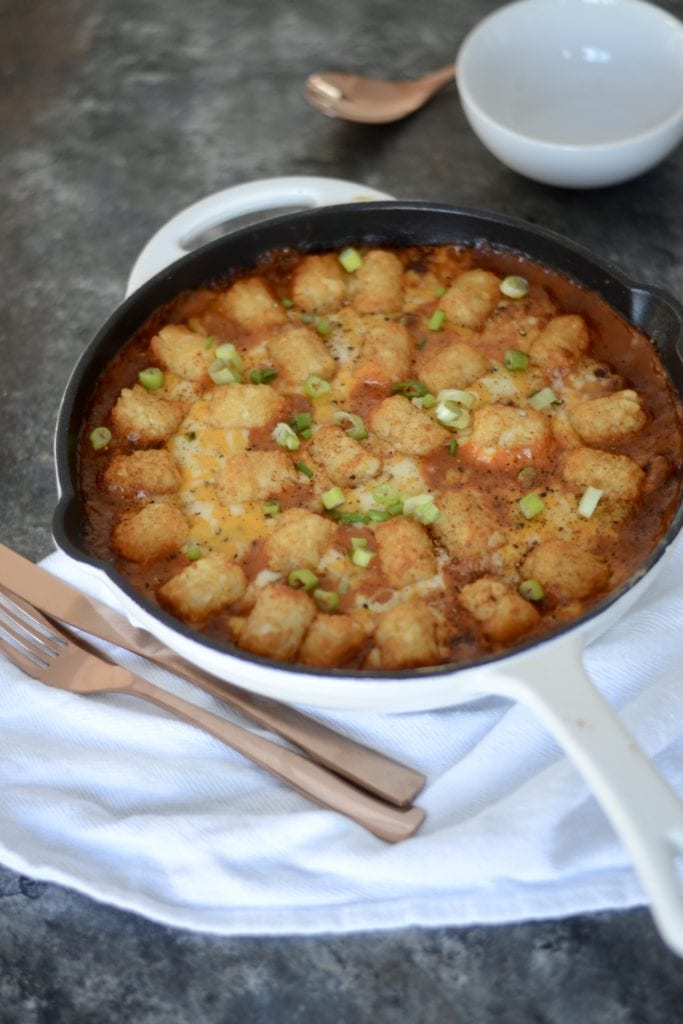 Hit you with a few attention grabbers about this recipe:
Whole30
Paleo
DASH Diet
Flexitarian Diet
Anti-Inflamatory Diet
21 Day Fix Diet
Yeah, that's right. This recipe DOES NOT meet any of the requirements for any of these diets.
And that, my friends, is how you start the New Year.
My friend Kristen is doing this #RockYourHappy2017 project. I jumped onboard, because even though I am hashtag blessed, we can all try to focus on bringing more happiness into the world. For me, happiness starts with this giant hot mess of a casserole. Well, maybe more with the process of actually making it.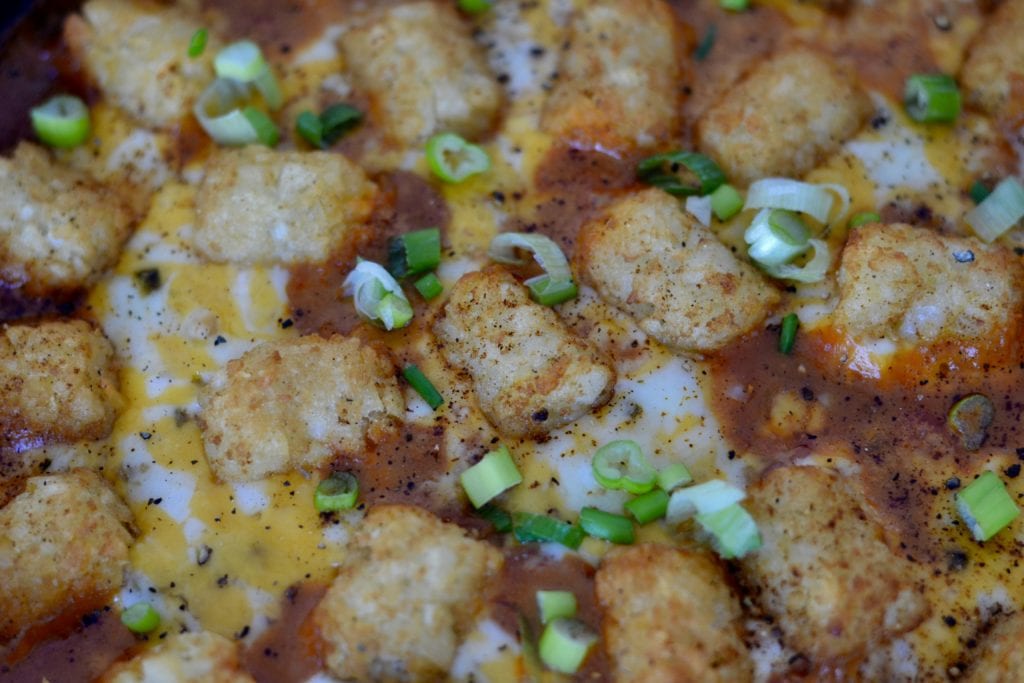 I sat last year with this baby in my brain. I kept thinking that there was no way that this would really work out. I kept thinking that it would be more like a dip than a casserole. Doubts, doubts, doubts. Yes, I understand it is just a recipe, but even little things like that can bog you down sometimes. And, for real, one of my favorite things of all time is the classic chili cheese dip. My mom makes it all the time, holidays, parties…I had success with this one pot pasta version. I didn't want to fail.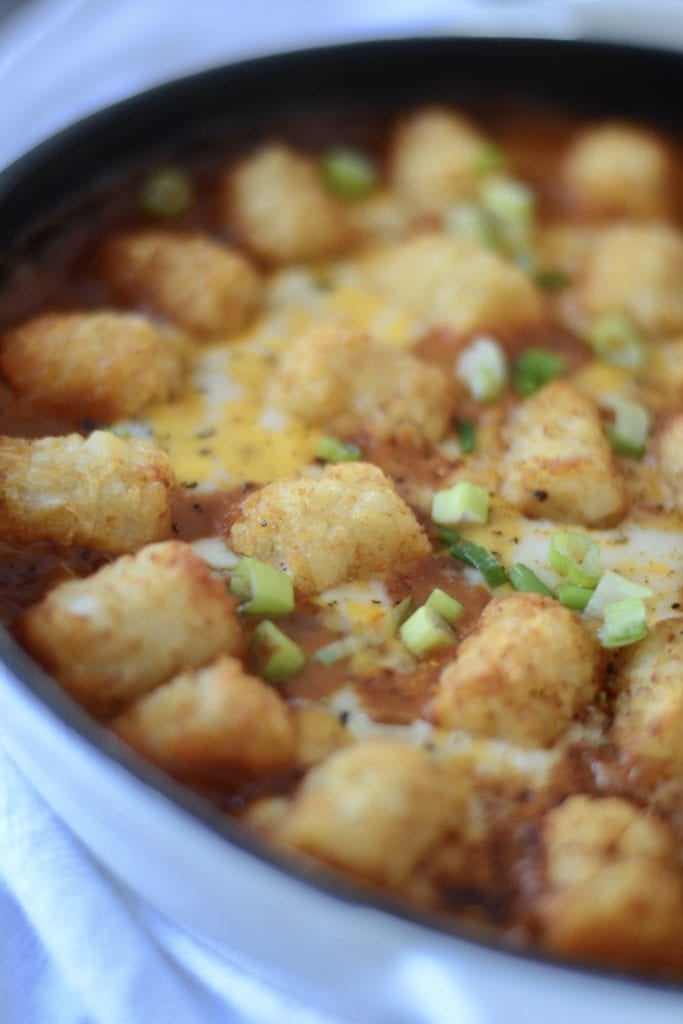 Ya know what?
I just thought, Mike is off from work. If it is more of a dip than a casserole, who cares, because it will still be a treat. It's friggen tater tots! It will be a funny story for the blog if nothing else. But I rocked my happy and got off my butt and instead of thinking/talking about it, I DID IT!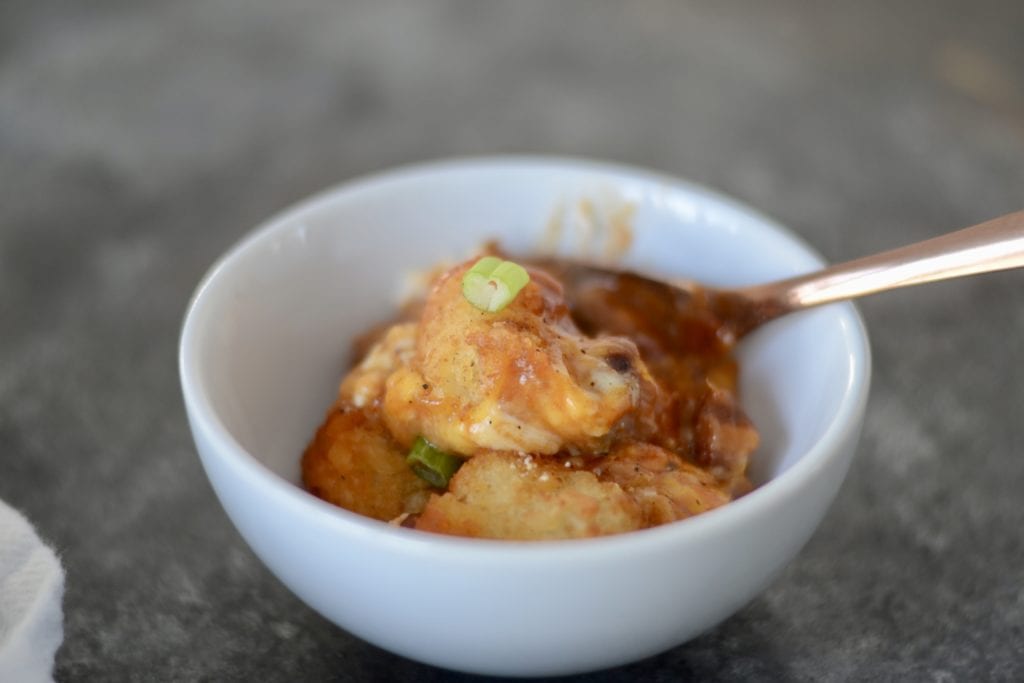 TA-DA!
It may not be the prettiest once scooped out of the dish. It definitely is not the healthiest. But it is an easy, filling, body-warming, comfort food. I live in the Midwest, so I am allowed to make tater tot casseroles. And if you aren't on any of those crazy ass diets, you are allowed to eat this.
Live a little!
I made this for you guys!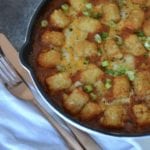 Chili Cheese Dip Tater Tot Casserole
Comfort food to a tee! A layer of cream cheese, chili, cheese, and crispy tots!
Ingredients
1

Tablespoon

Olive Oil

6

Ounces

Cream Cheese

softened at room temperature

2, 14.5

Ounce

Cans Chili

I used trader Joe's Turkey Chili

1

Cup

Shredded Colby Cheese

1

Cup

Shredded Pepper Jack Cheese

30-35

Frozen Tater Tots

Green Onion

diced
Instructions
Preheat the oven to 450 degrees F. Grease a cast iron skillet with the olive oil.

Cut the cream cheese into cubes. Gently press the cubes into one flat layer. It doesn't need to be perfect or cover every inch of the pan.

Pour the chili on top. Spread out over the cream cheese.

Top with cheese.

Next, arrange the tater tots in three tight circles. Keep them close together because they will move while baking. Gently press them into the chili so half is sticking out still.

Bake int he oven for 30-35 minutes until tots are golden and cheese is melted.

Let cool for 10 minutes before serving. Top with chopped green onion and then serve.