Pimento cheeseball pinecone is not the traditional pimento cheese. It is a cream cheese based pimento cheese with little slivered almonds pressed into it to make it look like a seasonal pinecone. A little bit of creamy cheese with a crunch of almond.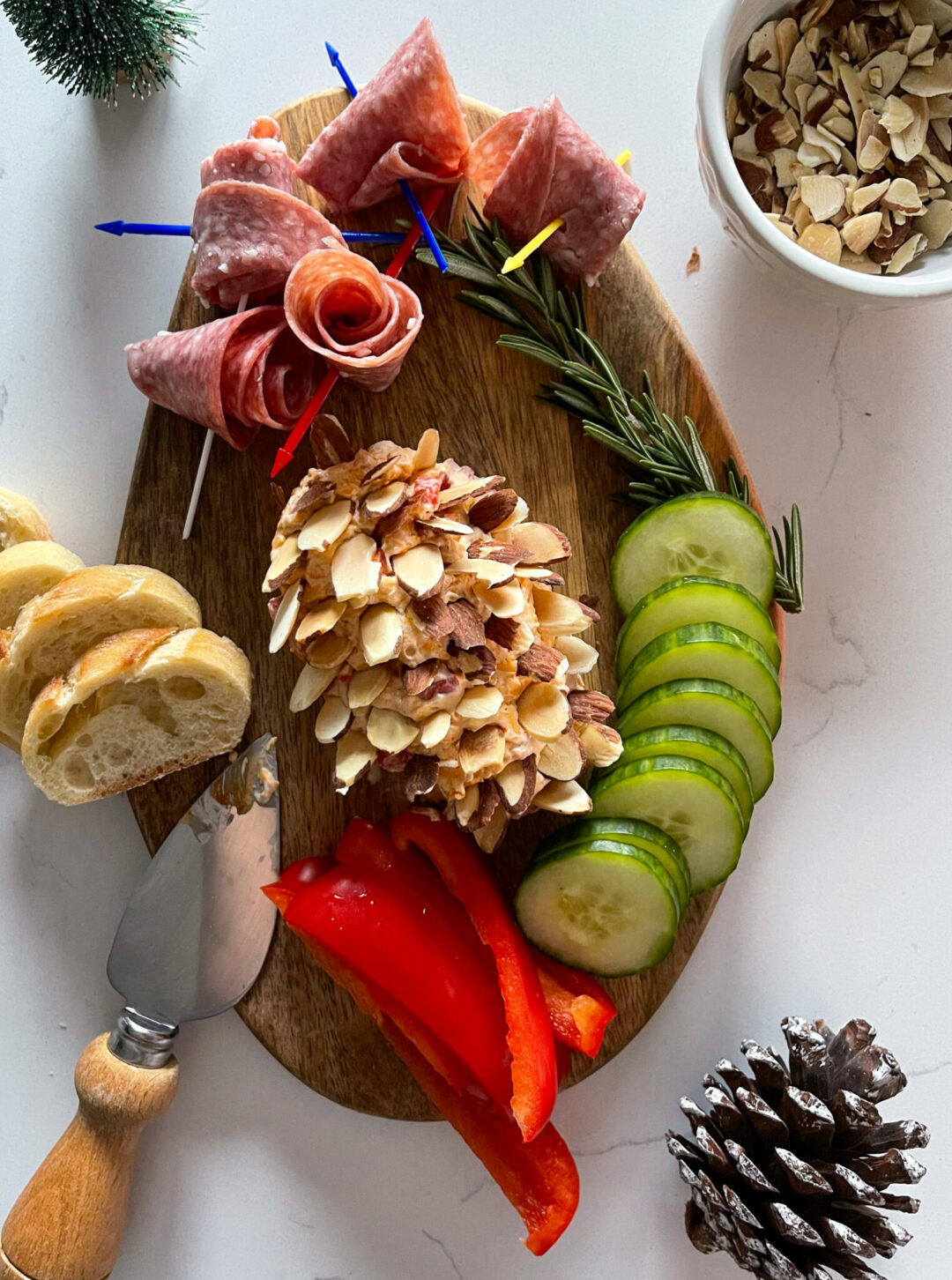 You, by this time, know that I am a big fan of pimento cheese.
Back in the dark ages of blogging my first food blogger friend, Stephie, introduced me to this southern delicacy.
Her OG recipe is still my go to for an appetizer served with Ritz crackers and sliced veggies.
I have a lot of recipes featuring pimento cheese like; pimento cheese BLT, pimento cheese babka, and ham and green chili pimento cheese sliders.
It is traditionally a mayo based dip.
In order to make this pimento cheeseball pinecone, I needed it to be a little stiffer.
What you need for this recipe:
8oz sharp cheddar cheese, grated
6oz cream cheese
Jared pimentos
Worcestershire sauce
Smoked paprika
Cayenne pepper
Salt
Mayonnaise
Slivered almonds
This is a relatively easy recipe.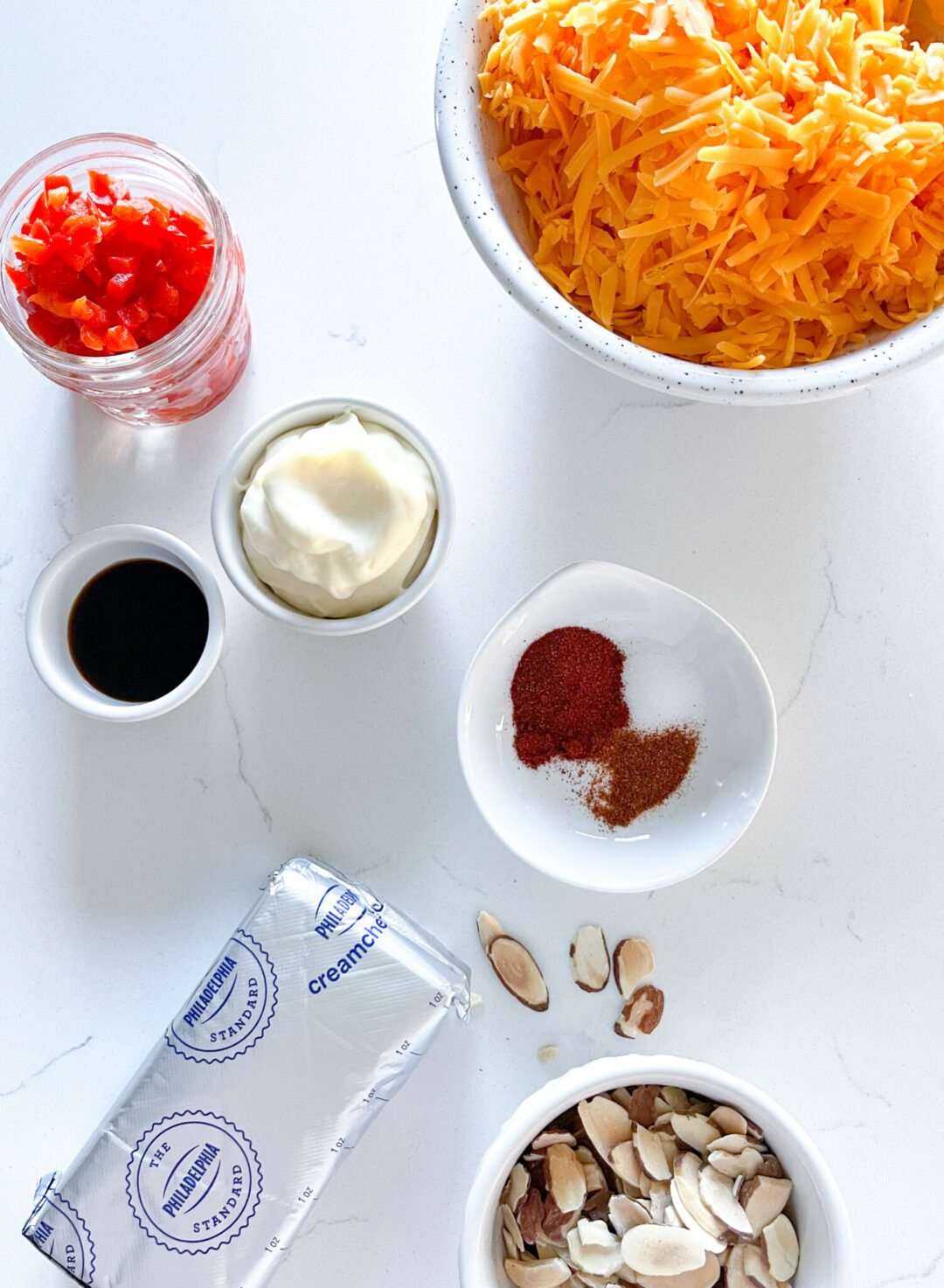 Combine all the pimento cheese ingredients in a bowl and use a spatula to mix it all together.
Scoop the pimento cheese onto a sheet of plastic wrap.
Twist and seal the plastic wrap tightly around the pimento cheese.
Roll the pimento cheese into an oval log.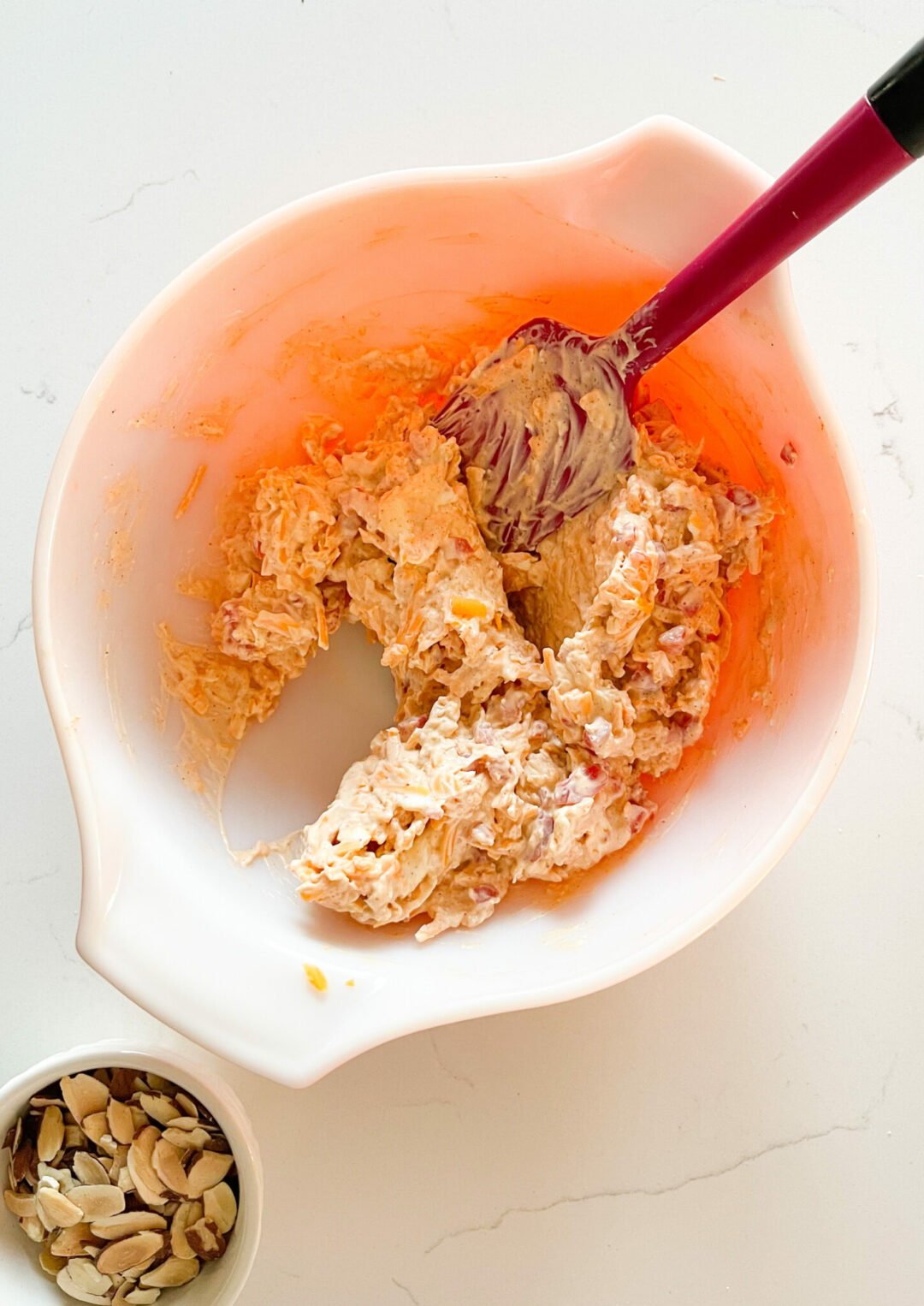 Then you have to refrigerate the wrapped pimento cheese to harden it up a bit.
After a few hours in the fridge, unwrap the pimento cheese. Place it on to your serving platter.
This part does take a little time and patience.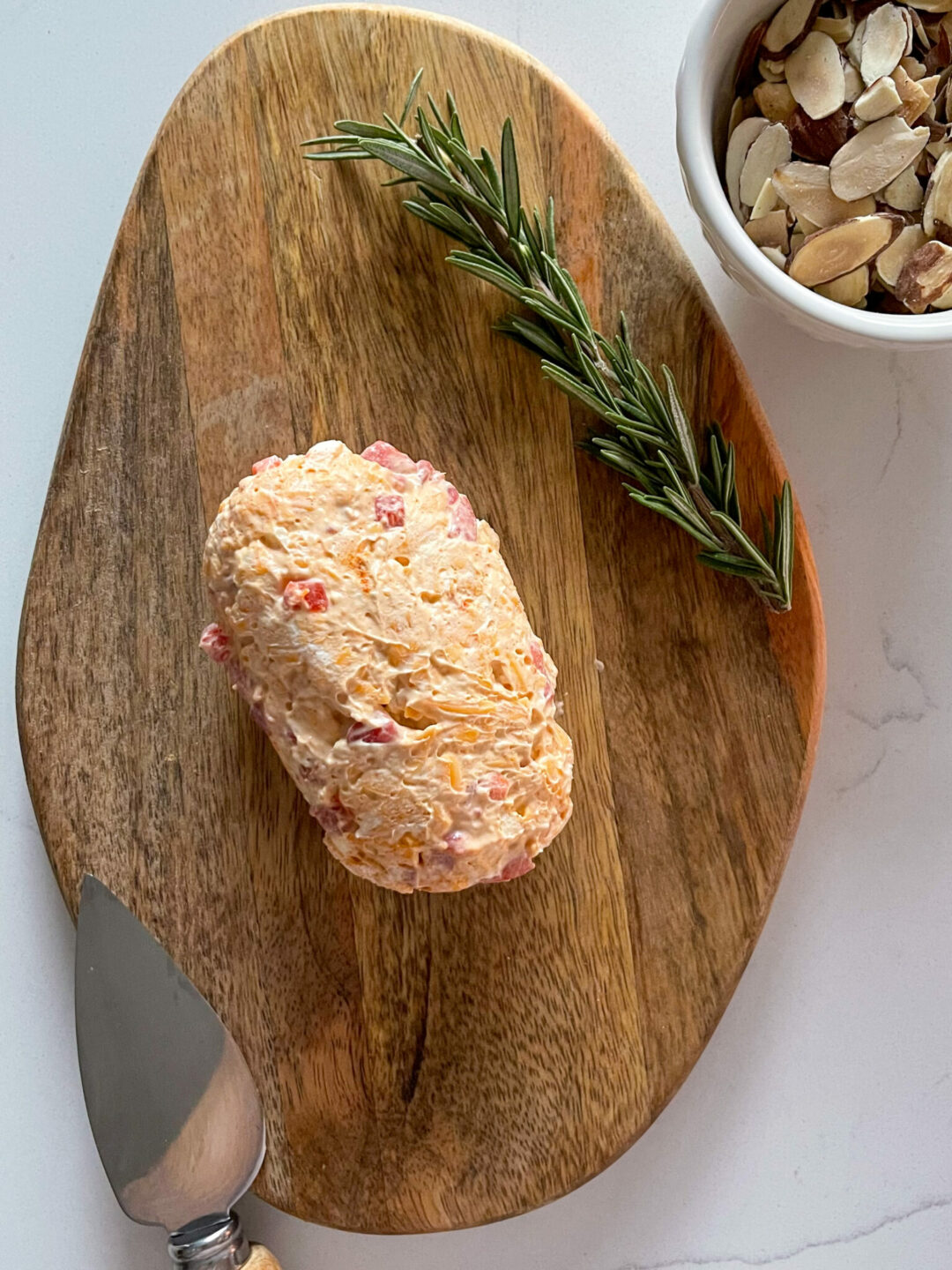 Take the slivered almonds and place them into the pimento cheese log in several arched rows.
Place them close together to make the arrangement of a pinecone.
Then put the pimento cheese pinecone back into the fridge until you're ready to serve.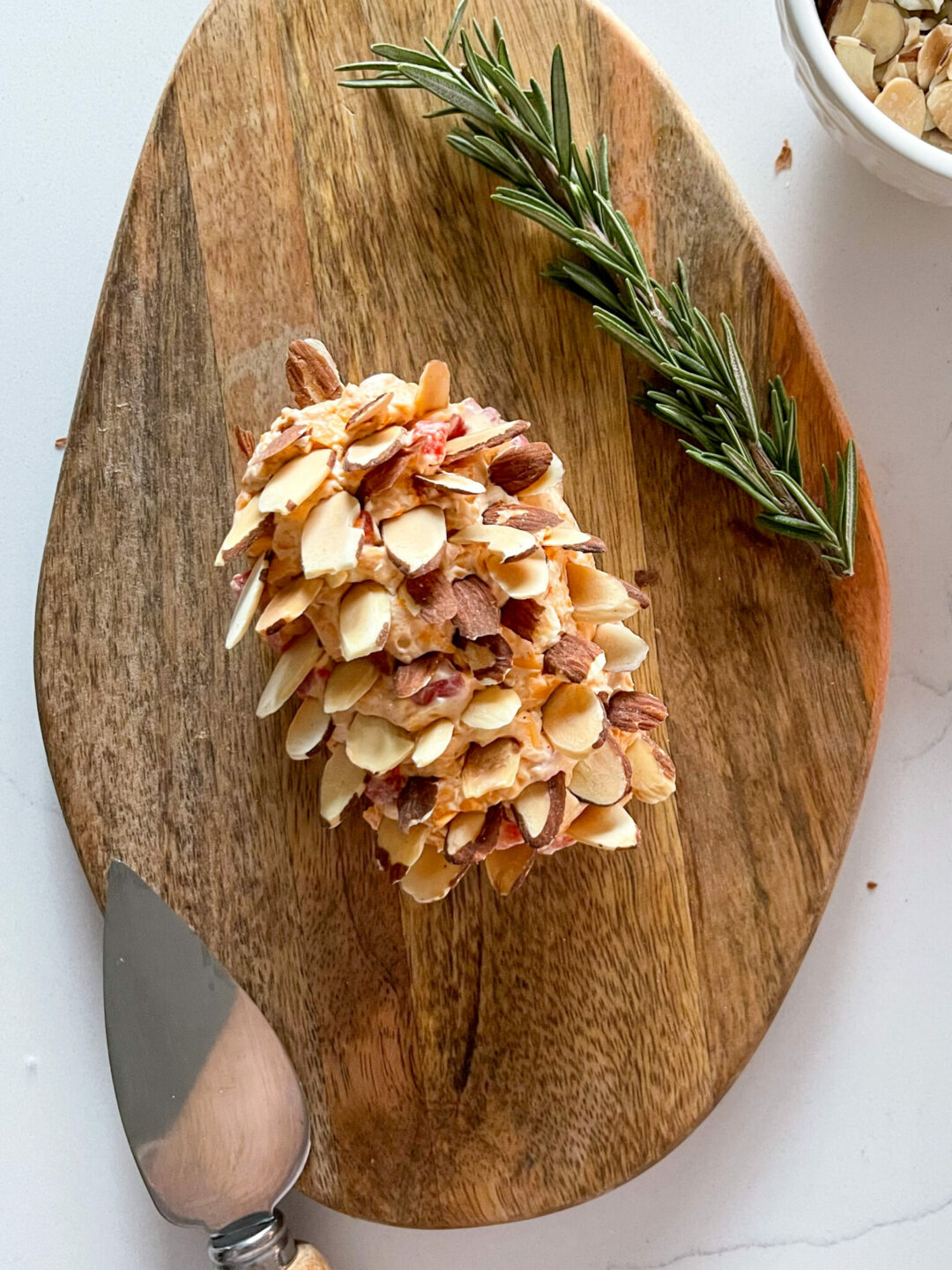 This pimento cheeseball pinecone has that little bit of salty spice you expect from pimento cheese with the crunch of the almonds.
Serve it with bread, crackers, and some sliced vegetables.
This is a fun and festive holiday appetizer for your seasonal gatherings.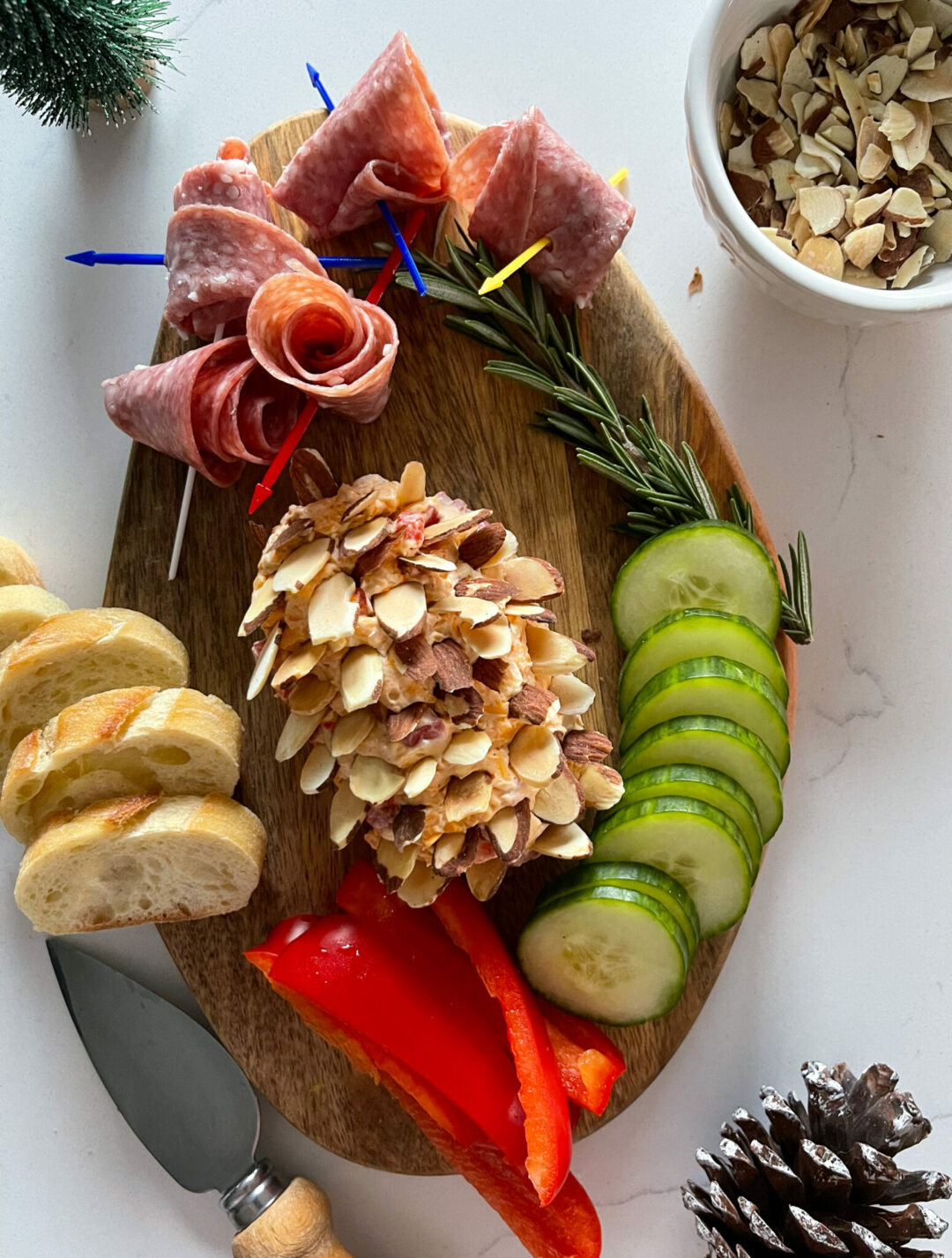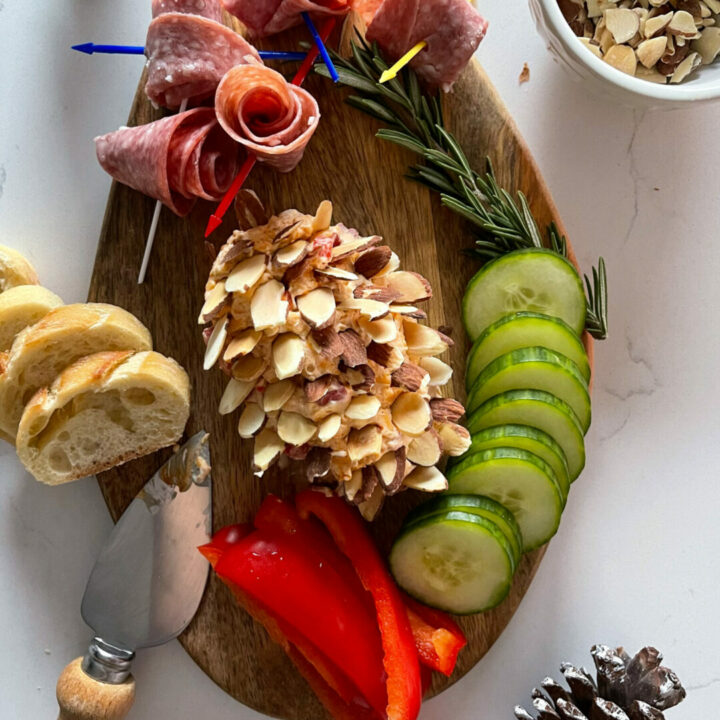 Pimento Cheeseball Pinecone
Yield: Forms 2 large pinecones

Prep Time: 20 minutes

Additional Time: 1 hour

Total Time: 1 hour 20 minutes

A cream cheese based pimento cheese studded with slivered almonds and formed into a fun and festive pinecone.
Ingredients
6oz cream cheese
8oz sharp cheddar cheese, grated
1 tsp Worcestershire sauce
1/4 tsp cayenne pepper
1/4 tsp black pepper
1/2 tsp Smoked Paprika
1/2 tsp salt
1/4 cup quality Mayonnaise, I like Duke's
4oz jarred diced pimentos, drained
1/2 cup slivered almonds
Ritz crackers, sliced cucumbers, sliced baguette, sliced bell pepper to serve with the cheeseball
Instructions
Add the cream cheese, grated cheddar, Worcestershire, cayenne, pepper, paprika, salt, mayo, and pimentos to a medium mixing bowl. Use a rubber spatula to mix all the ingredients until smooth, creamy, and combined.
Divide the pimento cheese in half. Tear off two large pieces of plastic wrap. Scoop out half of the pimento cheese on to the center of each plastic wrap piece. Fold the plastic like a burrito. Make sure it is tightly sealed.
Roll the wrapped pimento cheeses into oval log shapes. Refrigerate for at least an hour.
After an hour, remove and unwrap the pimento cheese logs. Transfer them to the serving platter. Place the slivered almonds in concentric circles along the tops and sides of the pimento cheeseballs to make them look like a pinecone. Place one last slivered almond in the top to really seal the pinecone deal.
Put the platters back in the fridge until ready to serve.
Serve the pimento cheeseball pinecones with Ritz crackers, sliced cucumbers, sliced Bell peppers, and toasted sliced baguette.
Recommended Products
As an Amazon Associate and member of other affiliate programs, I earn from qualifying purchases.