Five ingredients are all you need to make these copycat Cheez-It like crackers. Sourdough discard cheese crackers start with sourdough starter discard, olive oil, salt, and your choice of cheeses. It's that easy!
By this point in quarantine you're either pumping out beautiful loaves of sourdough bread weekly, or looking at the rest of us sourdough freaks like we are nuts.
Summer is on the way and the rising temps start to make me second guess cranking the oven up to 500 degrees for an extended period of time.
I don't want my sourdough starter to perish though. Me and ol' Frankenstein have been through so much the past 9 months.
During the past 2 months I have come to learn and argue with my husband over his snacking tendencies. The man looooves his Cheez-It's. Even if he is stealing them right out of his kids' snack bowls.
Did you not see the top of the fridge? It is literally covered in cereals and salty snacks!
A box of cheese crackers goes in a week or less in our household. these boys are addicted.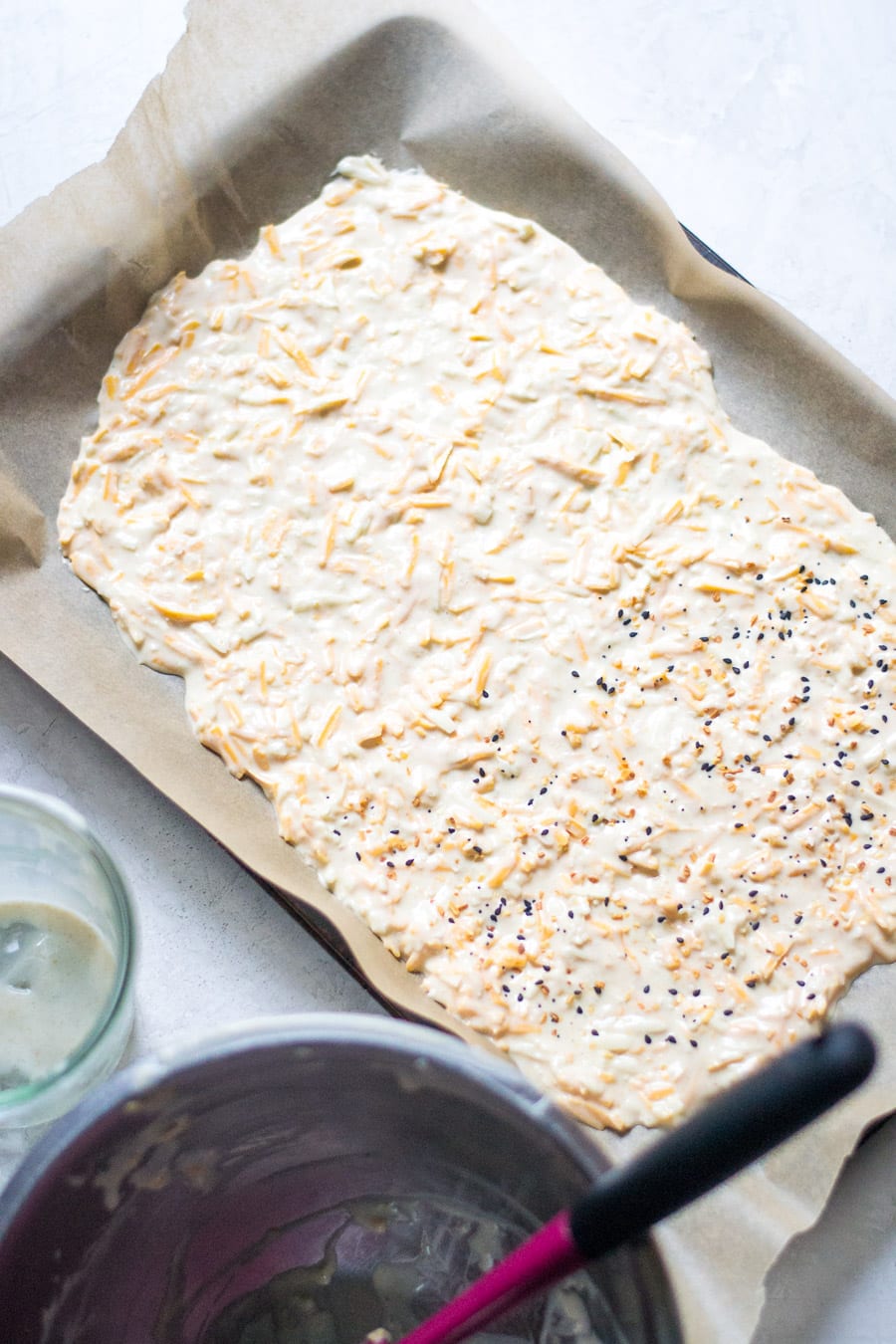 I knew the kids wouldn't dare touch these crackers. There was no way that I could convince them that, despite the way they look, they taste exactly like their favorite cheese cracker.
Just a little pause and a PSA about cheese crackers. If you aren't into the crazy world of wild fermenting and sourdough, I do have several similar cracker recipes that are just as good that do not use any part of sourdough.
Try these if you are in the mood for some homemade crackers:
Last but not least, my kids favorites!
Homemade Copycat Cheddar Bunnies
All of the above crackers are very similar in the crispy, airy, cheesy crunch factor as these sourdough crackers.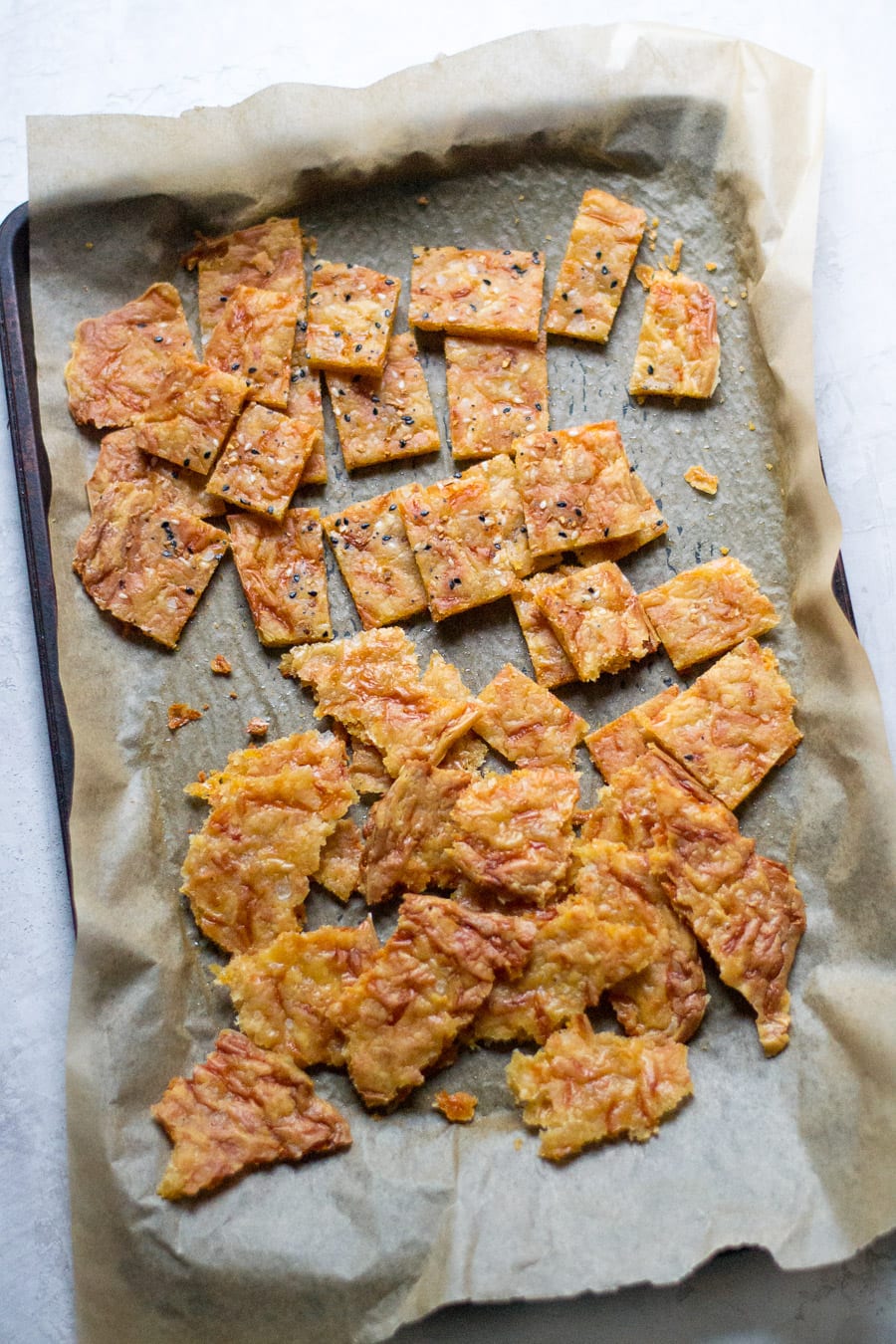 Sourdough discard crackers are made very simply. Combine a cup of the starter discard with olive oil, and your choice of cheese. Mix it up and then spread it flat on a baking sheet. Sprinkle some salt on top. Bake until crisp and then either cut or break into rustic cracker pieces.
I really like a good sharp cheddar topped with either Maldon Sea Salt or Everything But the Bagel Sesame Seasoning Blend. I have also made these with Monterrey Jack cheese.
The trick is to finely shred the cheese yourself.
DO NOT BUY PRE-SHREDDED FOR THIS RECIPE!
The pre-shredded stuff has a coating on it that messes with the melty/cooking factor. Trust me, I am into food (especially cheese) for a living.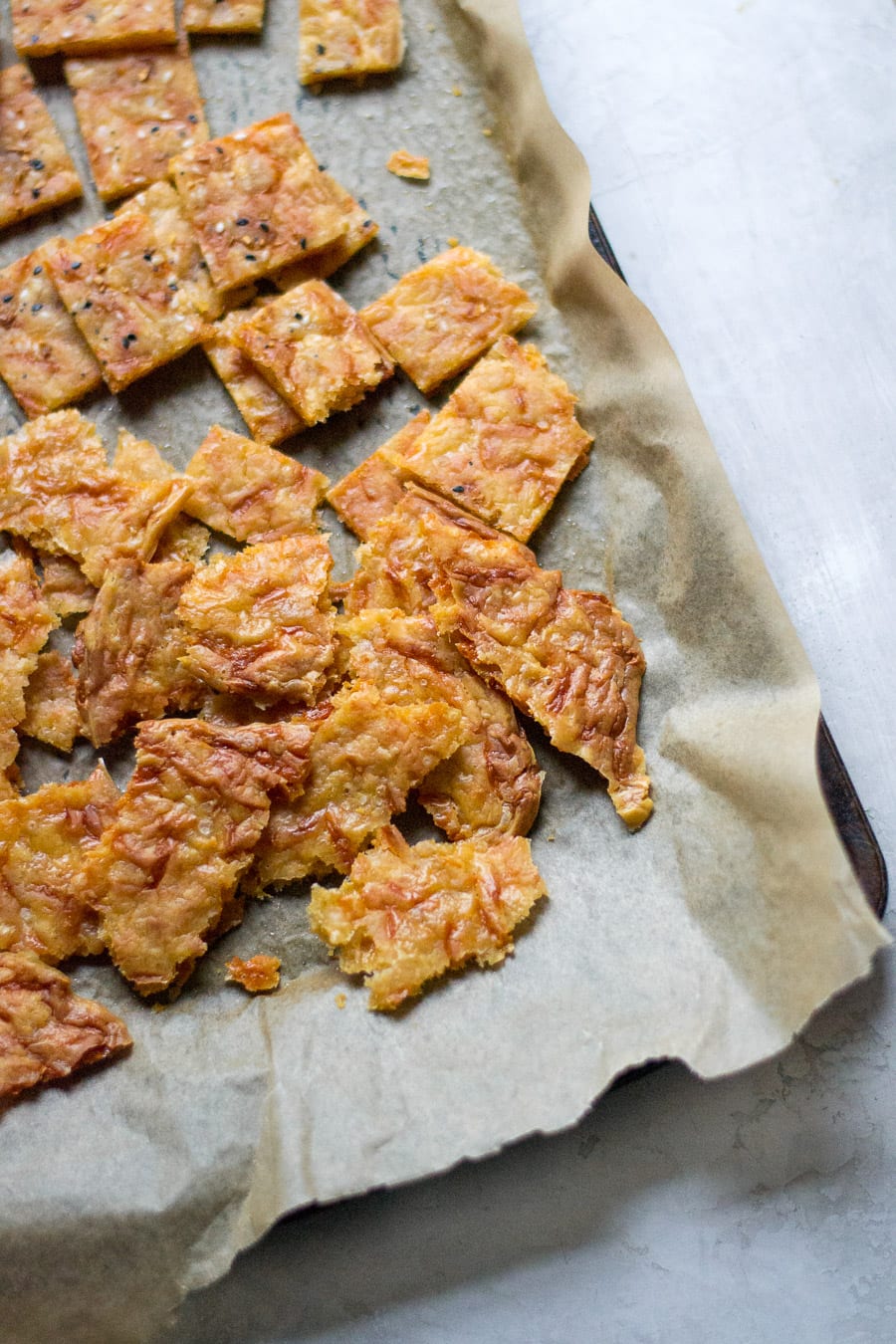 Let me know what is your favorite cracker or if you happen to bake up a batch for your next stay at home charcuterie session.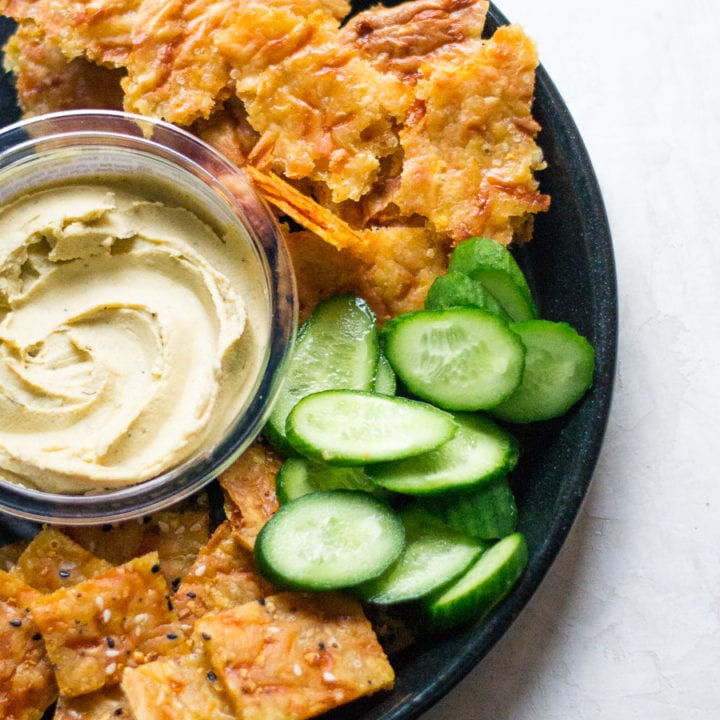 Sourdough Discard Cheese Crackers
Crispy and airy chesse crackers made from sourdough starter discard.
Ingredients
1 cup sourdough starter discard
2 tbsp extra-virgin olive oil
6oz finely shredded cheese (sharp/mild cheddar or Monterrey Jack)
1 tbsp flaky Maldon Salt or Everything But the Bagel Seasoning
Instructions
Preheat the oven to 325 degrees F. Line a medium/large baking sheet with parchment paper.
Whisk the discard and the oil together in a medium mixing bowl.
Mix in the shredded cheese.
Spread the mixture out over the parchment using a rubber spatula. Make the layer as thin as possible while still covering the parchment. Sprinkle the top with either salt or the everything bagel seasoning.
Bake for 40-45 minutes, turning the pan halfway to ensure even baking.
Let the crackers cool on the pan for at least 5 minutes. They will firm up as they cool. Cut or crack into smaller crackers.
Store in an airtight container on the counter for up to 3 days.
Recommended Products
As an Amazon Associate and member of other affiliate programs, I earn from qualifying purchases.